The Wylela Cove
The Pool Specs
Width: 12′ 0″
Length: 30′ 0″
Depth: 3′ 6″ to 6′
Surface Area: 360 SQFT
Volume: Gallons 7,887 Gallons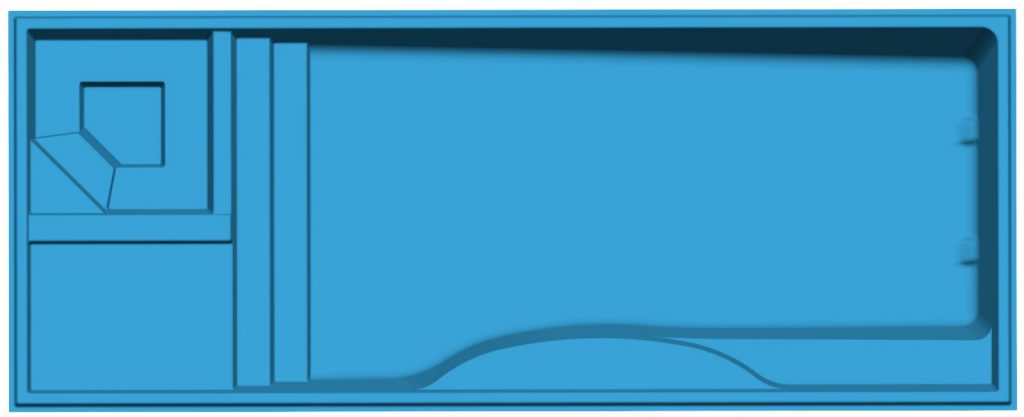 We are excited to announce the launch of our new pool series: The Wylela Cove & Wylela Cove Grande. These new pool models are based off of our top seller: The Wylela. From that popular model we transformed to develop the Wylela Beach series! Now, in the spirit of maximizing space and utility, we've combined key elements into one swimming pool. Here you'll find our masterful combination of multiple pool elements. A rectangular swimming pool basin, standard pool hopper, spacious tanning ledge and attached spa create the perfect outdoor swim basin! We purpose this swimming pool design to be an all-encompassing design – built for the enjoyment of the entire family. The Wylela Cove is truly a year-round pool design! Capable of hosting all array of events in your beautiful outdoor living space, you'll enjoy this pool all year long!
With this new model, we provide a rectangular swimming pool basin with a standard deep end hopper. This swim basin provides plenty of room for recreational swimming and play for you and the entire family. The Wylela Cove casually invites you to slow down from the busy week and enjoy time outdoors on its tanning ledge: perfect for basking in the warm summer rays. Lastly the Wylela Cove is spacious enough for smaller in-pool furniture by brands such as TenJam, you'll have plenty of space to park one or two smaller loungers in order to enjoy the company of a family member or friend in your outdoor space.
Should the day require a warm soak to ease the tired muscles, the Wylela Cove includes an attached spa – adjacent to its tanning ledge. Small and economical the attached spa is capable of being heated to a comfortable degree with the utilization of a pool heater for year-round use.
Request a Quote from a San Juan Dealer
Would you like to receive a quote on this new fiberglass pool model? We invite you to check out our San Juan dealer network to learn more about our pricing and availability on this new fiberglass model! Simply click our Dealer page to locate the San Juan dealer who is closest to you!