The Wylela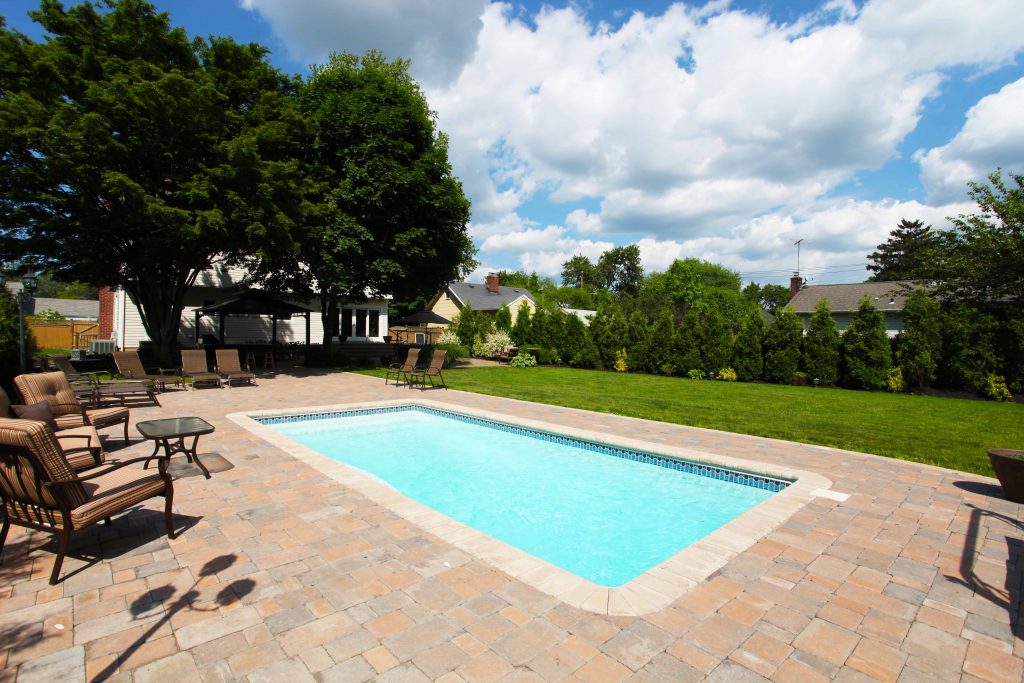 The Wylela – A Rectangle Pool Shape with Personality
If you're searching for a fun-packed fiberglass pool with charm and personality, we'd like to introduce the Wylela fiberglass pool! The Wylela packs a lot of personality in its classical rectangle pool shape. Gracefully enter its inviting waters via the full-width shallow end entry steps. Then gently cast away into the 6′ 2″ Deep End for a joyful round of lap swimming or raft floating.
When you're tired from swimming some laps, take a moment to rest and relax upon the bench or deep end swim out. We've placed these two sets of seating benches on the right side of the swimming pool. This opens up the swimming area and leaves room for multiple swimmers to jump in and play.
The Wylela | San Juan Fiberglass Pools

The Wylela is a classical rectangle fiberglass pool with a fun personality! This gorgeous pool layout consists of full-width shallow end entry steps, deep end, and set of deep end benches! #StayHomeAndHaveFunContact us to get in touch with one of our dealers. We'd love to give you a free estimate today!San Juan Fiberglass Pools2302 Lasso Lane Lakeland, FL 33801+1 877-424-3010https://SanJuanPools.Com/…#SanJuanPools #FiberGlass #Pools #Manufactures #Installation #Financing #Designs #Builders #Tanning #Ledge #Swimming #Dealers #Beach #Spring #Concrete #Installers #Sales #Spa #Models #Prices #Inground #Warranty #SwimmingPools #FiberGlassPools #SanJuanFiberglassPools #FiberglassPoolsNearMe #FiberglassPoolManufacturers #FiberglassPoolsForSale #StayAtHome

Posted by San Juan Fiberglass Pools on Saturday, June 6, 2020
The Features of The Wylela
The Wylela is a captivating fiberglass swimming pool that is easy to dress up with beautiful water features. Our customers often add Deck Jets, Waterfalls, Water Spouts, and LED Lighting to the fantastic Wylela. When paired with unique design and creative features, it'll blow your family and guest away by its high-end impact.
We recommend the Wylela fiberglass pool to homeowners that are looking for classical pool design. It's easy to add your own flair or design approaches. We are sure that you'll soak up some summer fun in this fantastic fiberglass swimming pool!
San Juan Fiberglass Pools
2302 Lasso Lane Lakeland, FL 33801
+1 877-424-3010
https://SanJuanPools.Com/
The Pool Specs
Width: 10′ 10″
Length: 24′
Depth: 6′ 2″
Surface Area: 254 SQFT
Volume: 6,600 Gallons
Wylela-Dig-Plans

Wylela-Pool-Details

Subscribe for more San Juan Fiberglass Pools videos: https://bit.ly/SJPSubscribe
Connect with San Juan Fiberglass Pools online:
Visit the San Juan Fiberglass Pools WEBSITE: https://bit.ly/SJPWebSite
Visit the San Juan Fiberglass Pools GMB: https://bit.ly/SJPGoogleMyBusiness
Like San Juan Fiberglass Pools on FACEBOOK: https://bit.ly/SJPFacebook
Follow San Juan Fiberglass Pools on TWITTER: https://bit.ly/SJPTwitter
Review Us On Google: https://bit.ly/SJPGoogleReviews
Google Maps: https://bit.ly/SJPMaps
Google Search: https://bit.ly/SJPGoogleSearch