Wylela Cove Grande
The Pool Specs
Width: 16′
Length: 30′
Depth: 3′ 6″ to 6′
Surface Area: 437 SQFT
Volume: 11,289 Gallons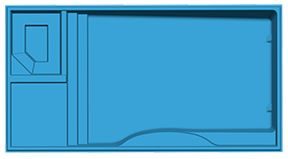 A Wide Rectangular Pool with Tanning Ledge & Spa
What is remarkable about San Juan Pools and our ability to manufacture our own molds of fiberglass swimming pools and spas? Well, the answer is in the question. We have the ability to fabricate any layout of pool or spa that we deem as new, cutting edge and innovative! Here we are proud to release the new and very unique Wylela Cove Cove!
This unique fiberglass swimming pools sports a standard deep end (hopper) with a rectangular swimming pool basin. Built with a shallow end depth of 3′ 6″ and a maximum depth of 6′ – it's familiar and comfortable for swimmings with moderate abilities!
After some lap swimming and water games, you can feel free to relax on the petite tanning ledge or soak your tired muscles in the attached spa basin! What about room for entertainment? We're glad you asked! This beautiful pool model is easily able to support multiple swimmers with it's 16′ width and 30′ length! With an overall pool volume of 11,289 gallons, we classify this pool model as a medium sized swimming pool!
Get a Quote Today!
Would you like to contact one of our San Juan approved dealers! We invite you to check out our registered dealers in your area to get an estimate for your next outdoor project!