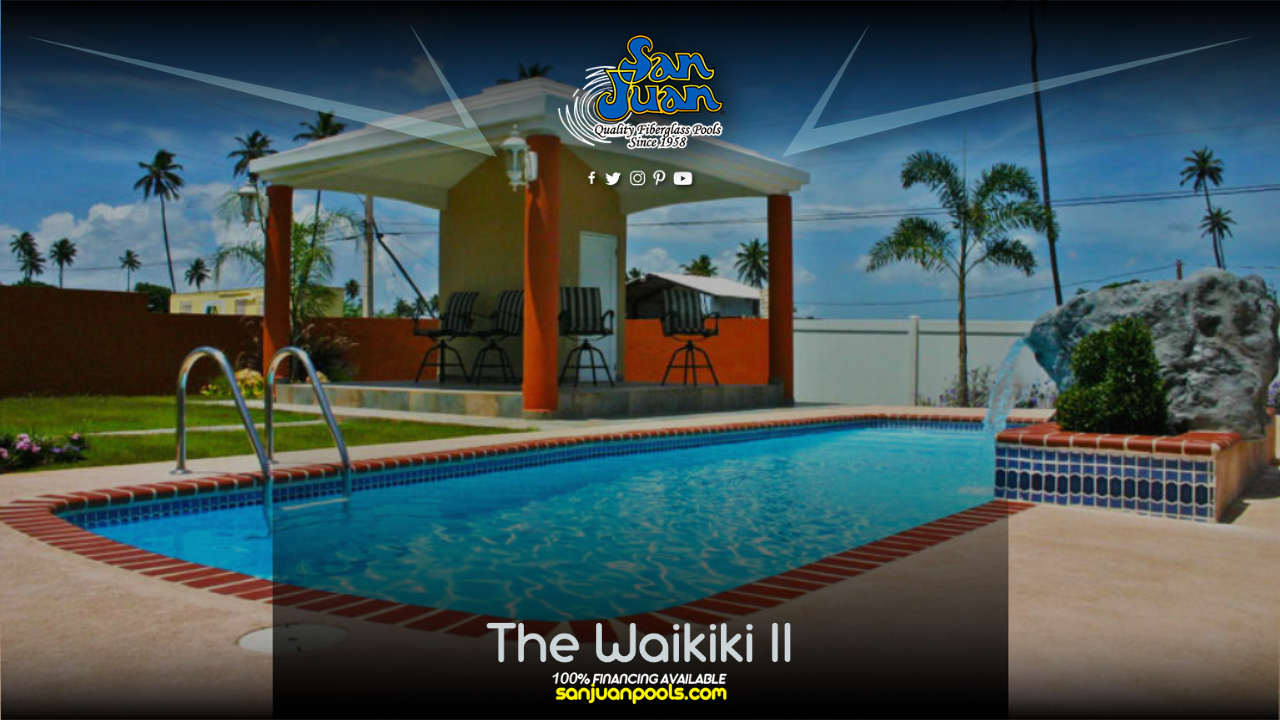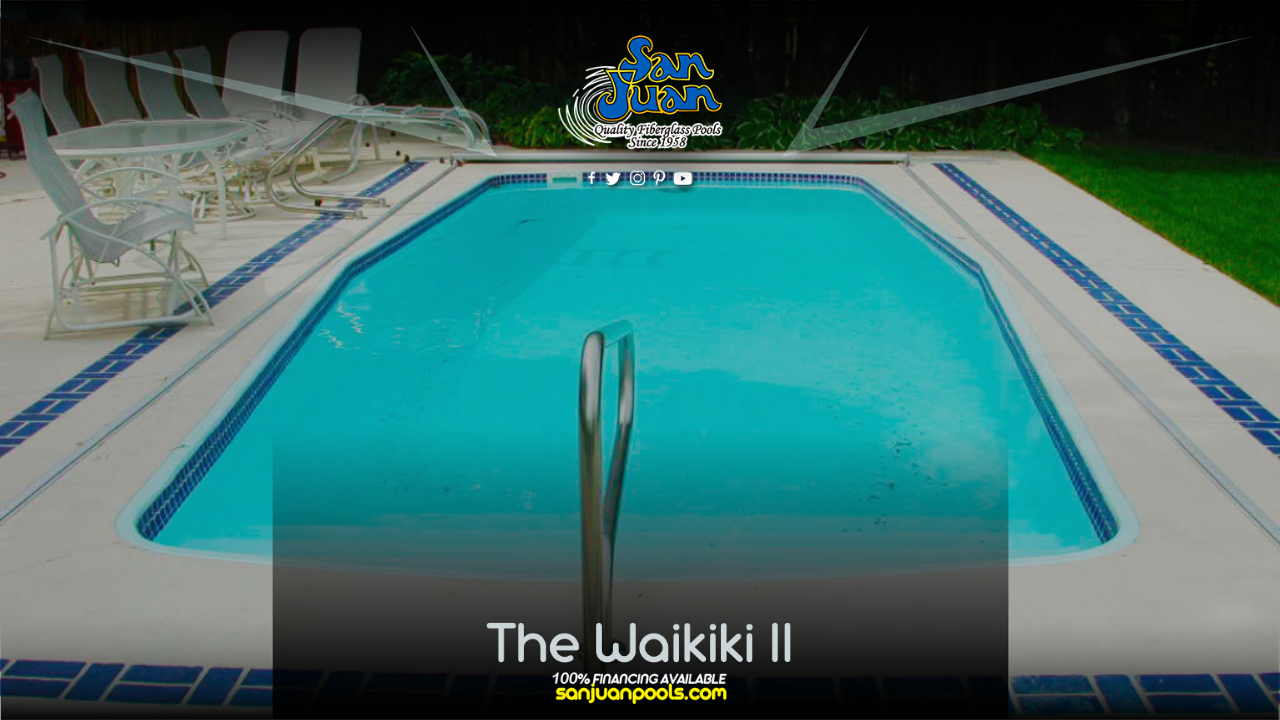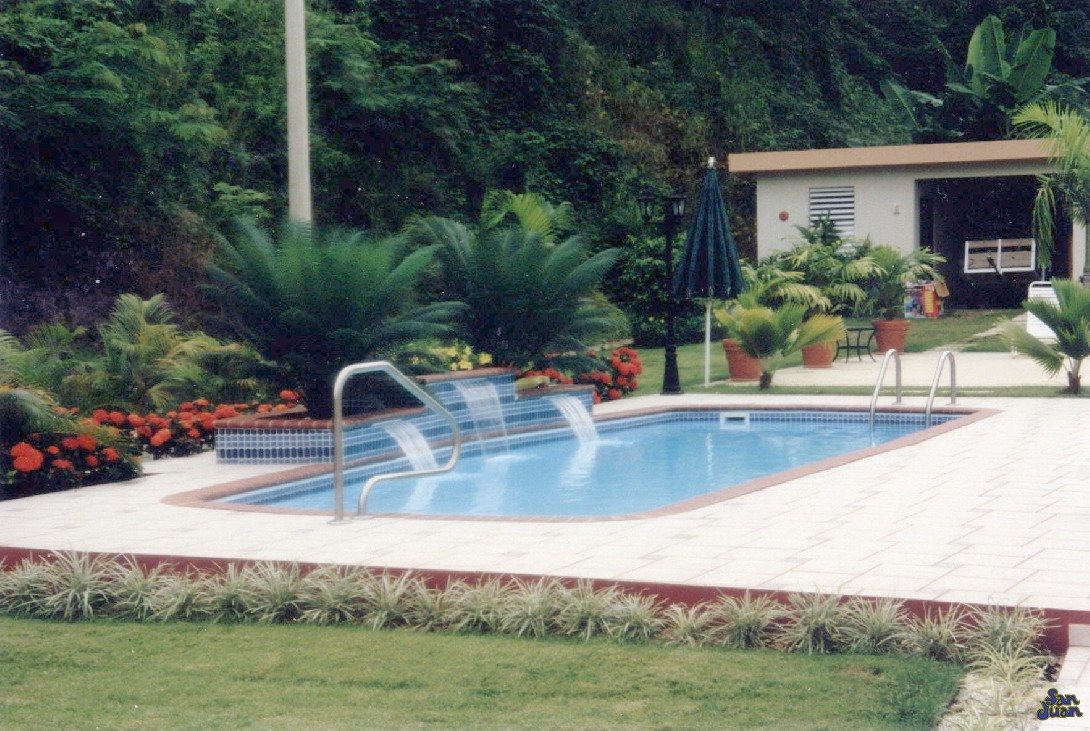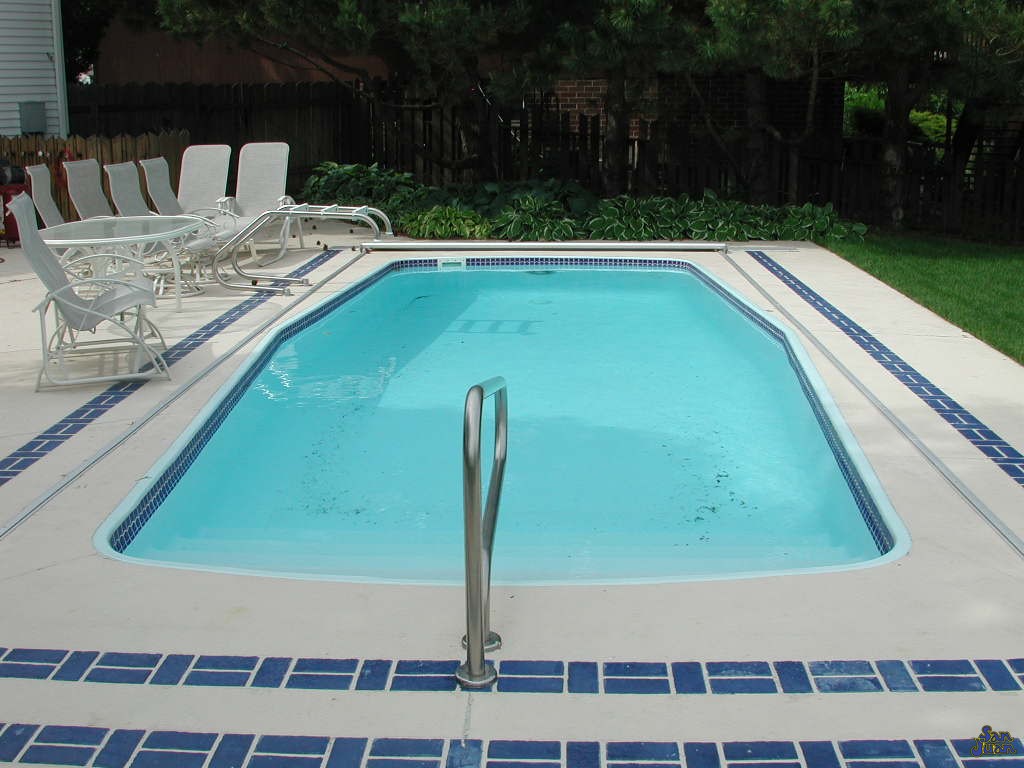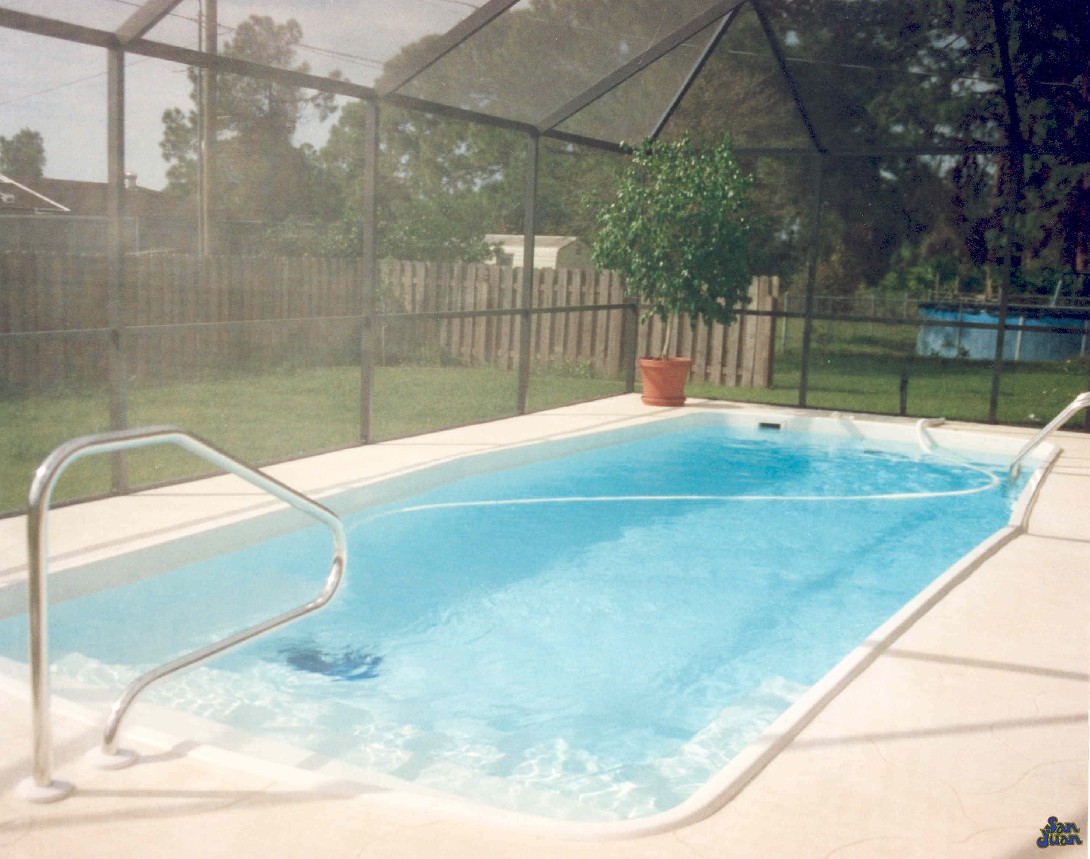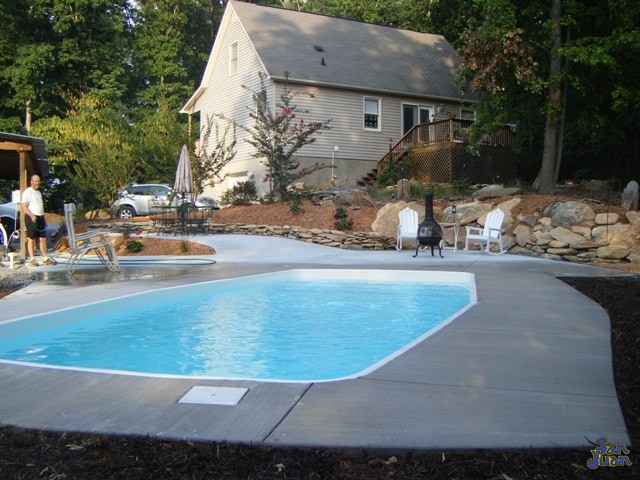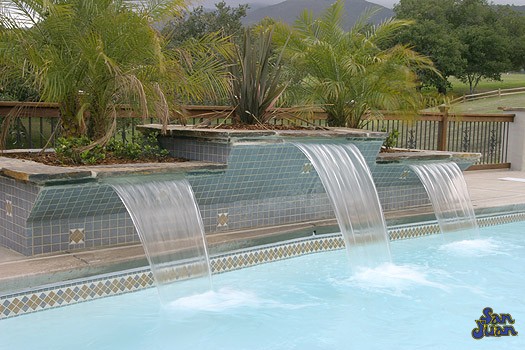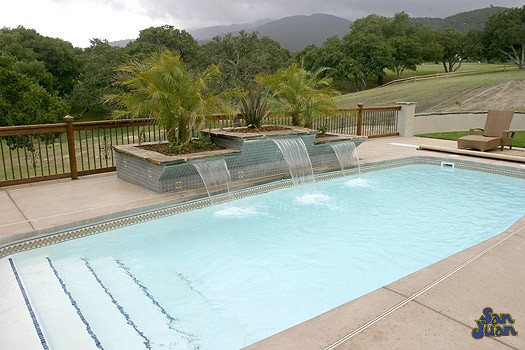 The Waikiki II – Wide Set of Shallow End Entry Steps
The Waikiki II – A Modern Designed with "Bowed Out" Walls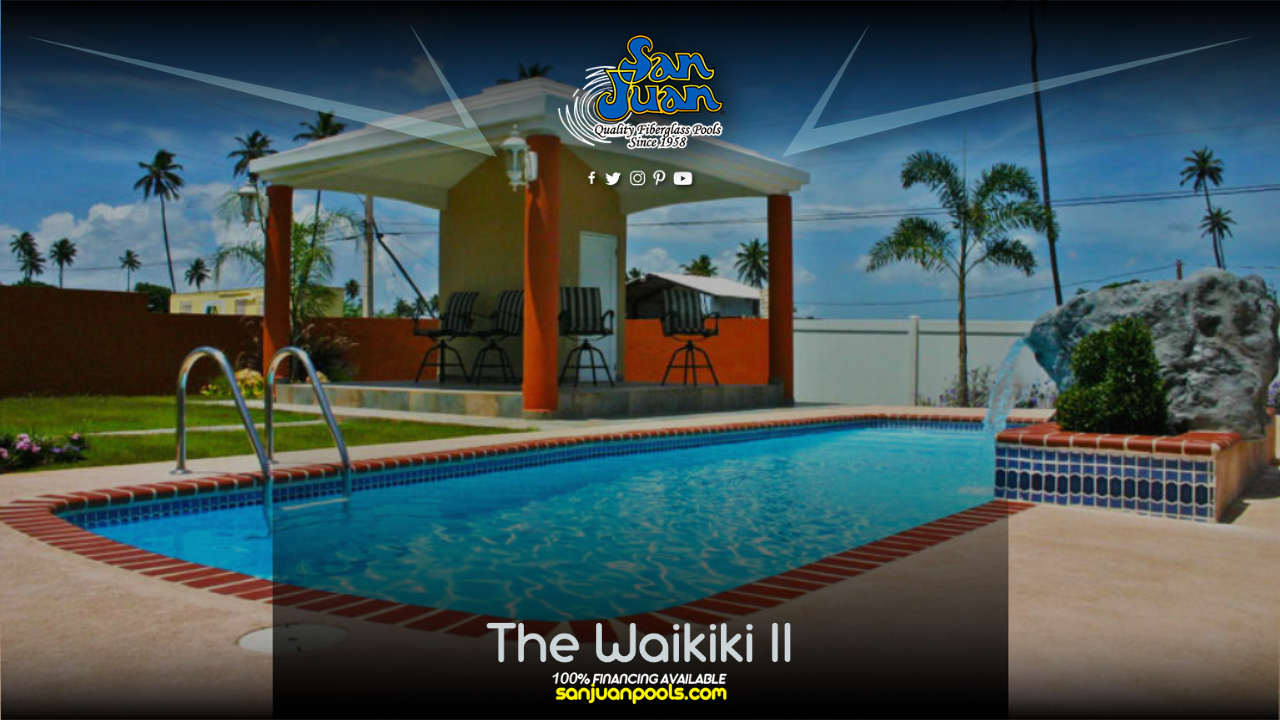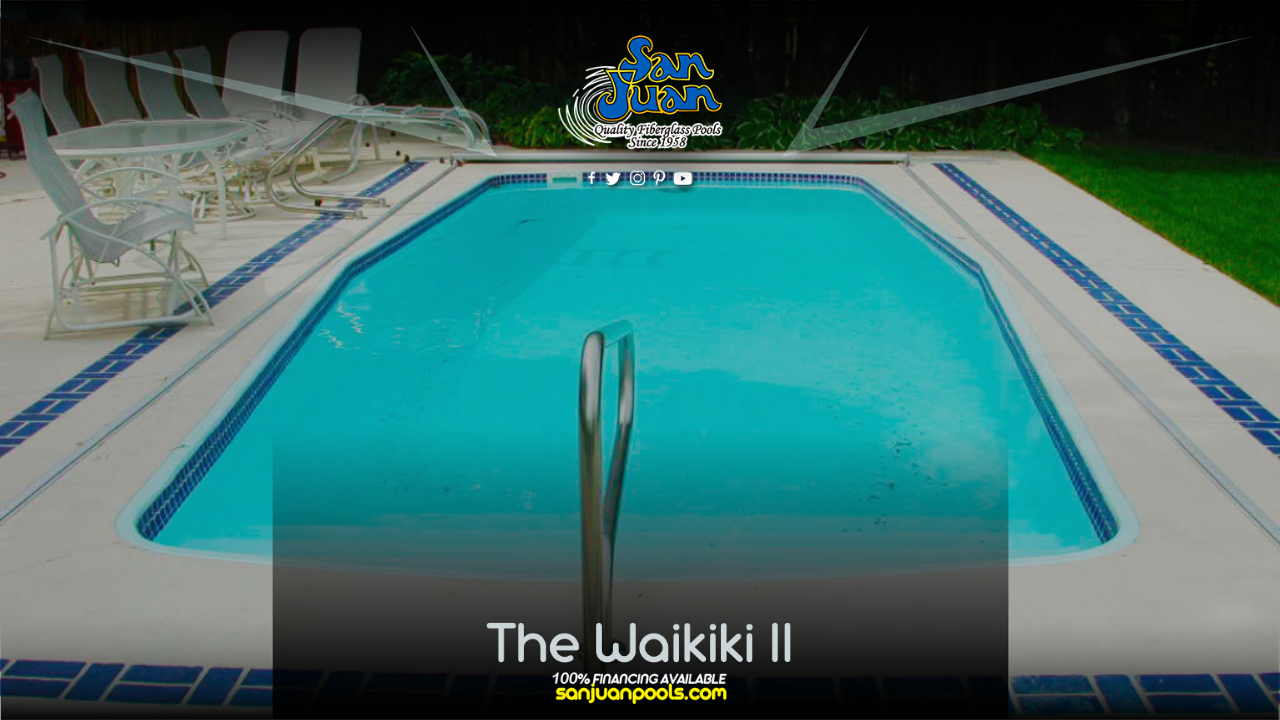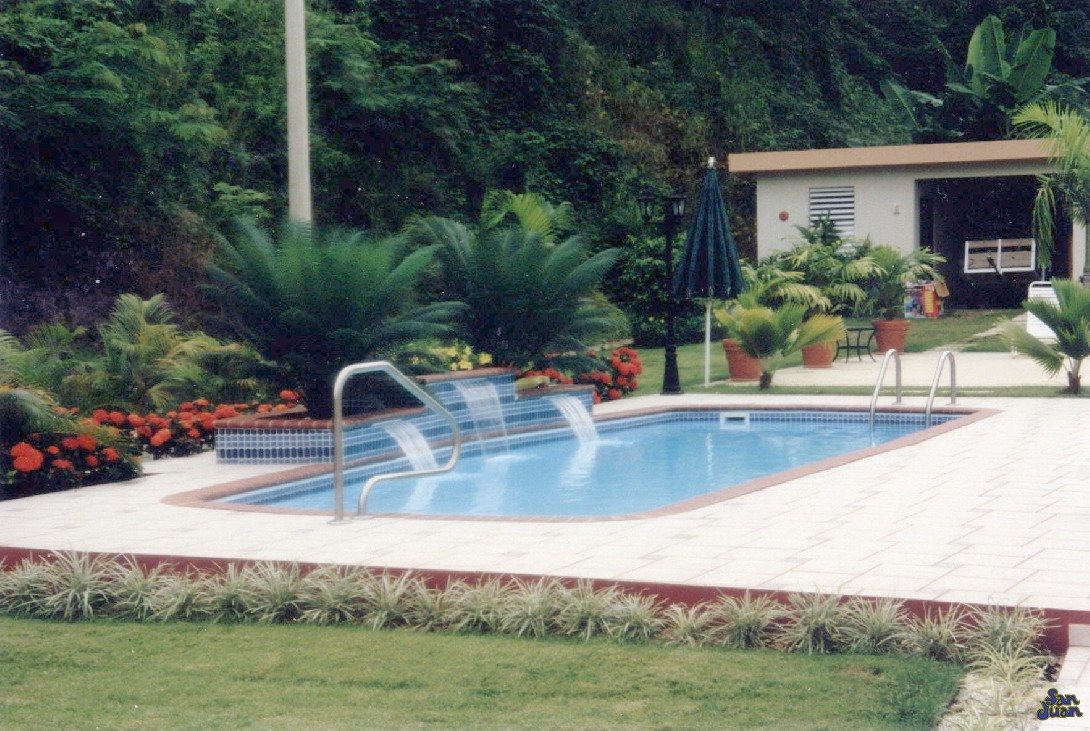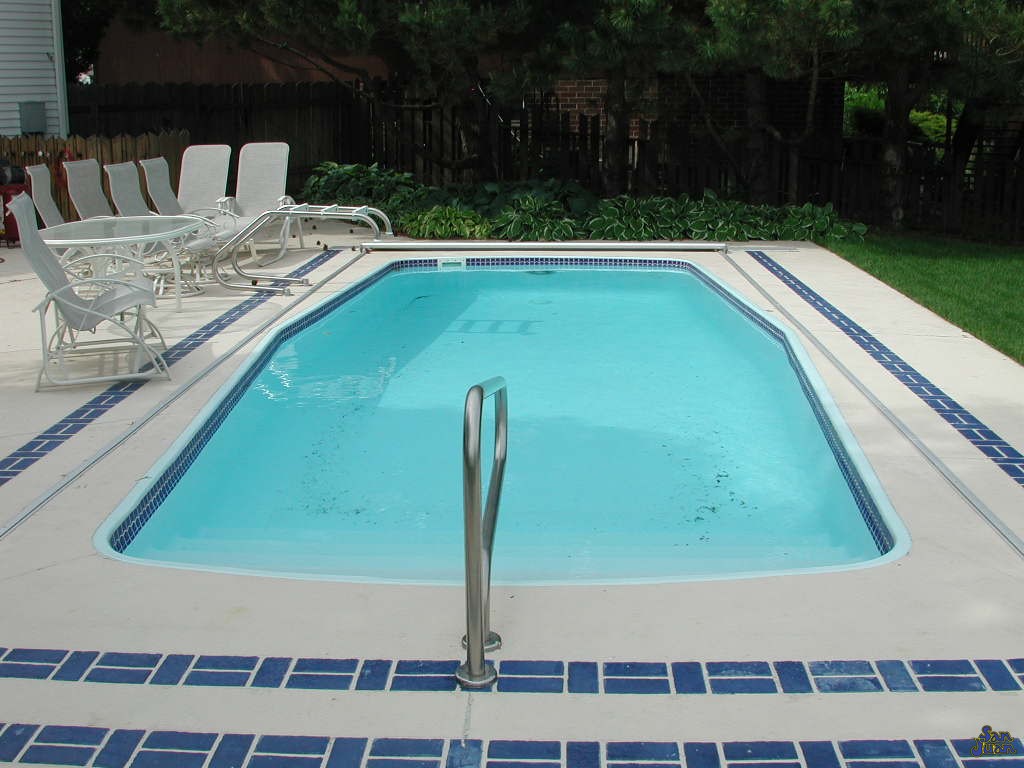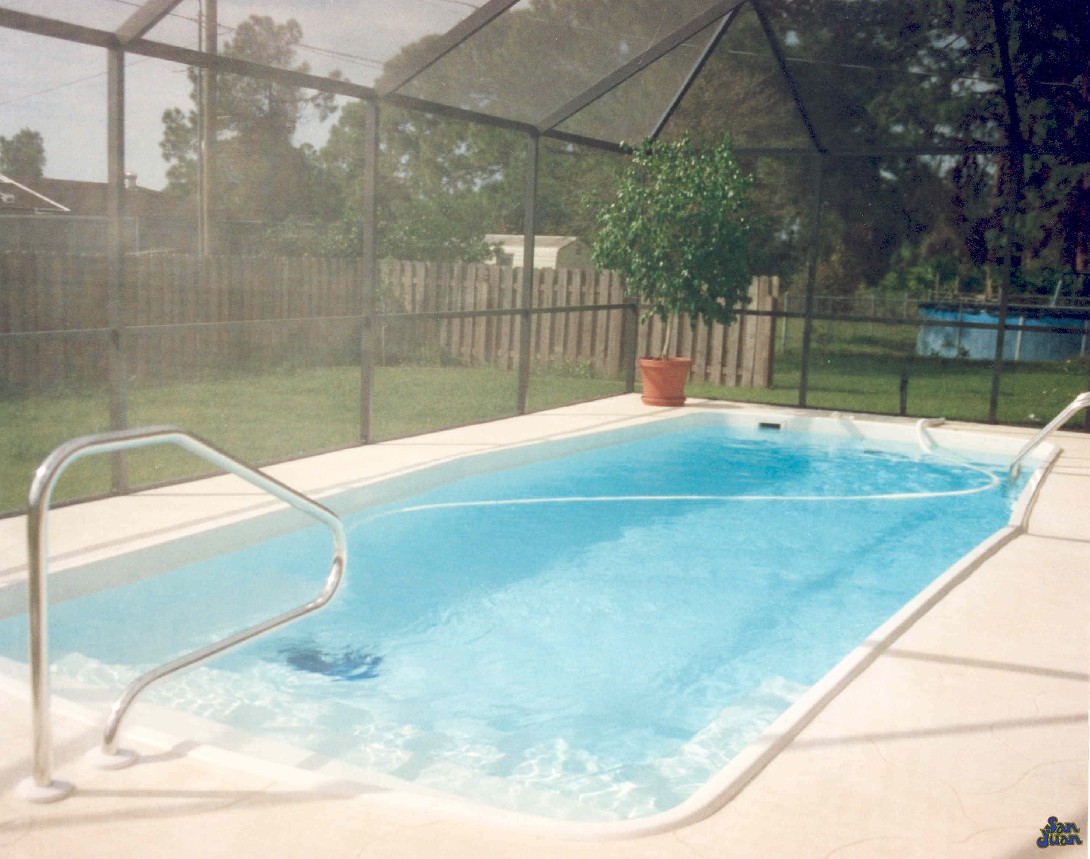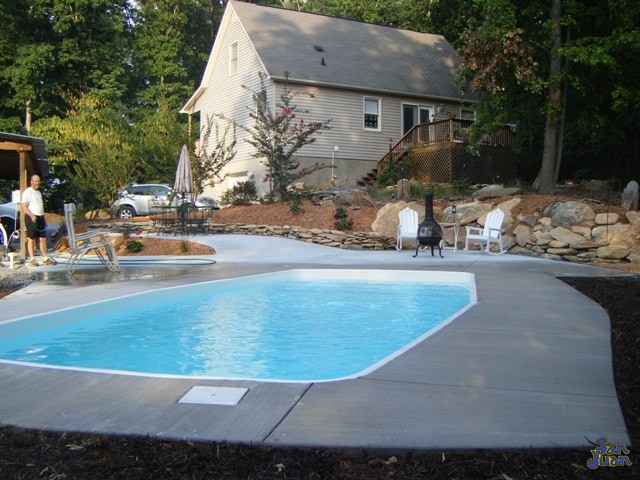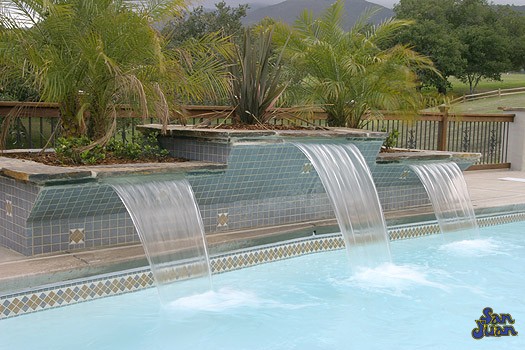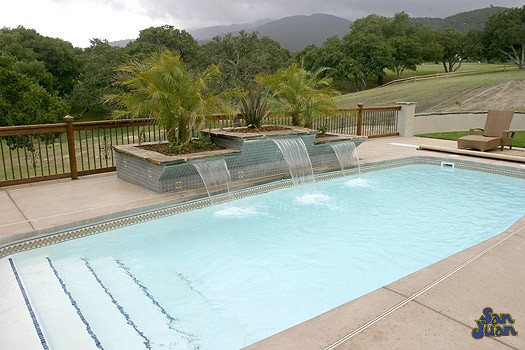 The Pool Specs
Width: 11′ 9″ O.D.

(11′ 1″ I.D.)

Length: 27′ 11″ O.D.

(27′ 1″ I.D.)

Depth: 5′ 7″
Surface Area: 273 SQFT
Volume: 8,500 Gallons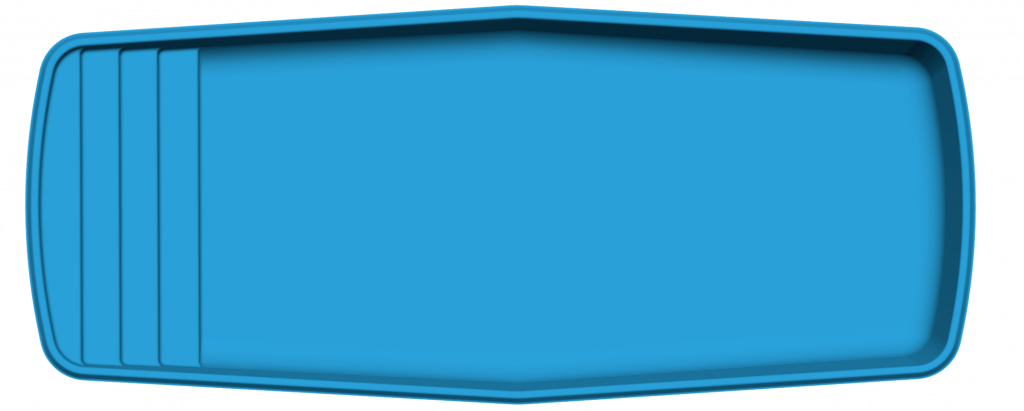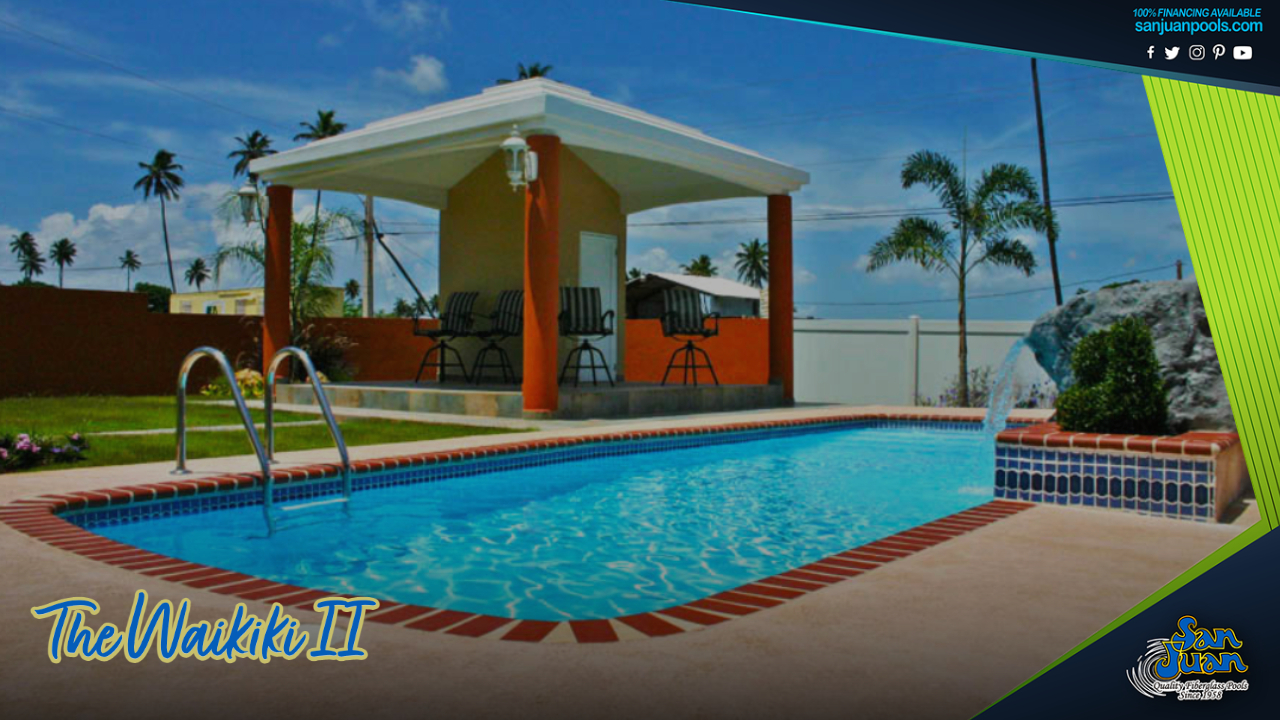 The Waikiki II is a fun twist on a standard rectangular pool design. Rather than straight edges, we've bowed out the middle of the pool shell to expand the swim space. Secondly, this fiberglass pool also includes a wide set of entry steps to enhance its modern design. This is a fun fiberglass pool with both allure & spunk.
The Waikiki II – A Modern Designed with "Bowed Out" Walls
The Waikiki II is a very modern & updated fiberglass swimming pool design. We've enhanced the rectangular shape by bowing out the middle of the swimming pool. This increases the available amount of swim space and adds to the modern flare to this design.
Once you wade into its cool waters, you'll certainly notice the additional space these curved walls add. We recommend sprucing up this design with an elegant water feature (shown above). Secondly, this pool model pairs excellently with some patio furniture or even an automated pool cover (also shown above). Because of it's close resemblance to a rectangle pool shape, the this design works very well with an automated pool cover.
Wide Set of Shallow End Entry Steps
In addition, the Waikiki II is a very close relative to the Waikiki I. Both of these fiberglass pools have nearly identify outside dimensions. The key difference is their shallow end steps.
For starters, the Waikiki I only provides a smaller curved corner entry step. In contrast, the Waikiki II includes a very wide set of entry steps in the shallow end. For that reason, we consider the Waikiki II to be a bit more modern. Although you may consider this a small tweak, wider steps are a definite plus if you're planning on entertaining large amounts of guests.
Includes a Standard Hopper
When comparing both the Waikiki I and Waikiki II, it's important to note that both of these fiberglass pools include a standard hopper. We've designed both of these pool shapes to provide comfortable swim spaces in both the shallow and deep ends. Your guests are free to mingle and enjoy some relaxing recreational swimming in medium sized fiberglass swimming pool!
The Features of The Waikiki II
In conclusion, the Waikiki II is a very popular model that San Juan Pools introduced many years ago. As you can see from some of the images in our slider below, we've been selling this pool for a long time. Our clients enjoy this pool shape due to its modern features and comfortable depth of only 5′ 7″.
This is a very friendly swimming pool for intermediate swimmers and those who want to leisurely swim with little effort. The Waikiki II makes you feel the comfort of the islands as you coast casually on a pool raft. Secondly, you can pair this pool shape with some brilliant water features or casual pool furniture. You're sure to love this fiberglass pool just as much as we do!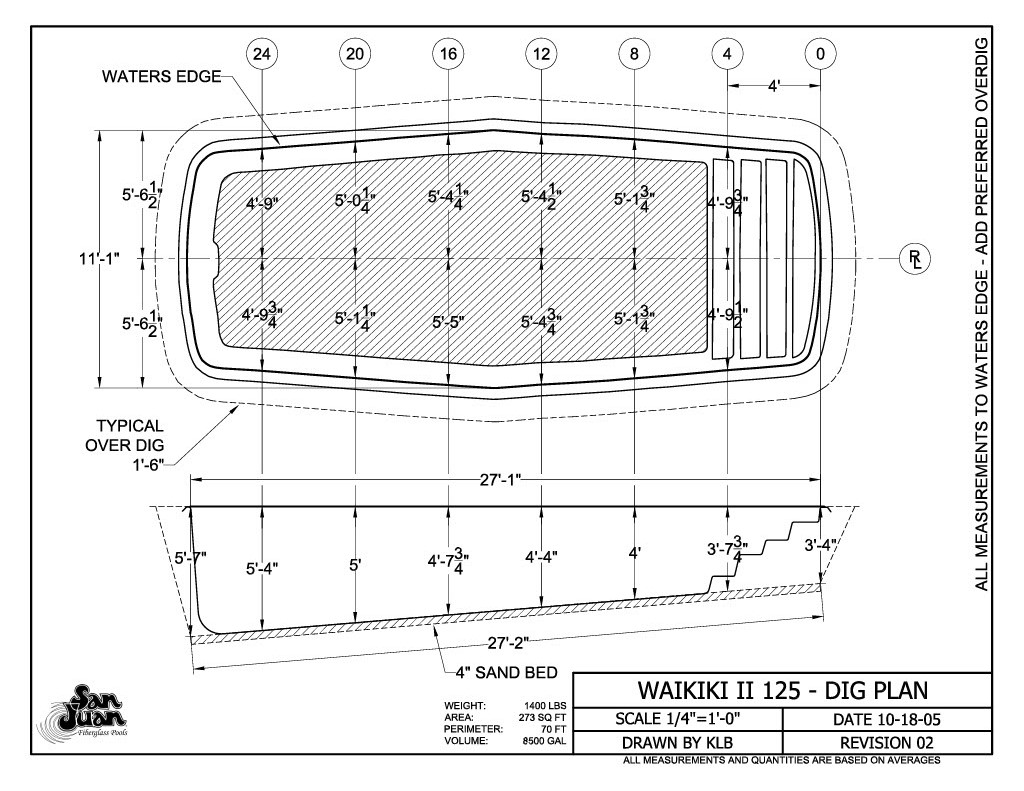 Connect with San Juan Fiberglass Pools online:
Visit the San Juan Fiberglass Pools WEBSITE: https://bit.ly/SJPWebSite
Visit the San Juan Fiberglass Pools GMB: https://bit.ly/SJPGoogleMyBusiness
Like San Juan Fiberglass Pools on FACEBOOK: https://bit.ly/SJPFacebook
Follow San Juan Fiberglass Pools on TWITTER: https://bit.ly/SJPTwitter
Review Us On Google: https://bit.ly/SJPGoogleReviews
Google Maps: https://bit.ly/SJPMaps
Google Search: https://bit.ly/SJPGoogleSearch