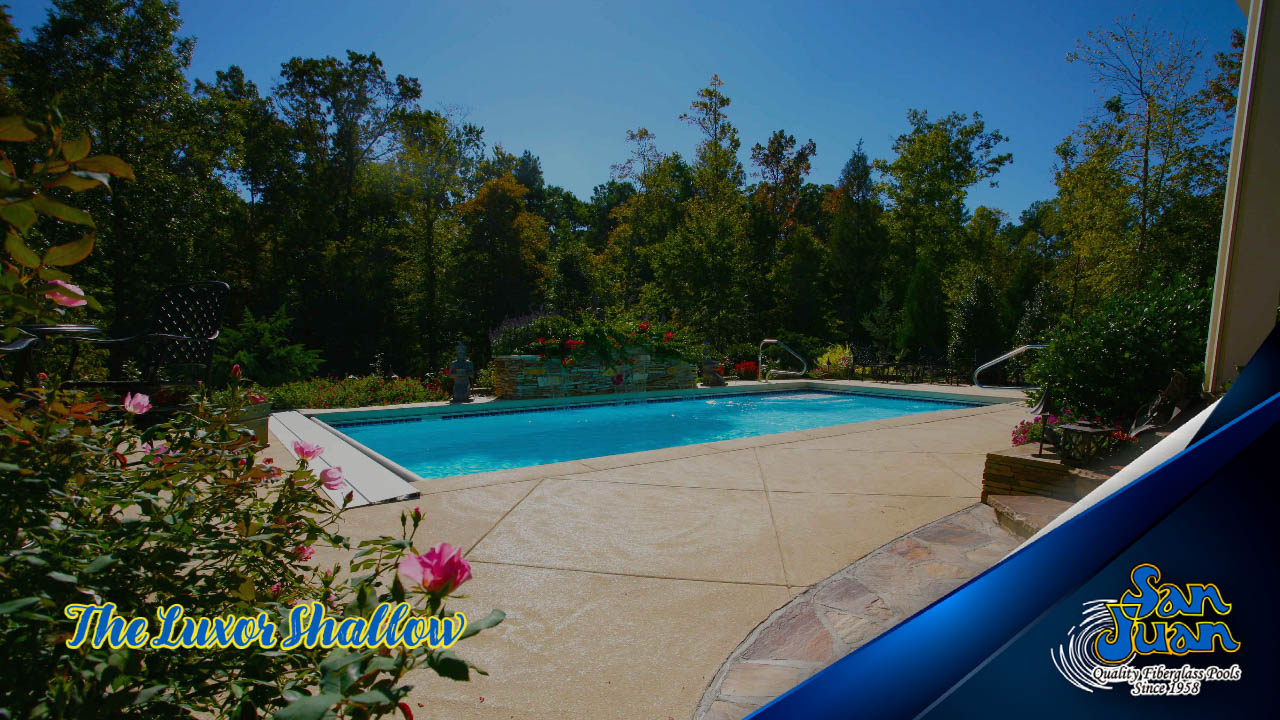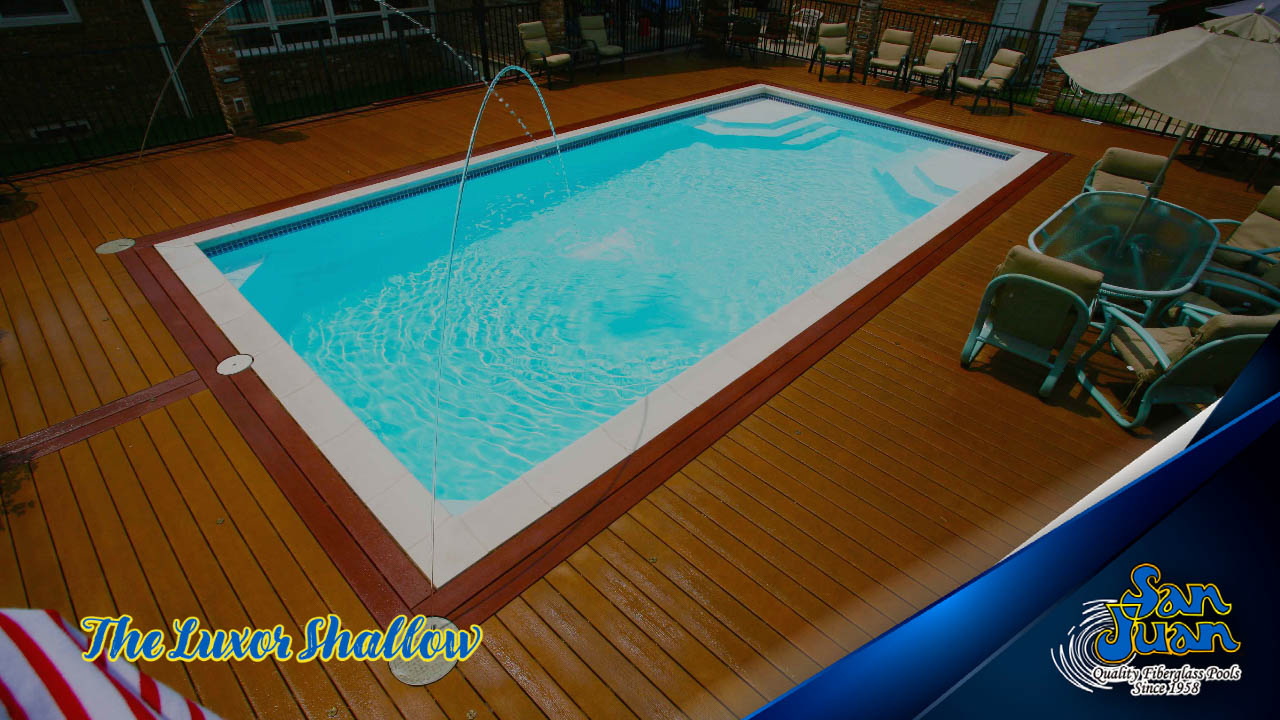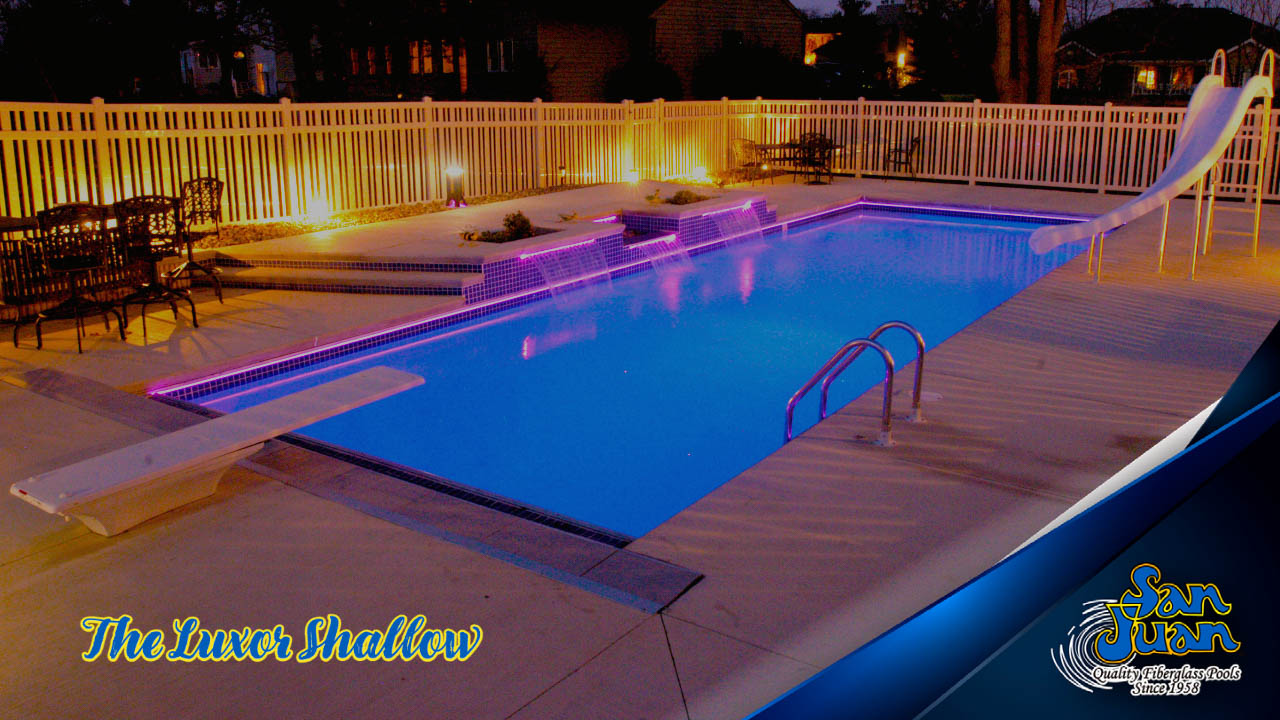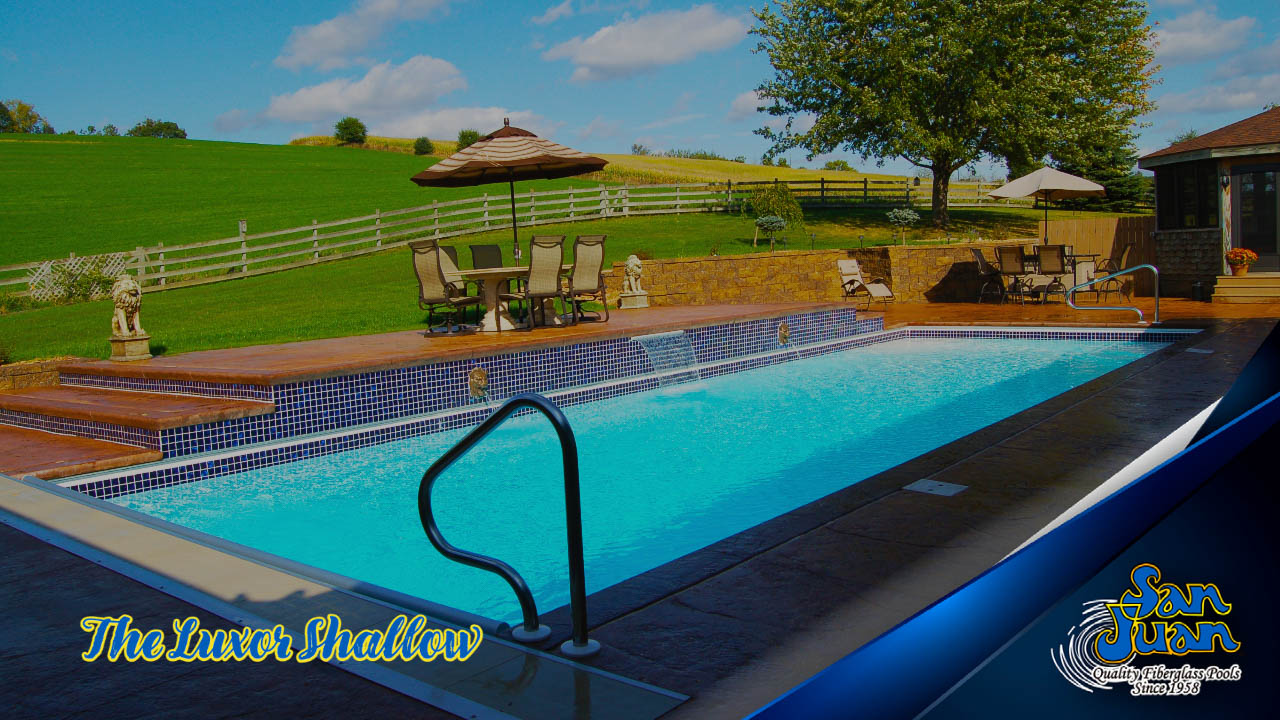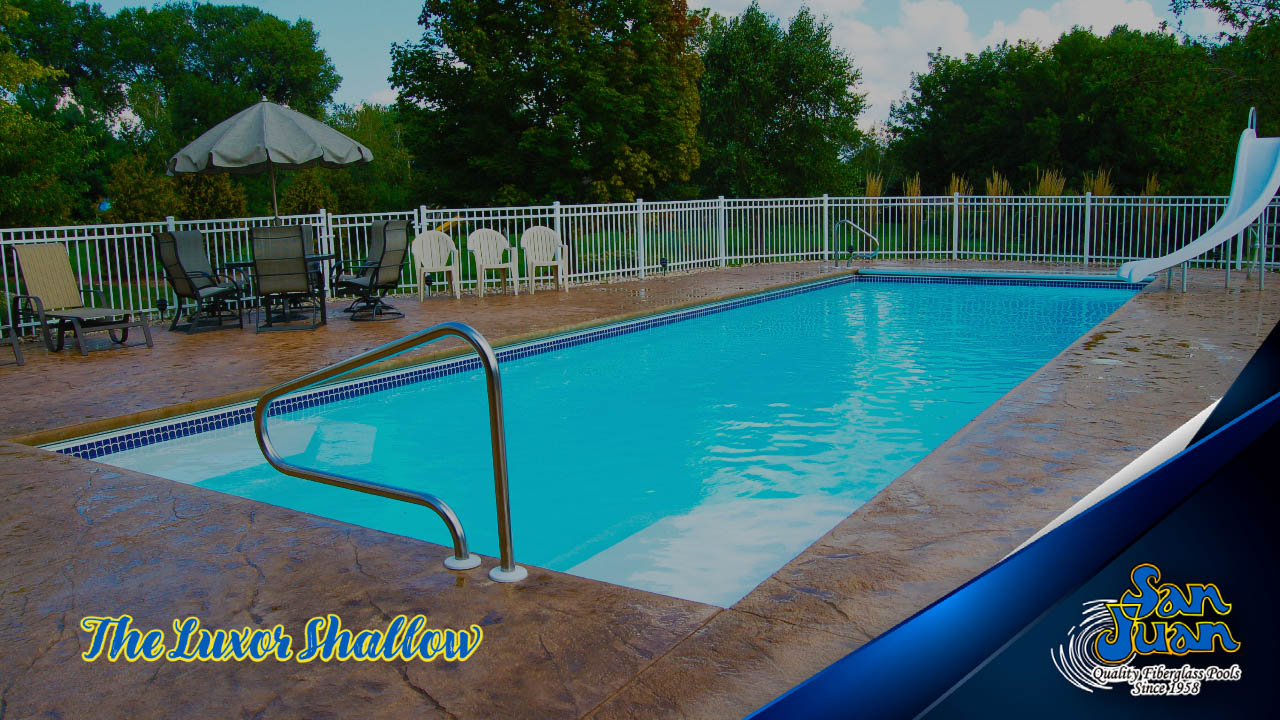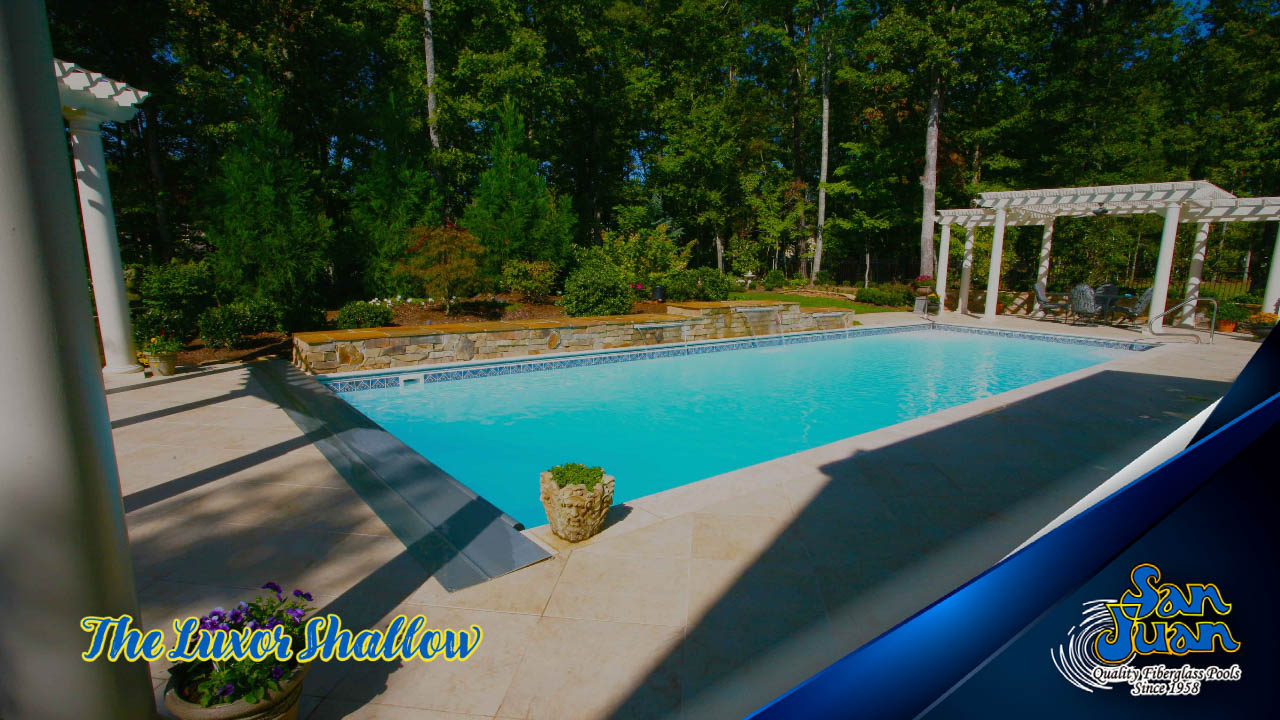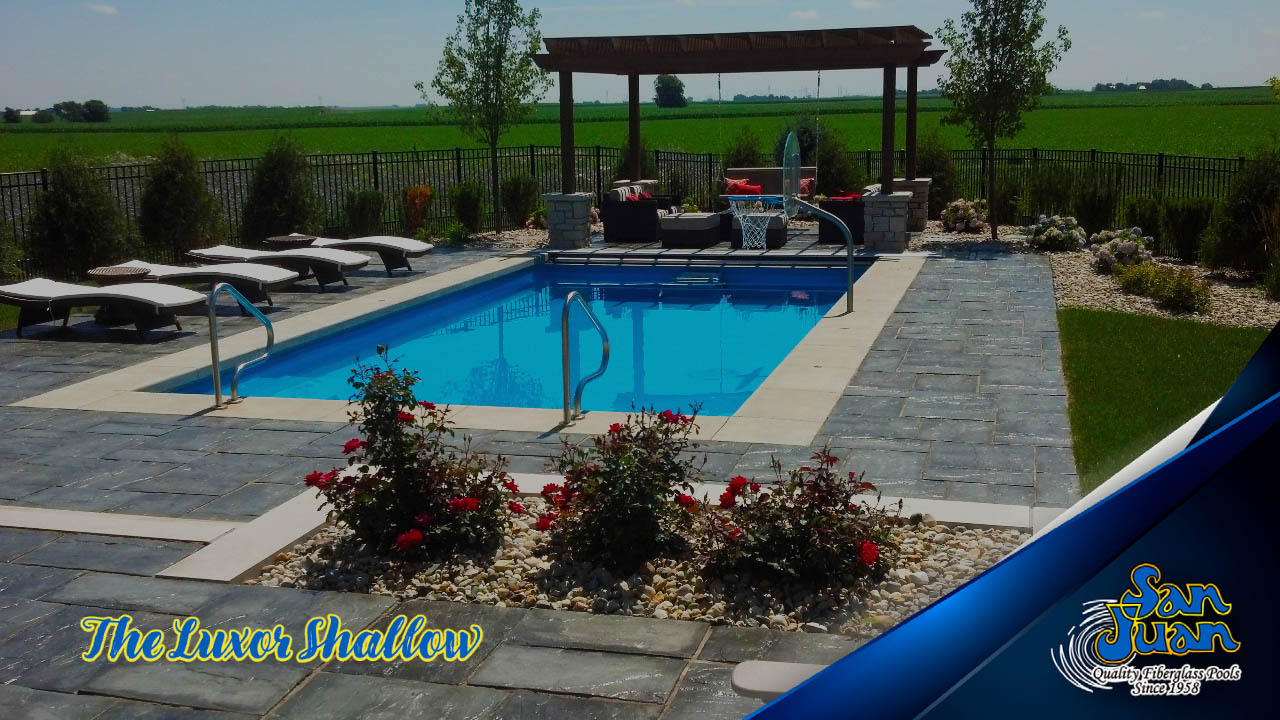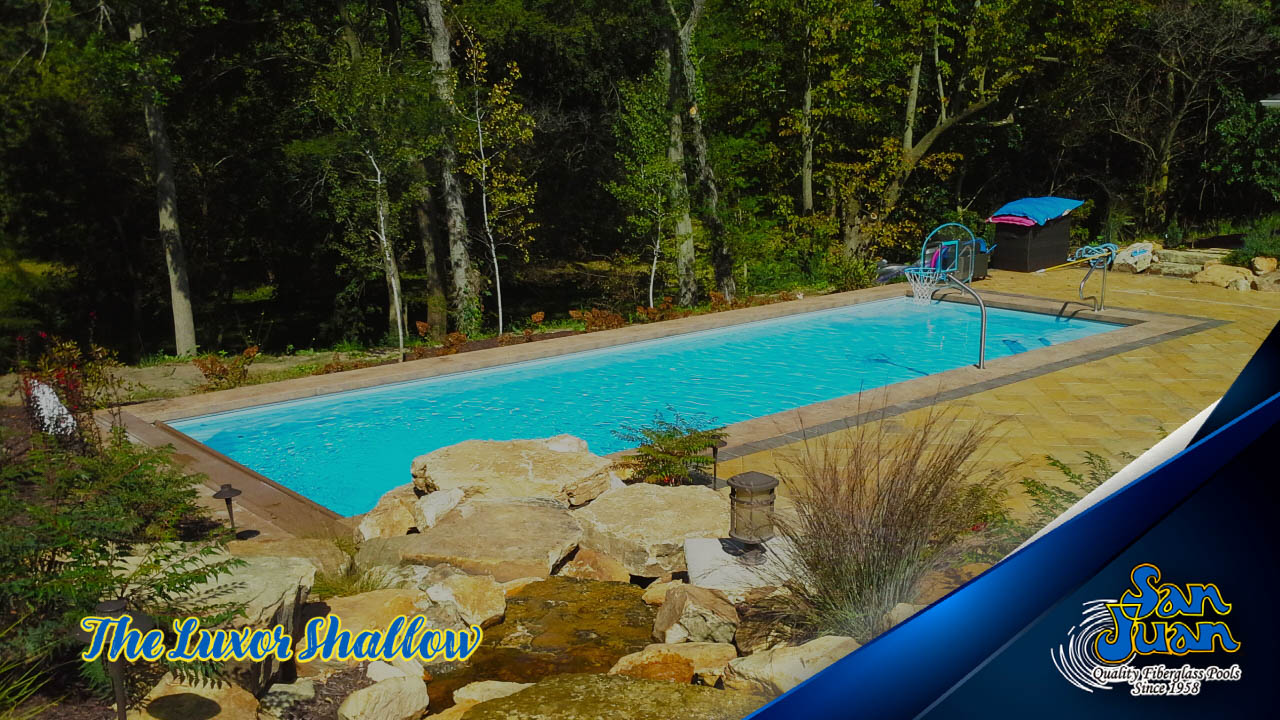 The Luxor Shallow - Beautifully Designed Rectangle Shape
The Luxor Shallow - Beautifully Designed Rectangle Shape
The Luxor Shallow - Beautifully Designed Rectangle Shape
The Luxor Shallow - Beautifully Designed Rectangle Shape
The Luxor Shallow - Beautifully Designed Rectangle Shape
The Luxor Shallow - Beautifully Designed Rectangle Shape
The Luxor Shallow - Beautifully Designed Rectangle Shape
The Luxor Shallow - Beautifully Designed Rectangle Shape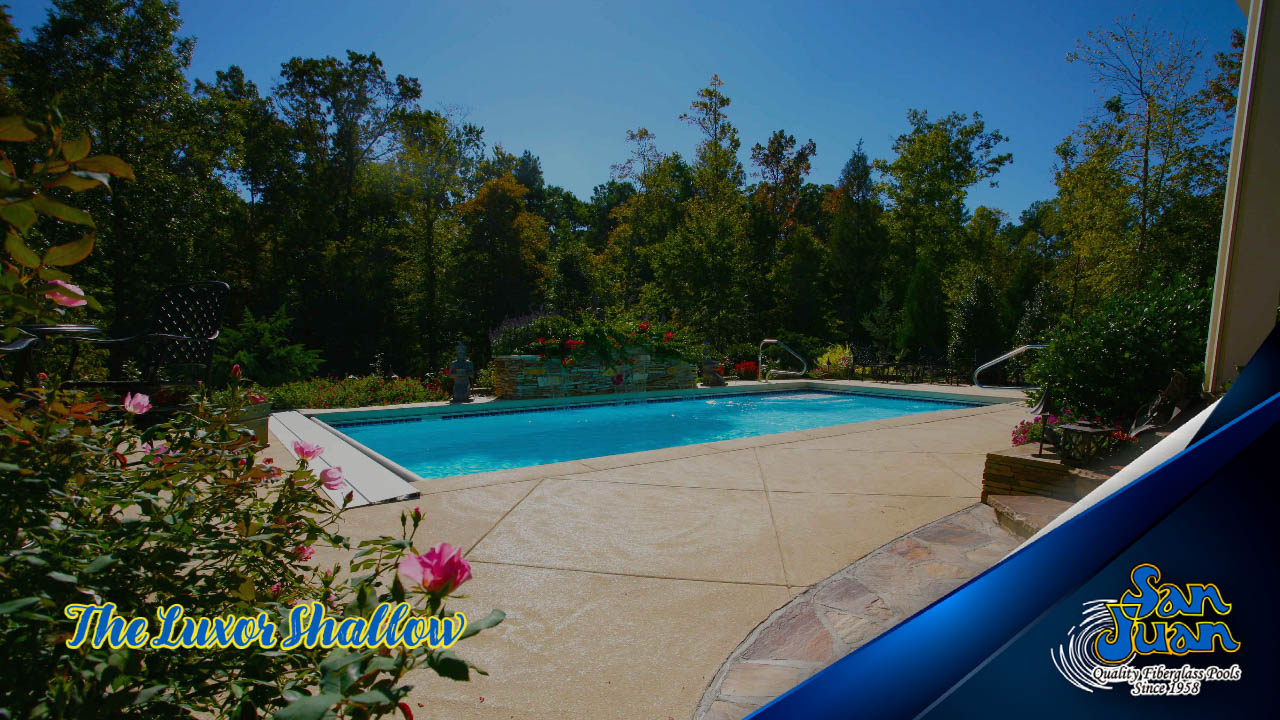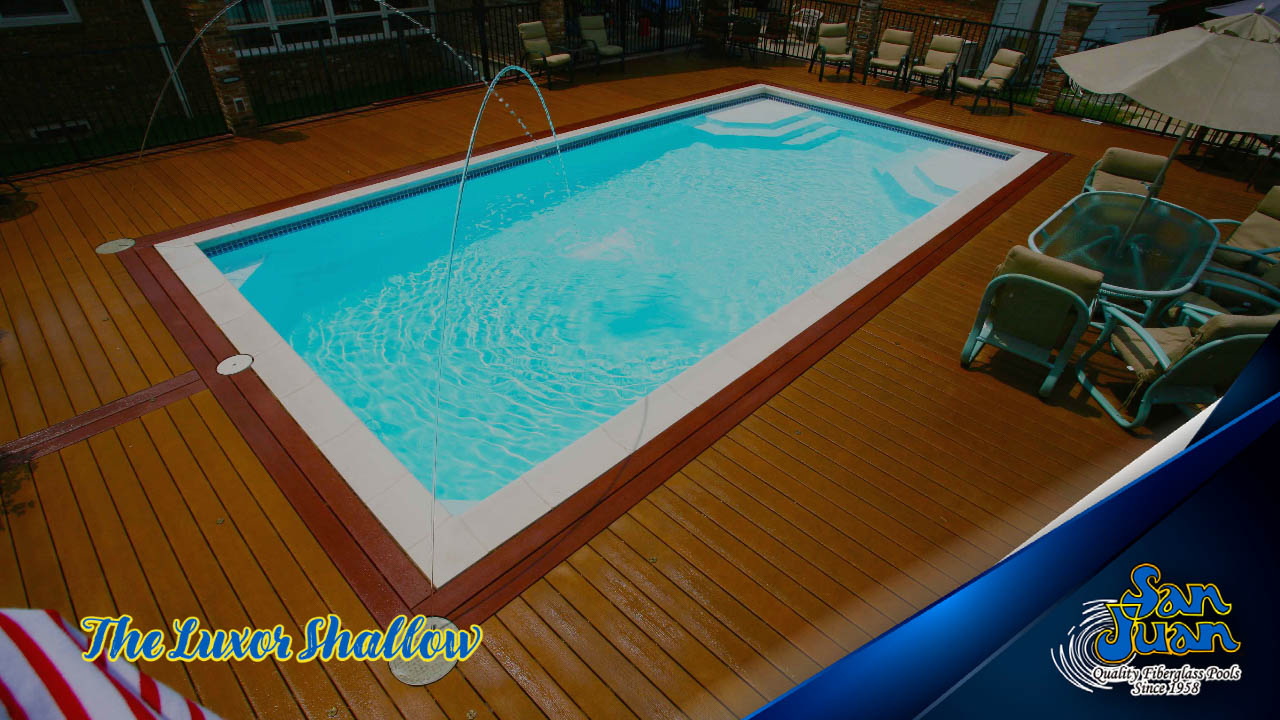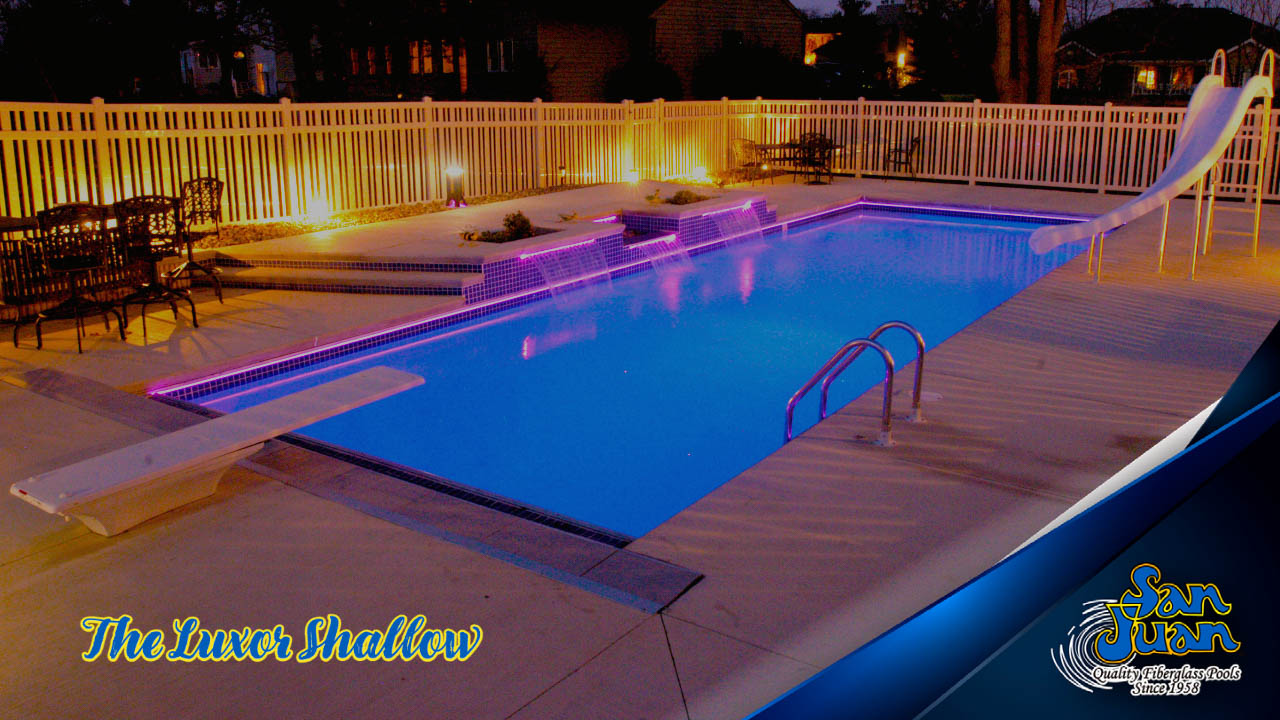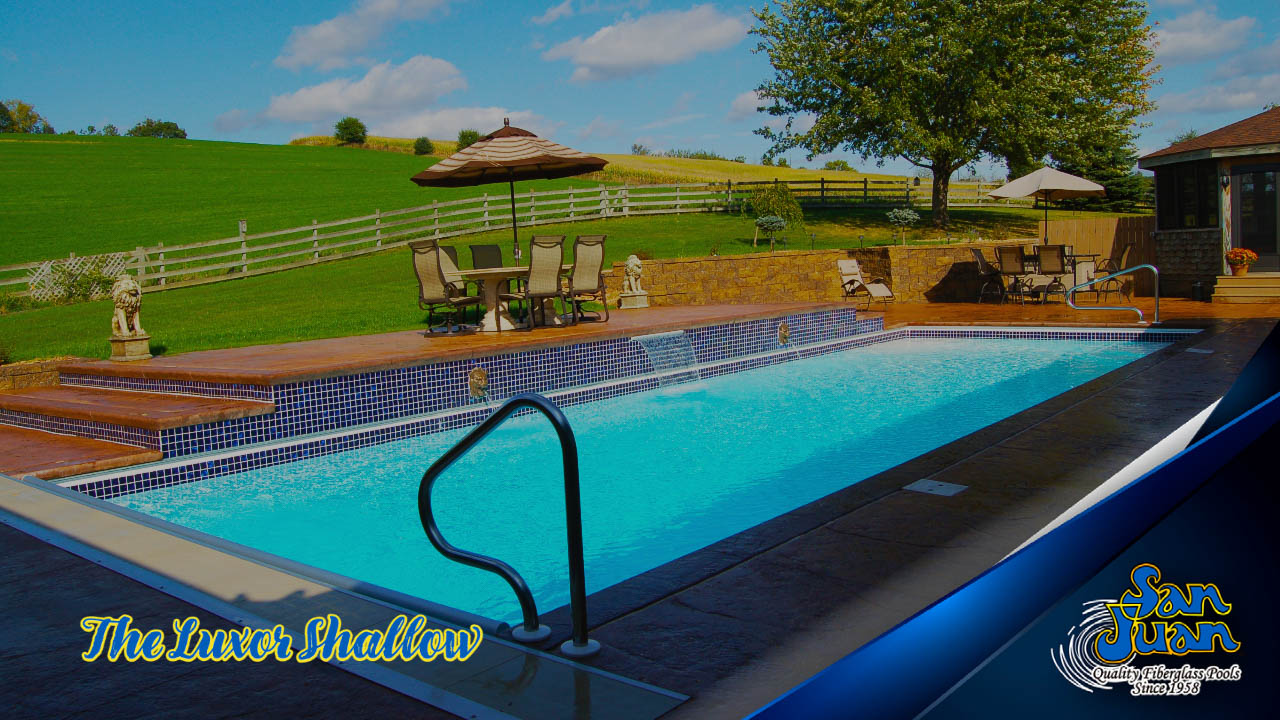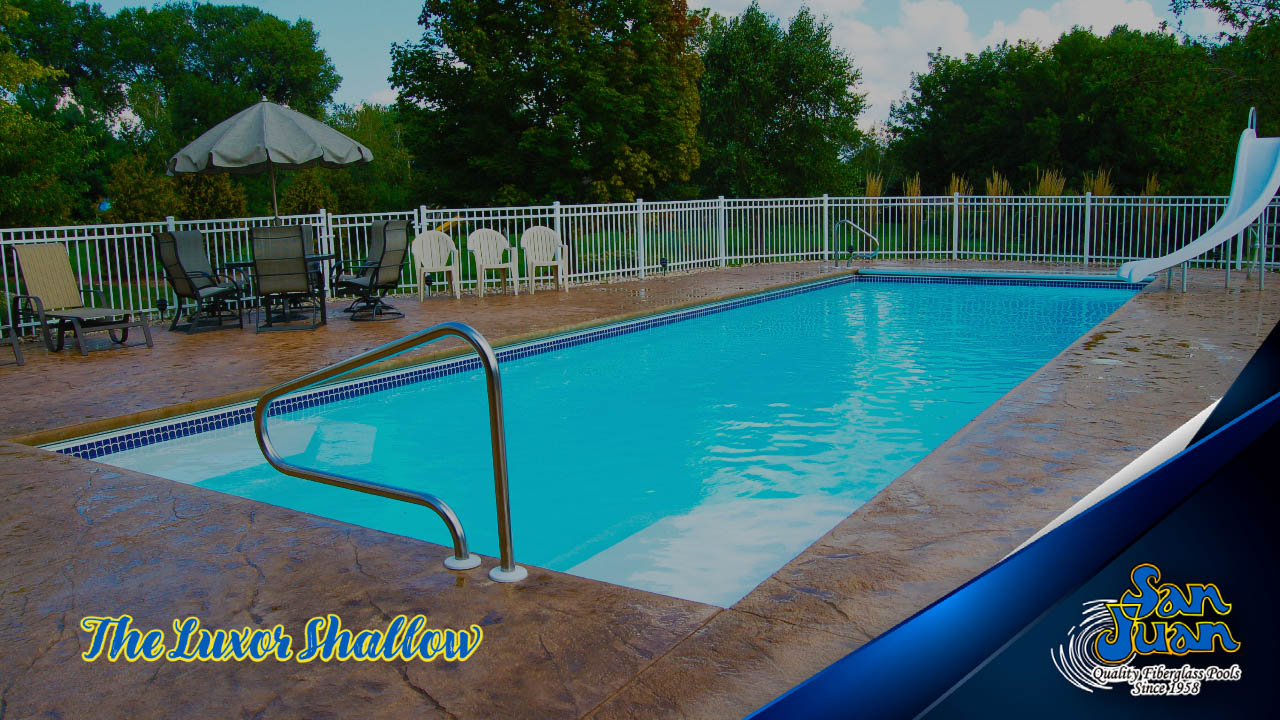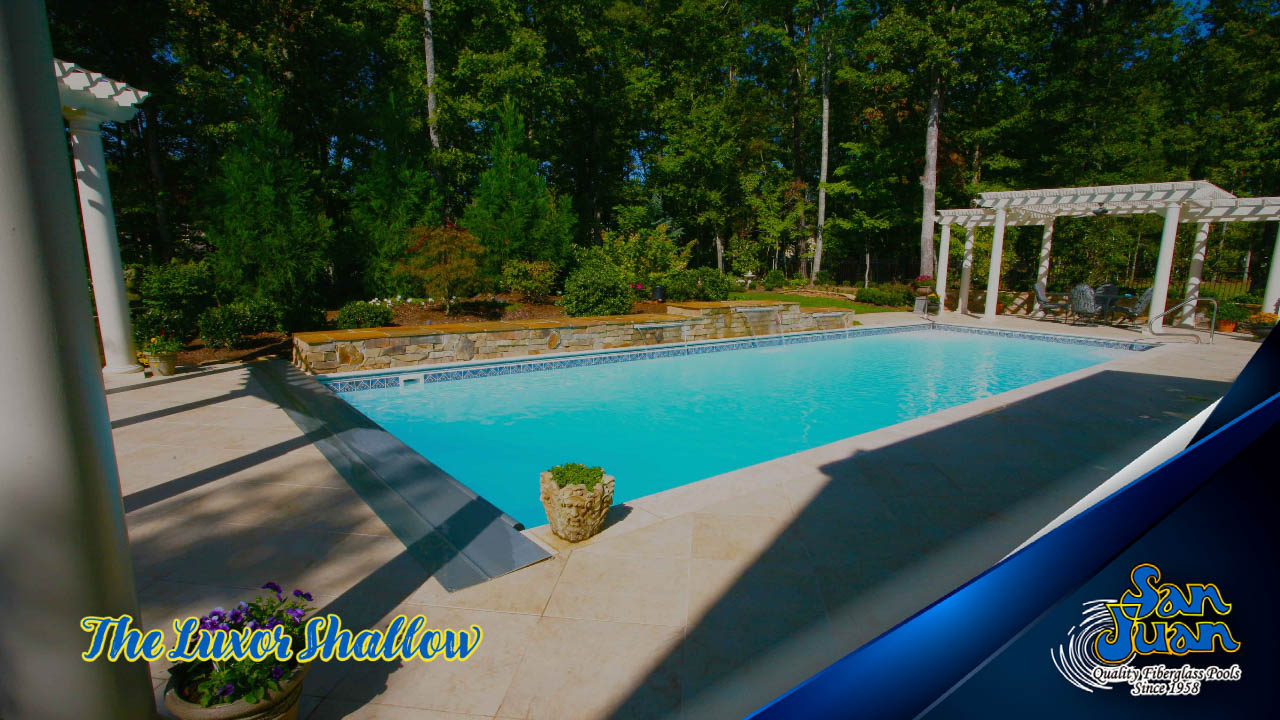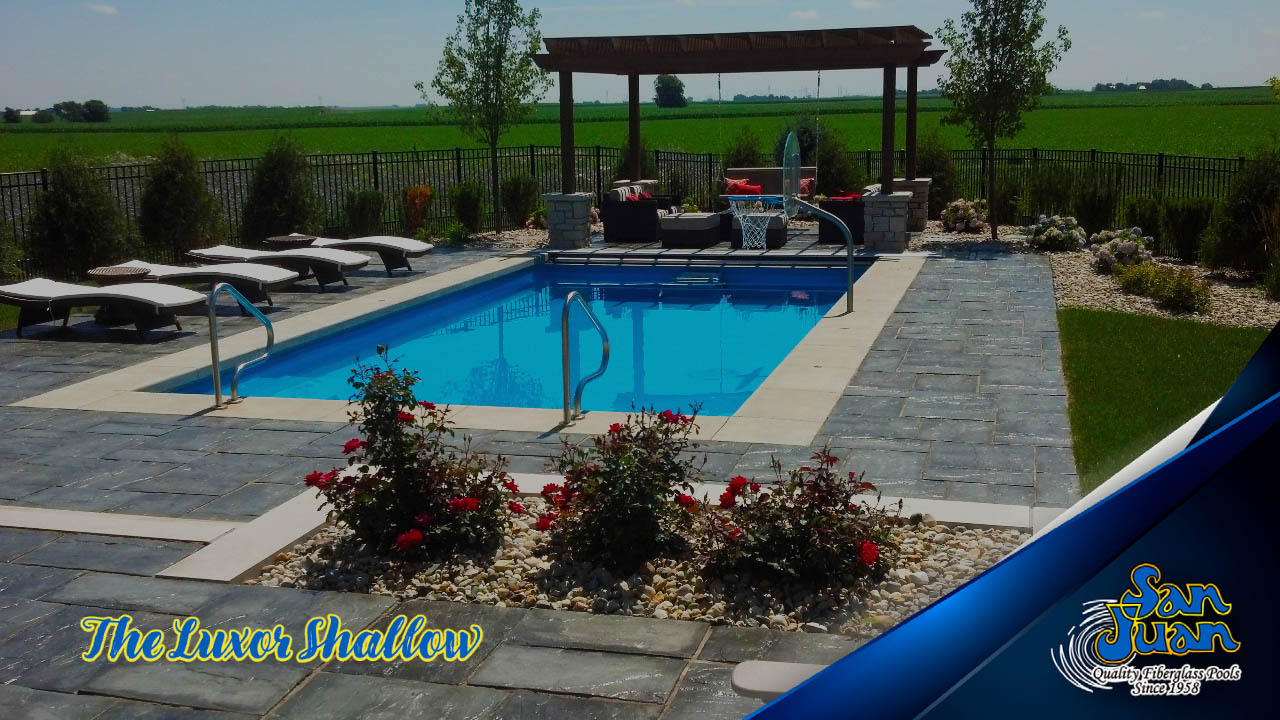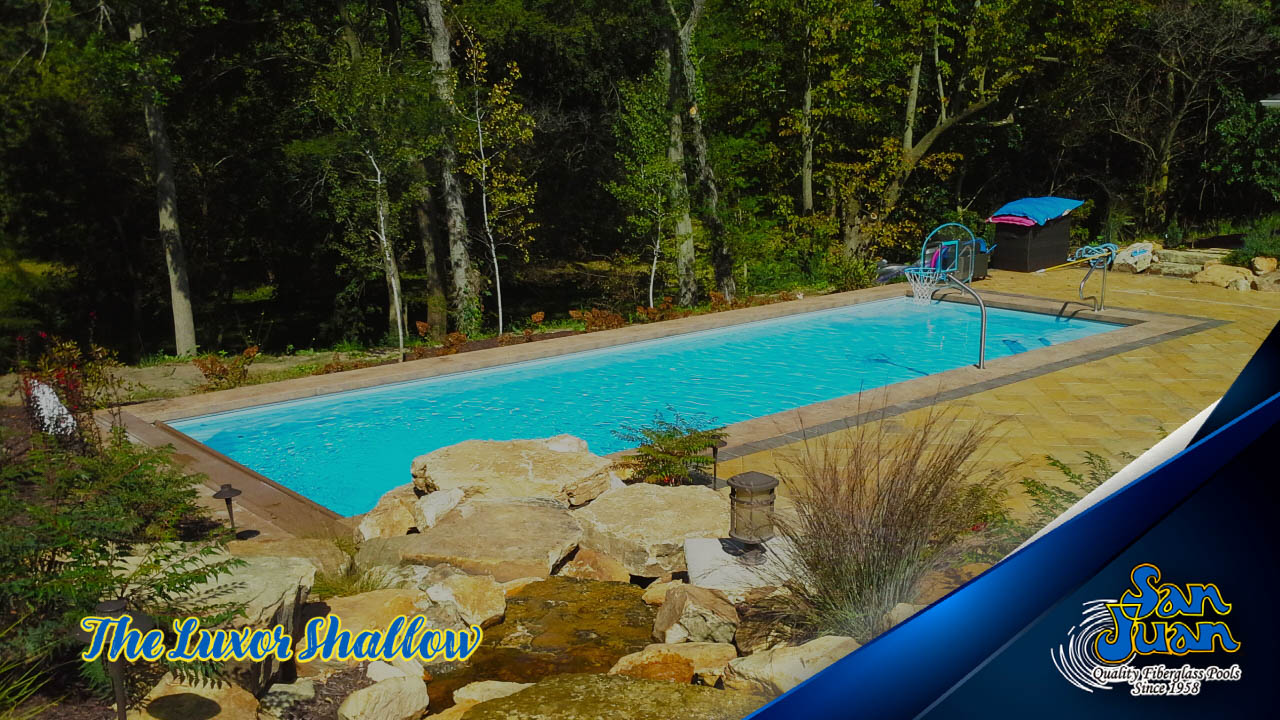 The Pool Specs
Width: 15′ 11″ O.D.

(15′ 1″ I.D.)

Length: 44′ 7″ O.D.

(43′ 7″ I.D.)

Depth: 6′ 4″
Surface Area: 658 SQFT
Volume: 19,000 Gallons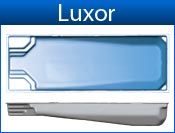 The Luxor Shallow End Pool
We're excited to bring you the beautiful & renowned Luxor Shallow End swimming pool! This radiant fiberglass swimming pool is a sister of our also very popular Luxor Deep End swimming pool. Both models have the EXACT SAME outside dimensions. This includes their ravishing 43′ 7″ length & 15′ 1″ width. The only difference between these two models is their deep-end depths.
The Luxor Deep, by comparison, encompasses a 7′ 10″ deep end while the Luxor Shallow only provides a 6′ 4″. Although they are very similar in design, both are utilized by entirely different customers. For parents, the Luxor Shallow is a widely adopted pool model because of its more conservative deep end. It's always a plus to have peace of mind with swimmers who are still earning their fins. However, if your household is comprised of advanced swimmers, then we certainly recommend the Luxor Deep End.
The choice is yours and that's part of the fun! You have two identical swimming pools that you can select based upon your swimming skill set & recreational desires. Both pool shapes have received soaring reviews because of their modern design and renowned gel coat finishes. Either way, you'll have a swimming pool that you can be proud of and will enjoy for years to come!
Beautifully Designed Rectangle Shape
The Luxor Shallow End swimming pool sports a beautiful & modern rectangular pool shape. This particular model fits handsomely in backyards with lots of room for installation. Secondly, it can elevate the aesthetic appeal of your yard if complimented by modern furniture & decking. However you decide to dress up this fiberglass pool, you're going to reap the benefits of its beautiful design. By installing it, you're going to immediately enhance the appeal of your backyard and will enjoy its beauty!
A Very Long Pool Shape
Just like its Luxor Deep End sister, the Luxor Shallow End provides a stunning length of 43′ 7″. This length is exceptional for lap swimming and lots of pool games. Your children and guests will love the Luxor Shallow End because of its large size and complimentary features.
Along with its stunning length, this pool provides comfortable bench seating in each shallow end corner. This is a great space for guests to mingle and it can be adorned with water features. Thrown in some bubblers on this bench seating for a superior water show. You can even light them up at night by selecting a LED bubbler. The choice is yours!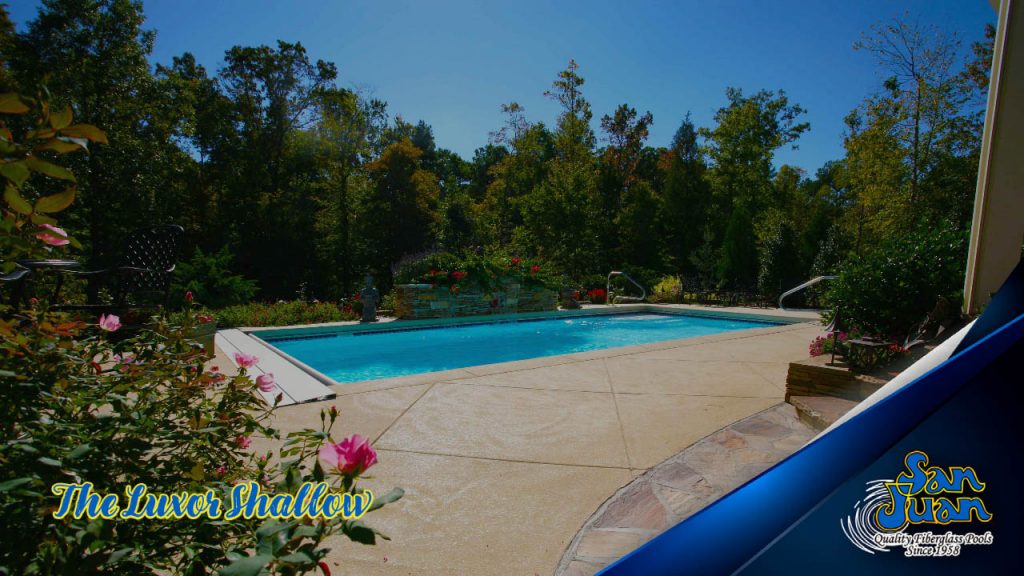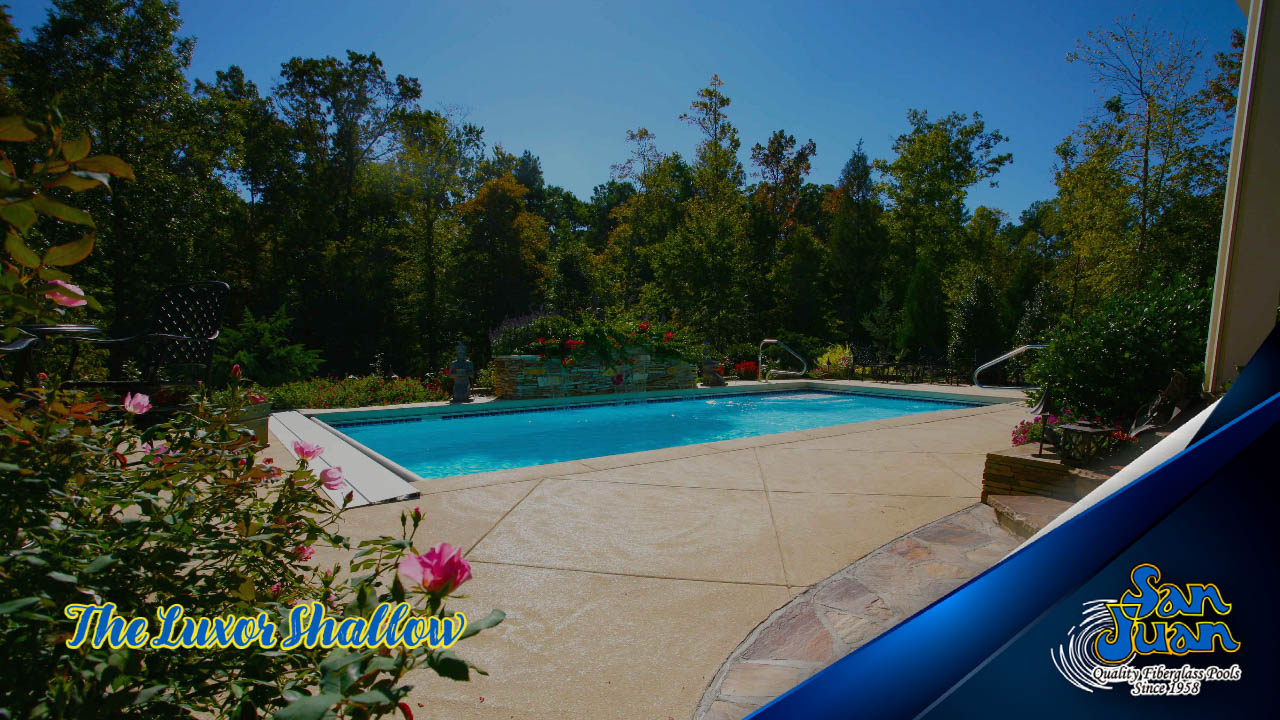 The Luxor Shallow is a beautiful recreation of our very popular Luxor Deep End Pool. This elegantly designed fiberglass pool includes a very long body that's perfect for lap swimming. You're sure to love this design because of its large shape and modern features.
The Features of The Luxor Shallow
In conclusion, the Luxor Shallow End is an enticing display of our ability at San Juan Pools to design beautiful fiberglass swimming pools!
This pool model provides a convenient set of corner entry steps/benches & comfortable depth of 6′ 4″. Secondly, its brilliant length of 43′ 7″ is exceptional for lap swimming & aerobic activity. All in all, the Luxor Shallow End is a very modern swimming pool that enhances the beauty of any backyards it's added to. You're sure to love this pool design and we're excited to have it as part of our beautiful pool lineup!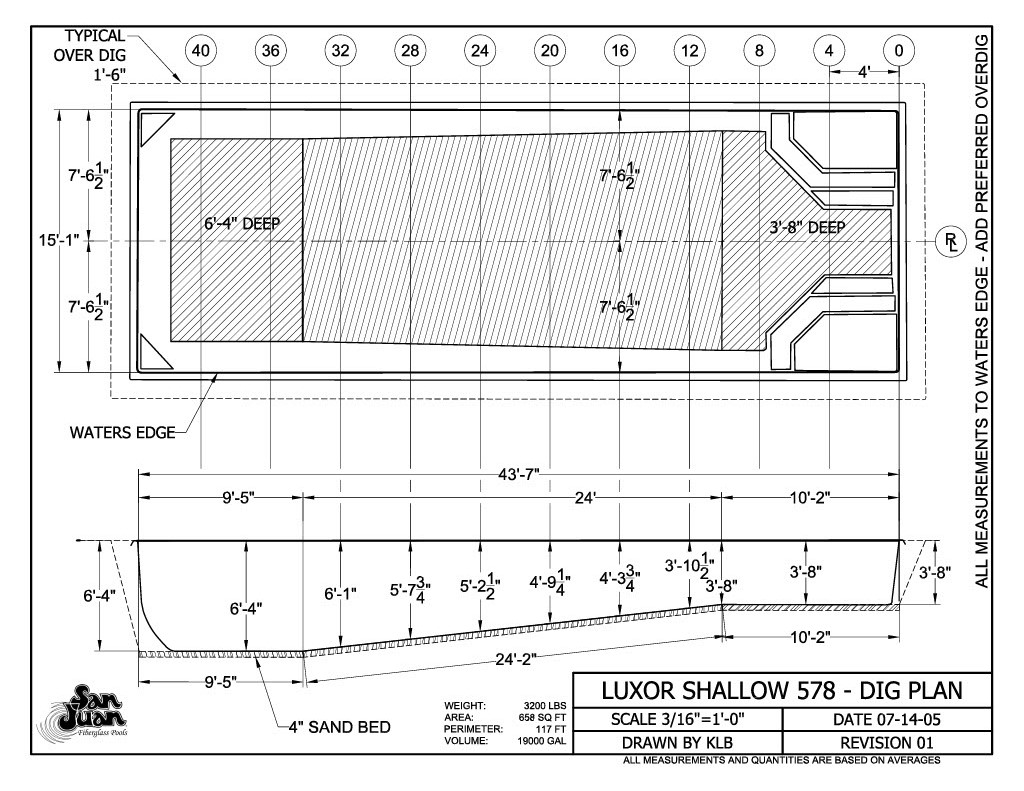 Connect with San Juan Fiberglass Pools online:
Visit the San Juan Fiberglass Pools WEBSITE: https://bit.ly/SJPWebSite
Visit the San Juan Fiberglass Pools GMB: https://bit.ly/SJPGoogleMyBusiness
Like San Juan Fiberglass Pools on FACEBOOK: https://bit.ly/SJPFacebook
Follow San Juan Fiberglass Pools on TWITTER: https://bit.ly/SJPTwitter
Review Us On Google: https://bit.ly/SJPGoogleReviews
Google Maps: https://bit.ly/SJPMaps
Google Search: https://bit.ly/SJPGoogleSearch