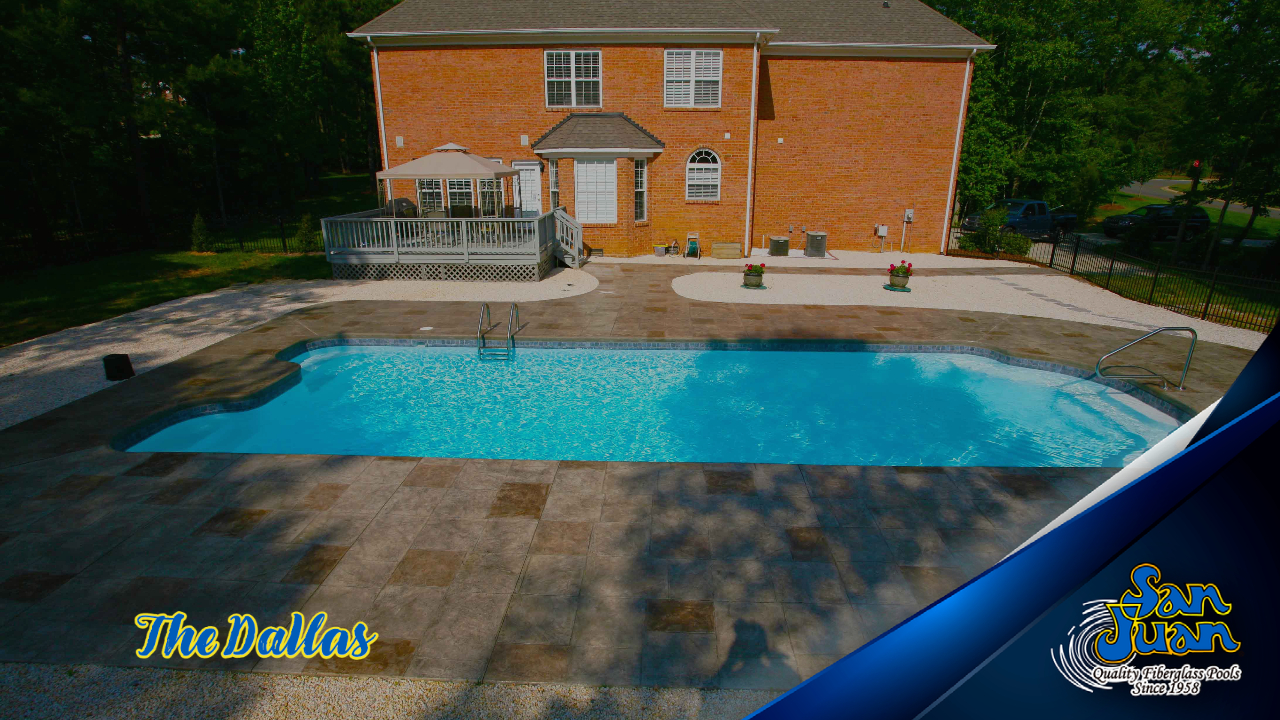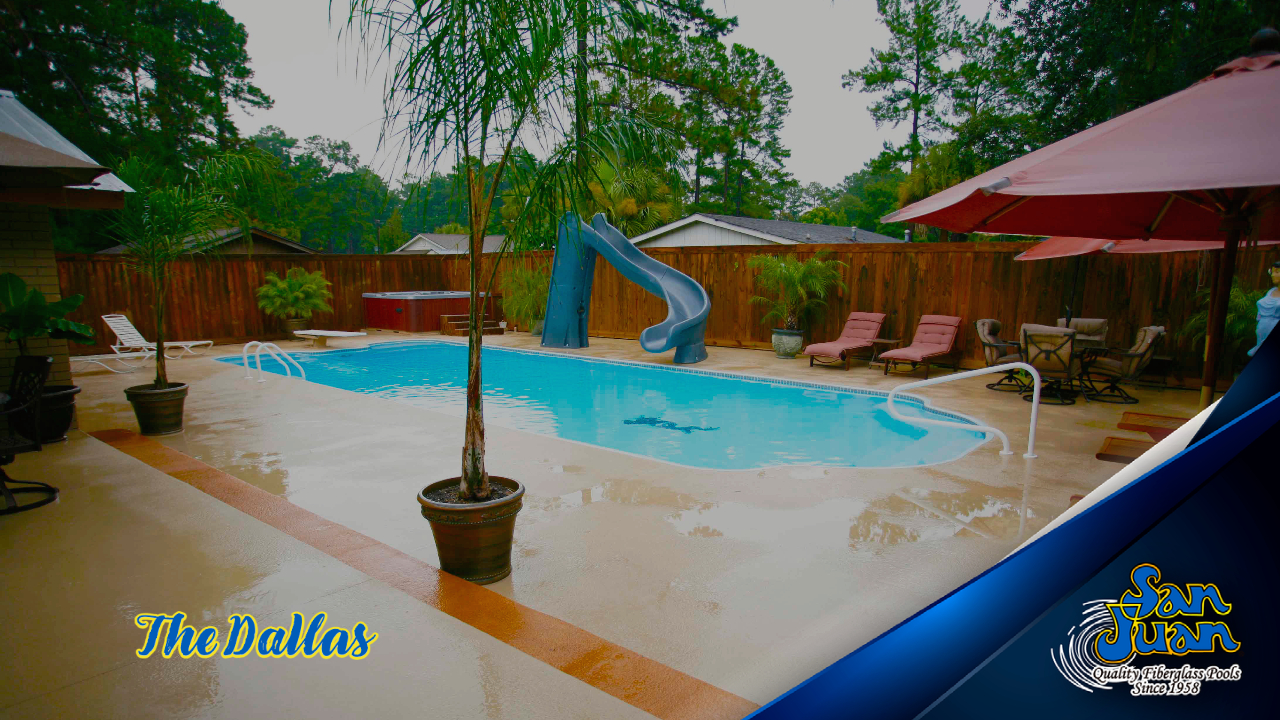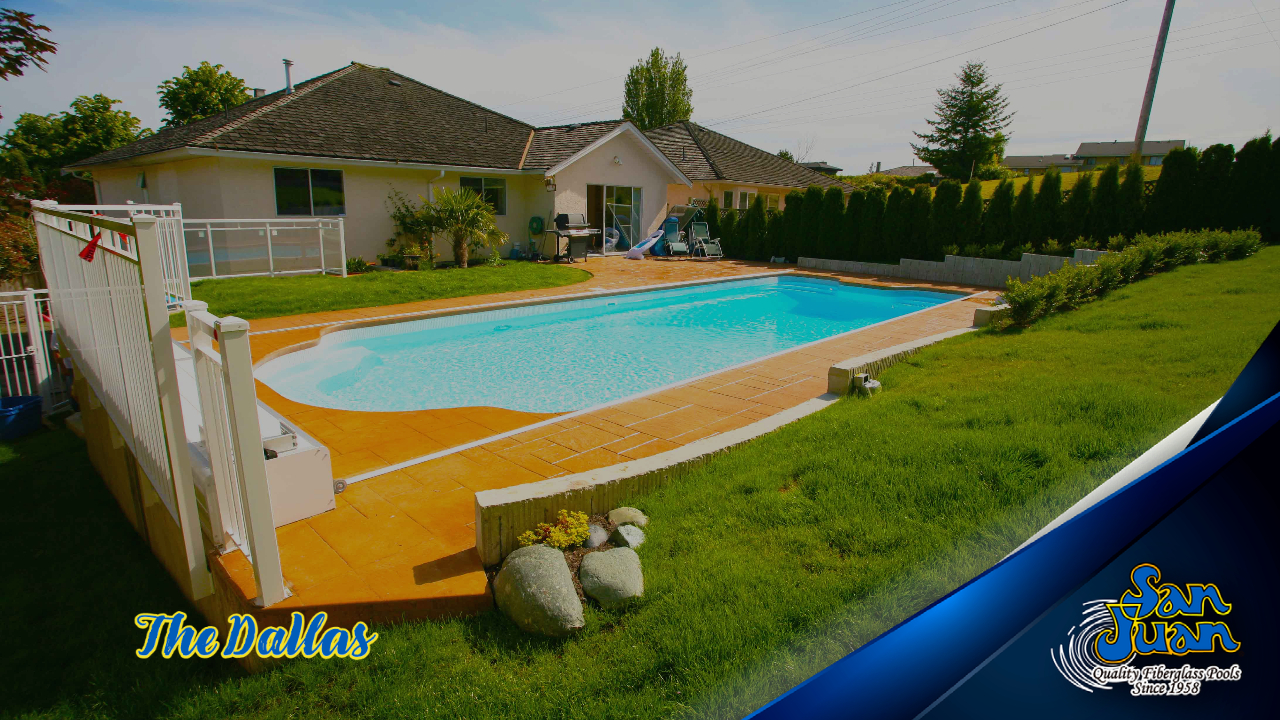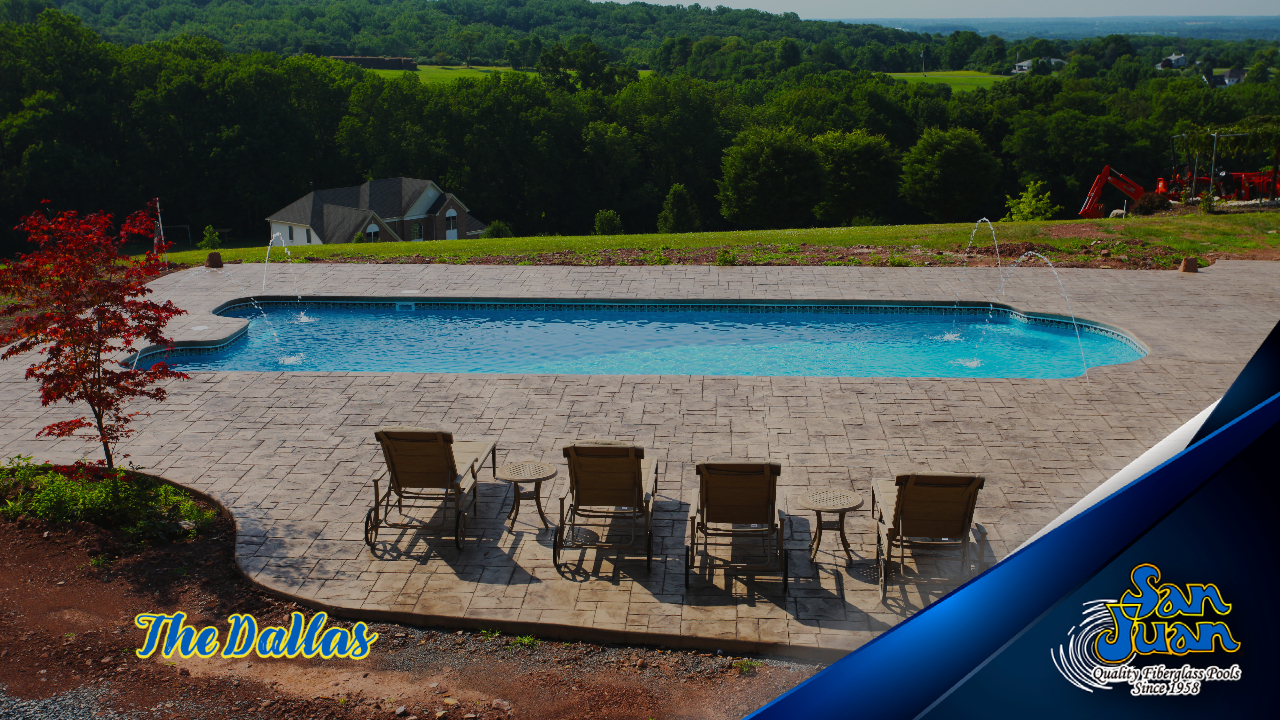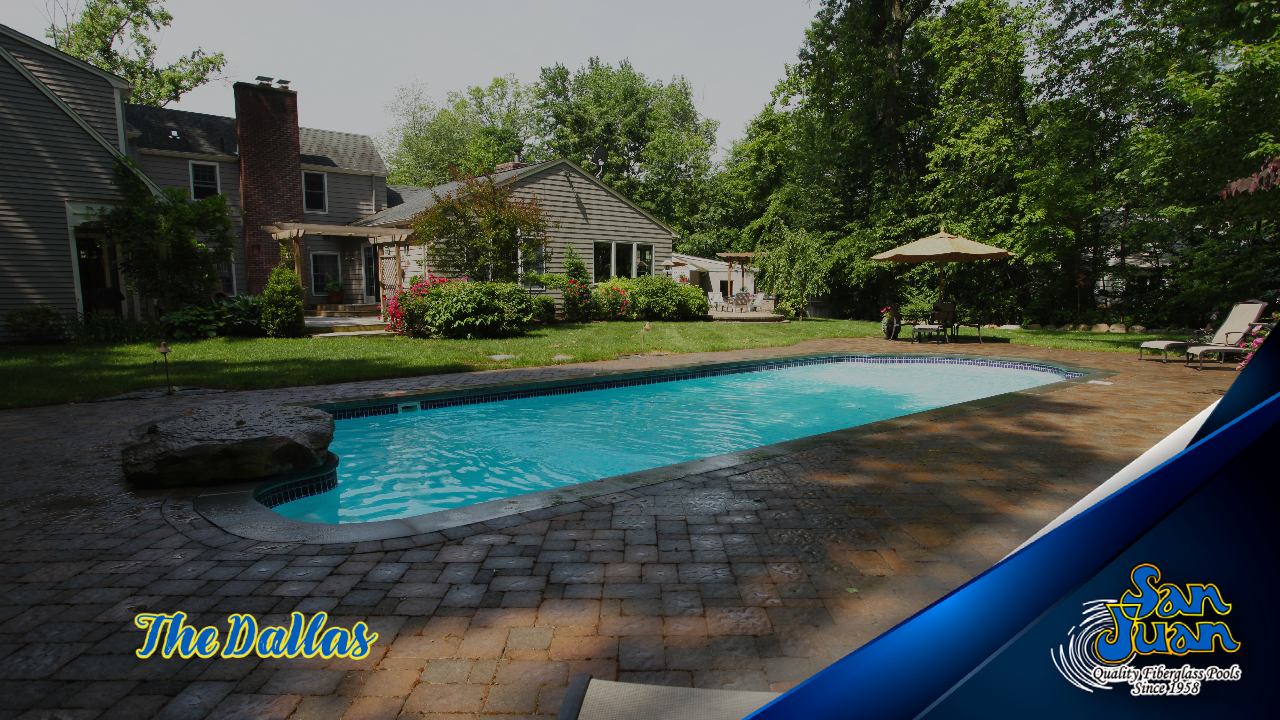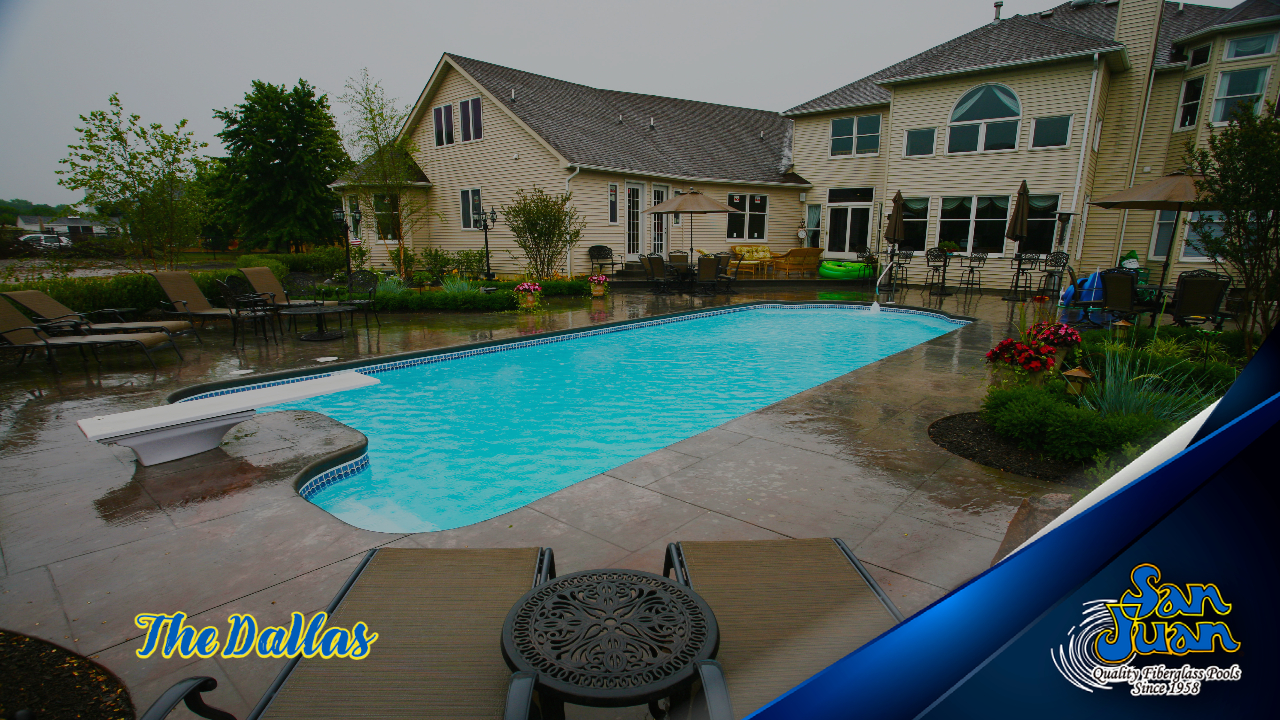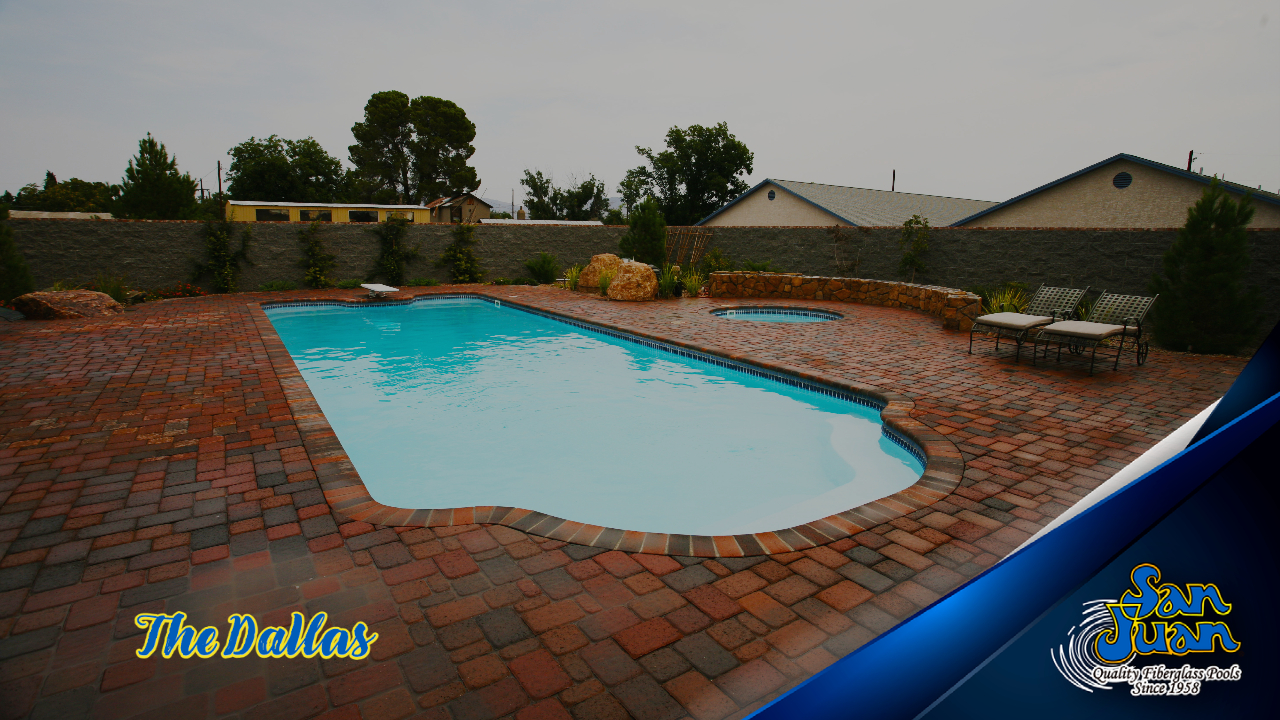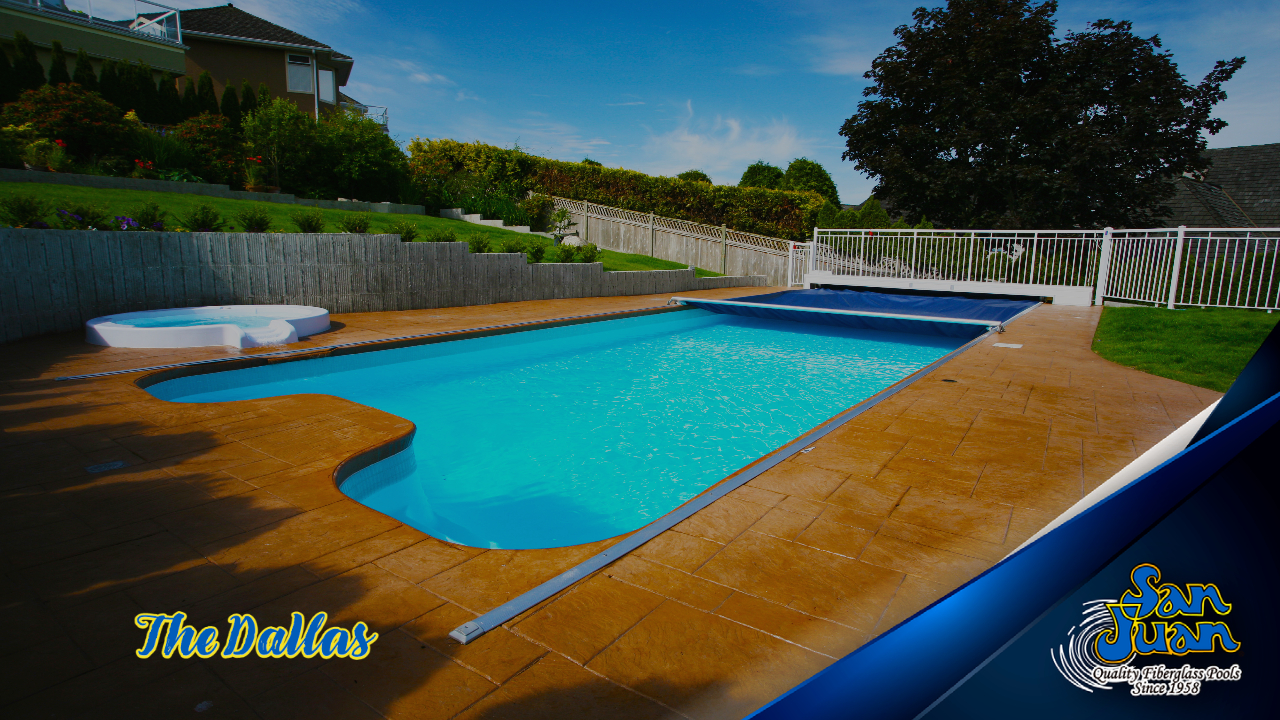 The Dallas - Perfect for Lap Swimming, Boards & Slides
The Dallas - Deep End Designed for Swimming
The Dallas - Deep End Designed for Swimming
The Dallas - Deep End Designed for Swimming
The Dallas - Deep End Designed for Swimming
The Dallas - Deep End Designed for Swimming
The Dallas - Deep End Designed for Swimming
The Dallas - Deep End Designed for Swimming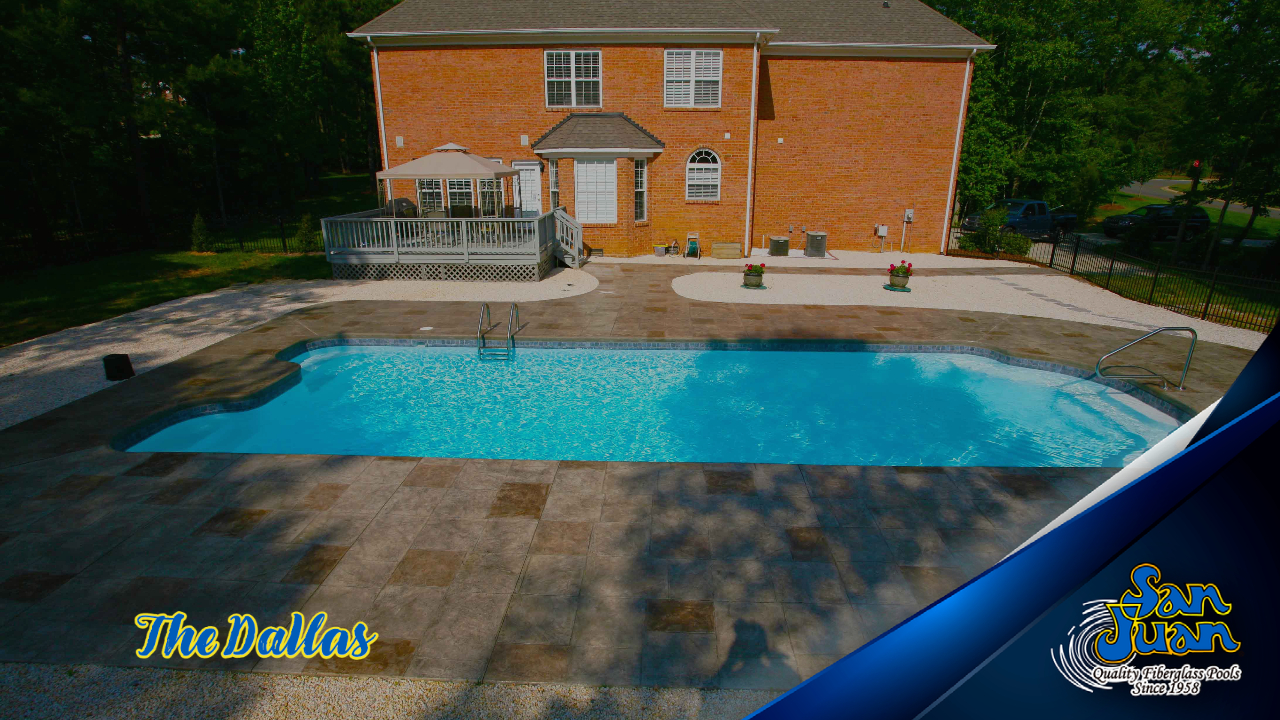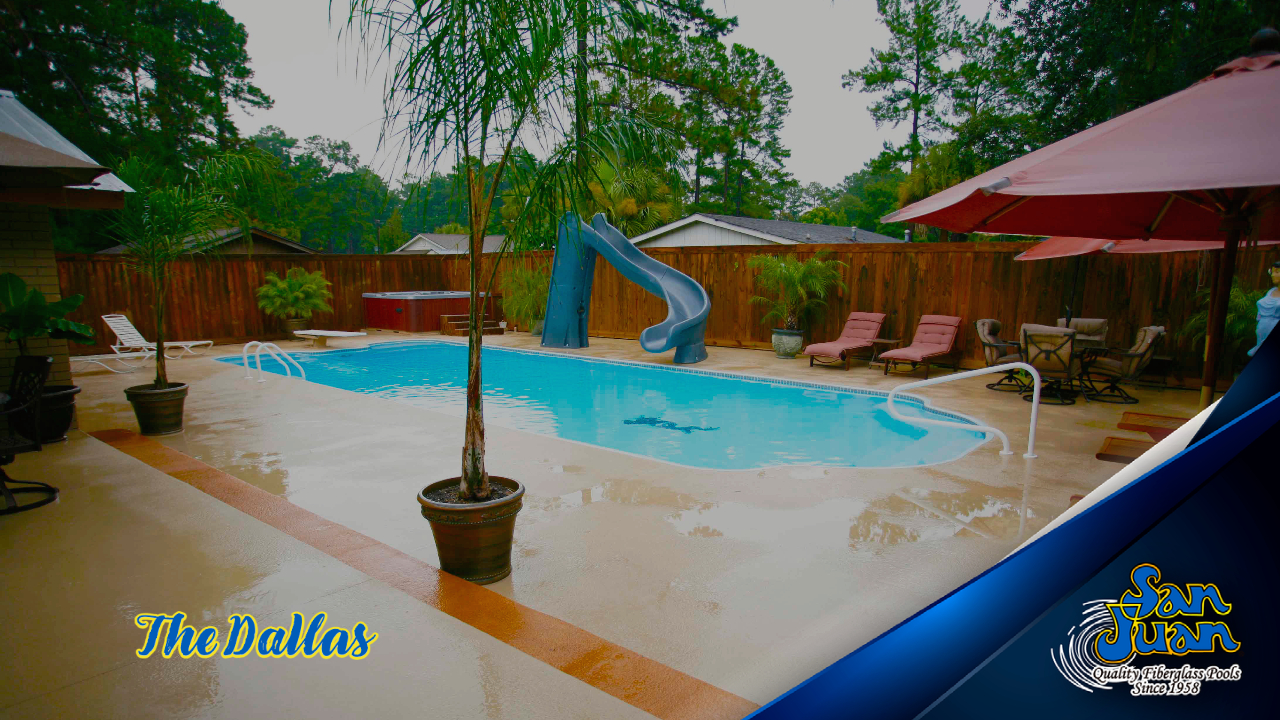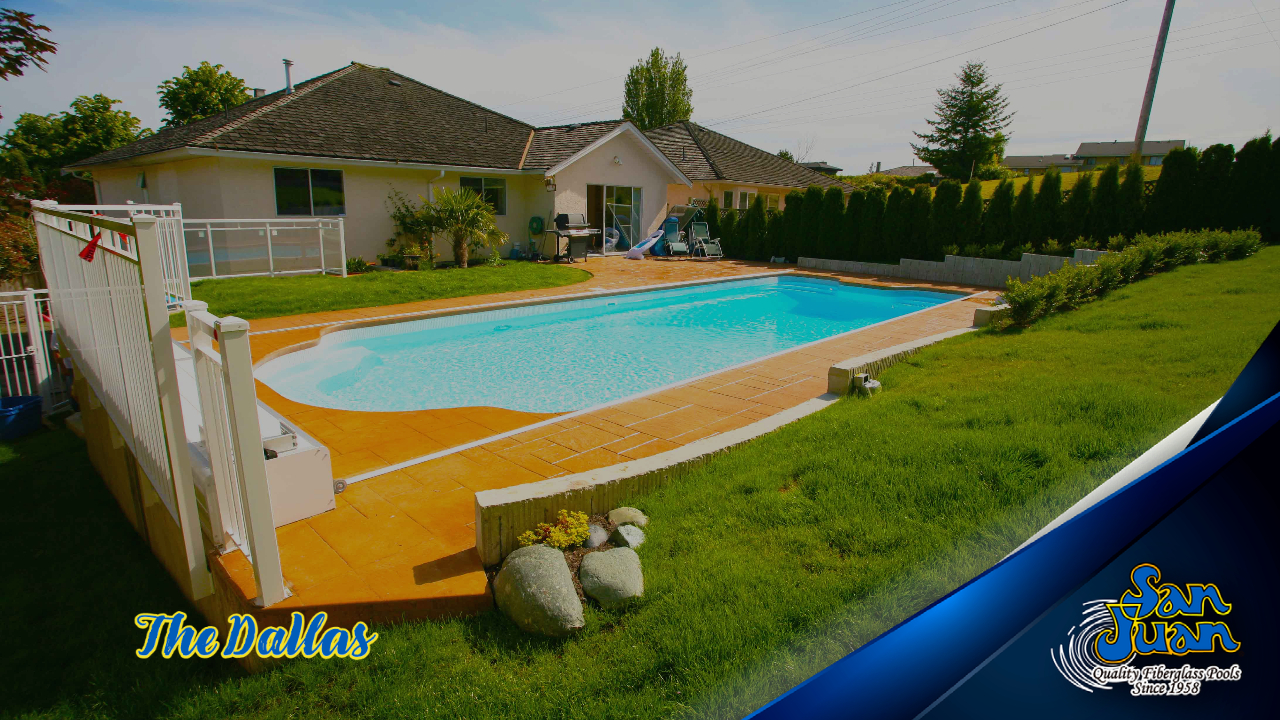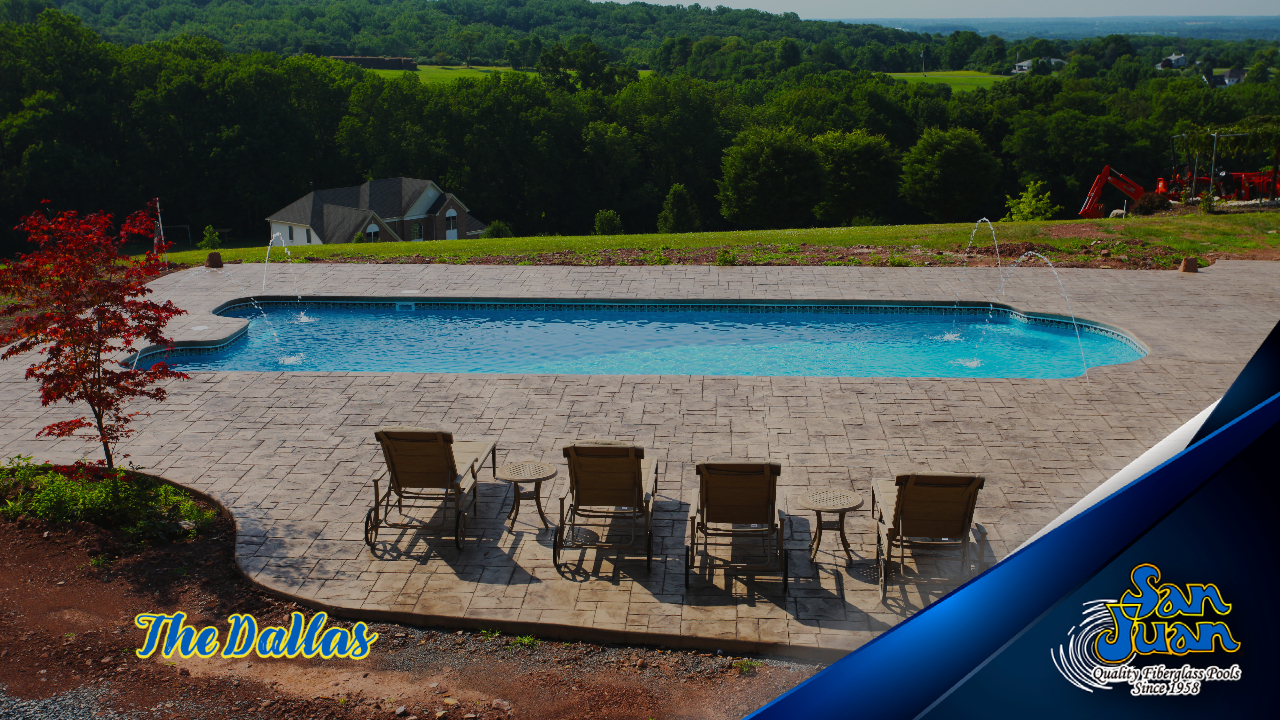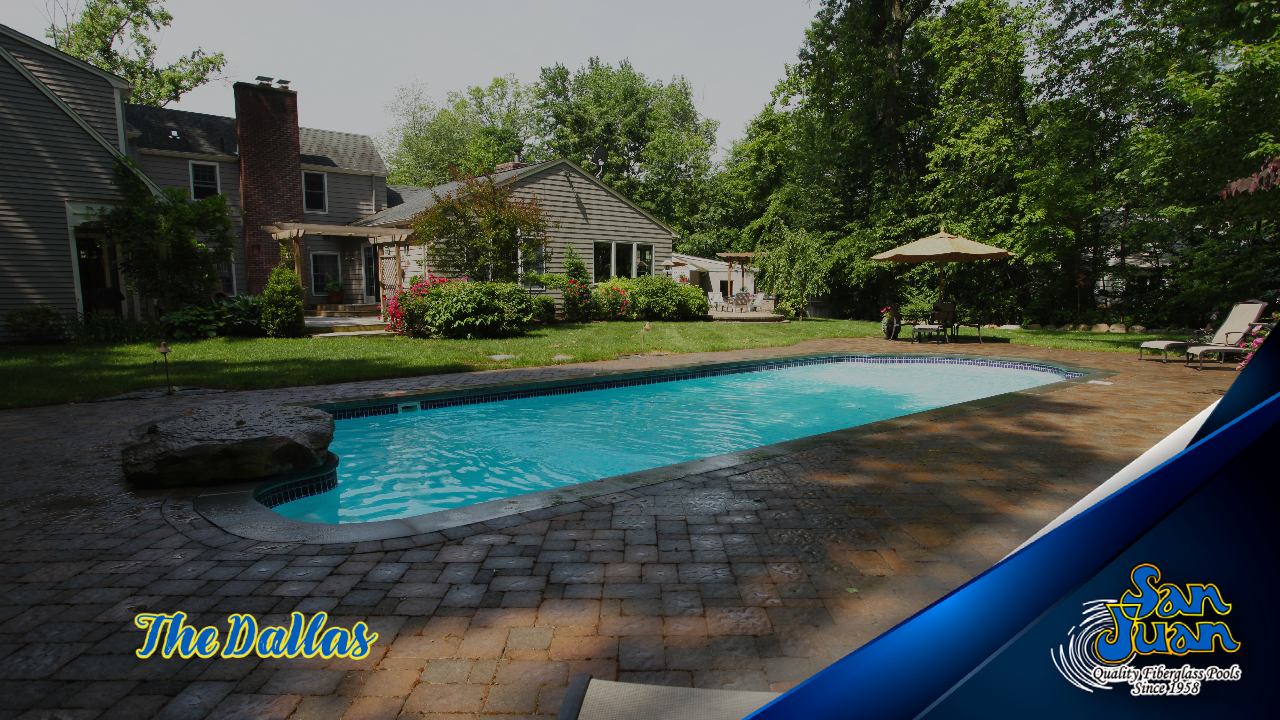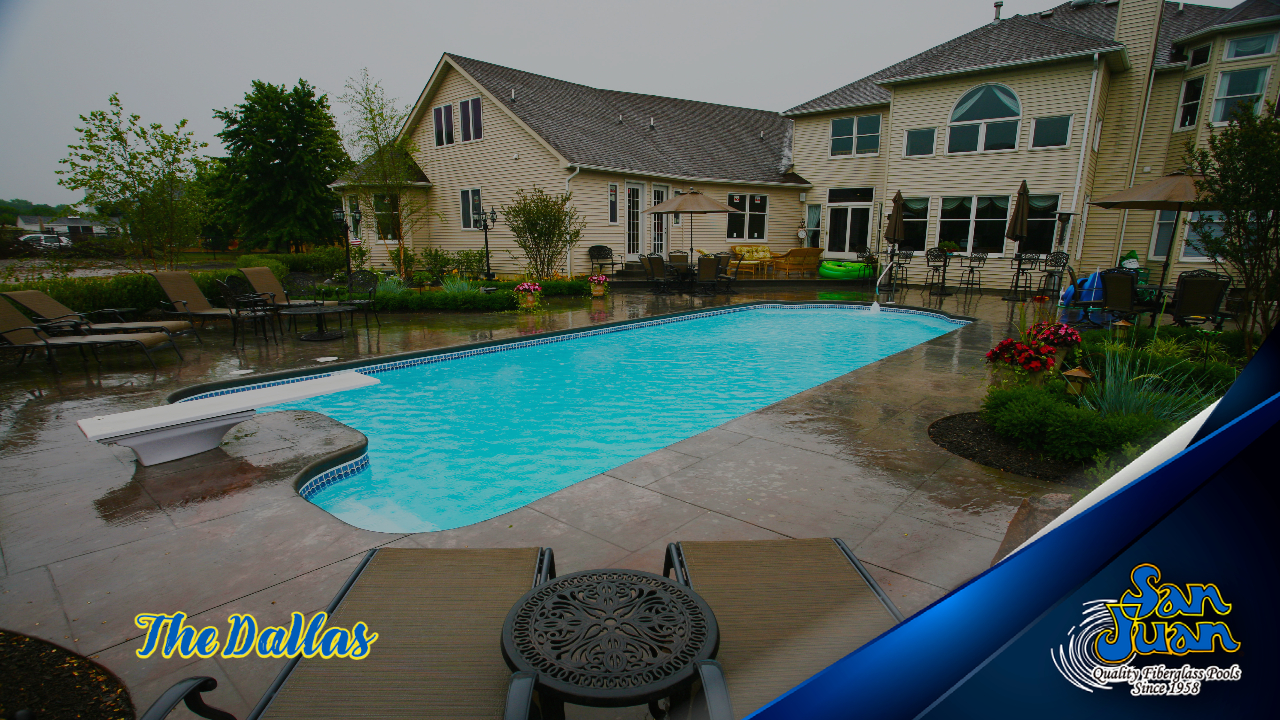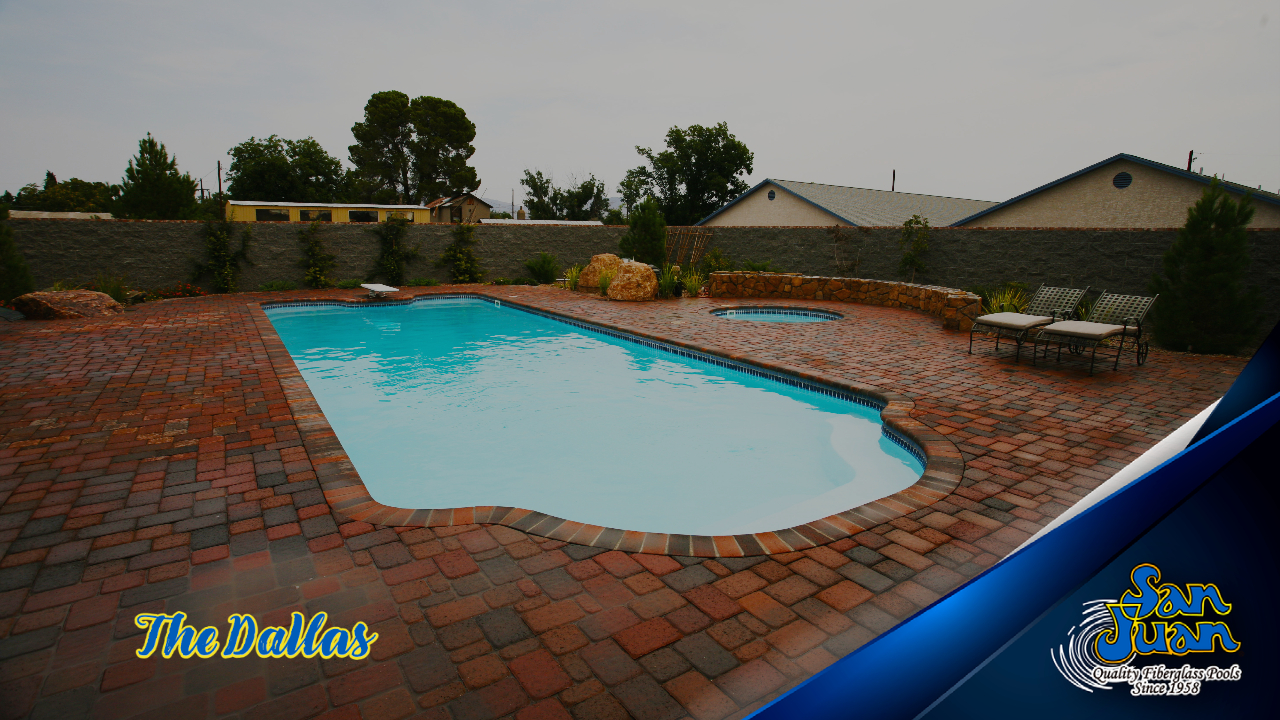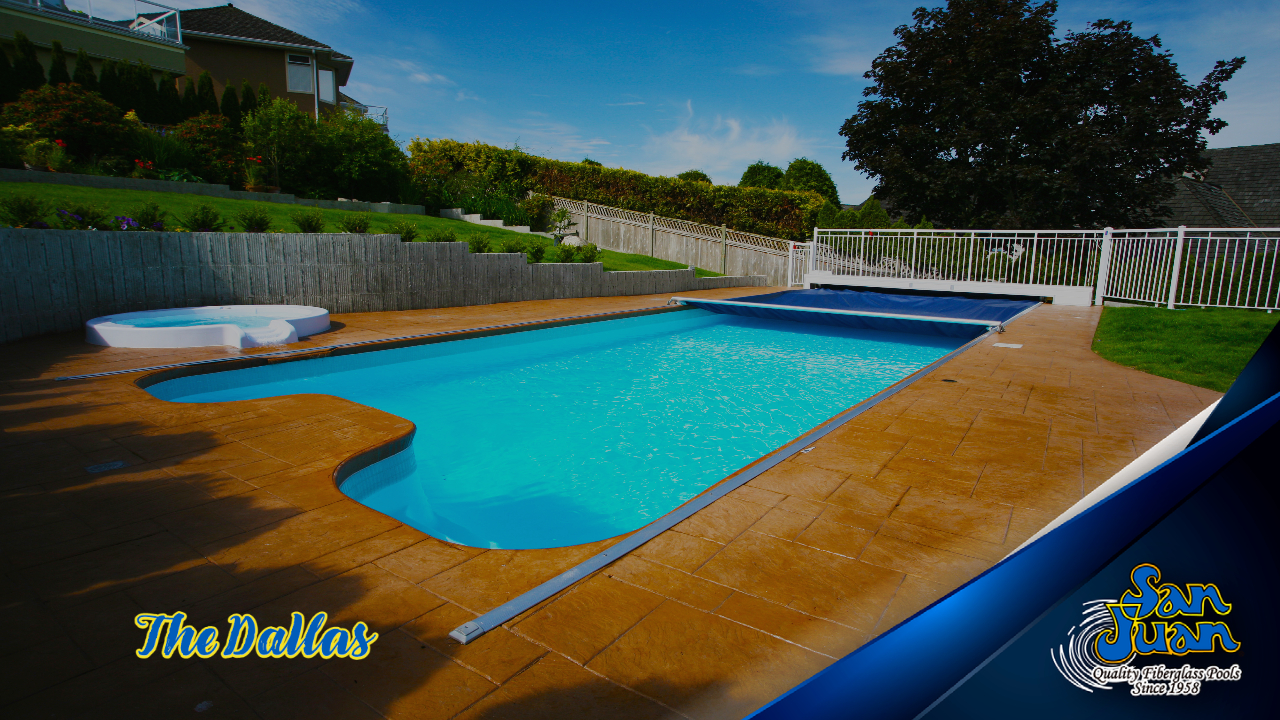 The Pool Specs
Width: 16′ 1″ O.D.

(15′ 2″ I.D.)

Length: 42′ 4″ O.D.

(41′ 5″ I.D.)

Depth: 7′ 10.5″
Surface Area: 590 SQFT
Volume: 20,500 Gallons


Joining "The Big Boy" Class – 41′ 5″ Length
San Juan Pools is proud to bring you another large fiberglass swimming pool! The Dallas fits into our largest category of shell sizes due to its total length of 41′ 5″. If you plan on bringing home this giant, then you certainly need to have a lot of backyard real estate. Its total surface area of 590 SQFT is nearly the size of a small apartment.
The best part about this large fiberglass pool is its ability to hold a huge swimmer load. This makes the Dallas an excellent option if you plan on hosting any backyard parties during the year. Although, we certainly recommend parent supervision. The huge deep end of 7′ 10.5″ makes the Dallas a lot of fun for advanced swimmers, but safety is always key!
Curved Shallow End Bench
Entering into the Dallas, you're greeted by a twin pair of entry steps – located on the left and right side. We designed these steps for aesthetics but they also operate smoothly as starting blocks for dual racing lanes!
On the opposite end of the Dallas, you'll find a modest deep end bench adjacent to the wall.
Deep End Designed for Swimming
The Dallas' 7′ 10.5″ deep end is the largest deep end that we offer besides the 8′ depth of our Atlantic Deep End model.
We only offer a handful of deep-end models which are classified as 7′ 10.5″ or deeper. If you'd like to browse our catalog of deep-end models, feel free to click this link.
Perfect for Lap Swimming, Boards & Slides
If you're a thrill enthusiast, then the Dallas is the perfect pool for you! We give you as much real estate as we could muster – all to equip you for an eventful summer if your new backyard!
Believe it or not, the length of the Dallas is so large that it only requires 15 complete laps to make a quarter-mile. Therefore, by purchasing the Dallas, you now have a great way to get in some vigorous exercise before spending 8 hours in your desk chair. Now that's a win-win!
The Features
In conclusion, the Dallas is our way of bringing home the vast square footage of Texas to your backyard! This gigantic fiberglass swimming pool sports a dual set of entry steps in the shallow end. The deep end provides a comfortable deep end bench; perfect for resting between swim sessions.
Secondly, the overall length of 41′ 5″ is perfect for lap swimming and its width of 15′ 2″ allows you to pair two racers side by side. Whether you enjoy head to a head swim competition, swimming for dive rings or simply floating with a buddy in your fiberglass swimming pool; you've got the space to make it all happen!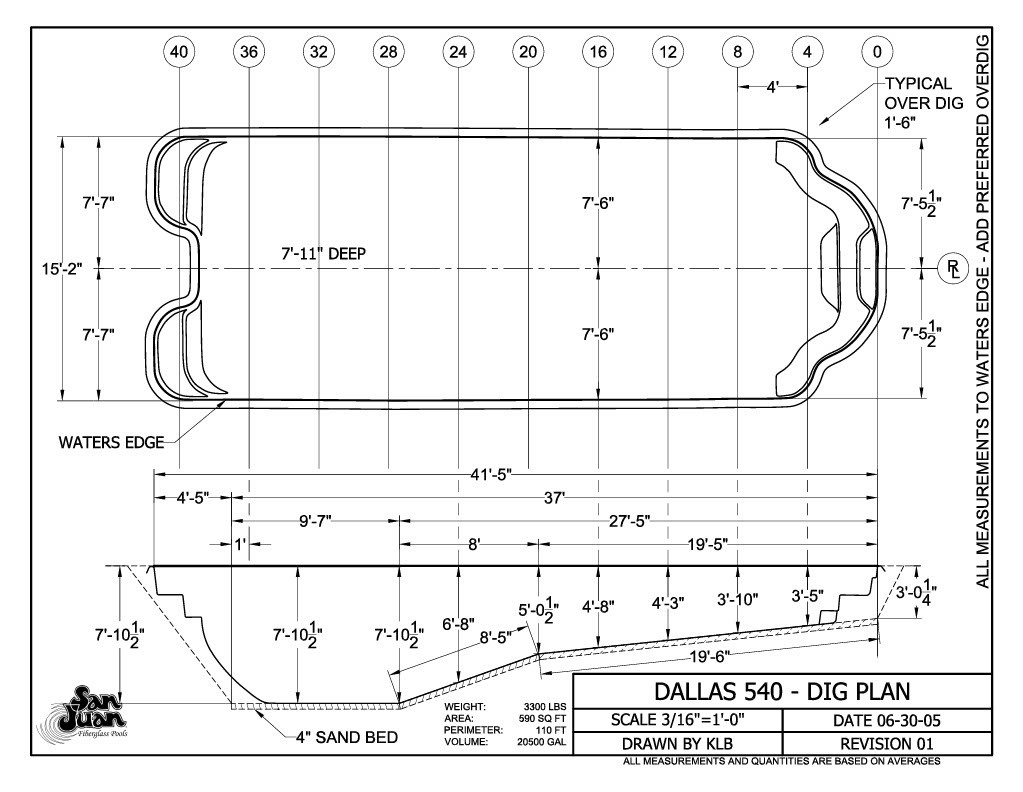 Connect with San Juan Fiberglass Pools online:
Visit the San Juan Fiberglass Pools WEBSITE: https://bit.ly/SJPWebSite
Visit the San Juan Fiberglass Pools GMB: https://bit.ly/SJPGoogleMyBusiness
Like San Juan Fiberglass Pools on FACEBOOK: https://bit.ly/SJPFacebook
Follow San Juan Fiberglass Pools on TWITTER: https://bit.ly/SJPTwitter
Review Us On Google: https://bit.ly/SJPGoogleReviews
Google Maps: https://bit.ly/SJPMaps
Google Search: https://bit.ly/SJPGoogleSearch