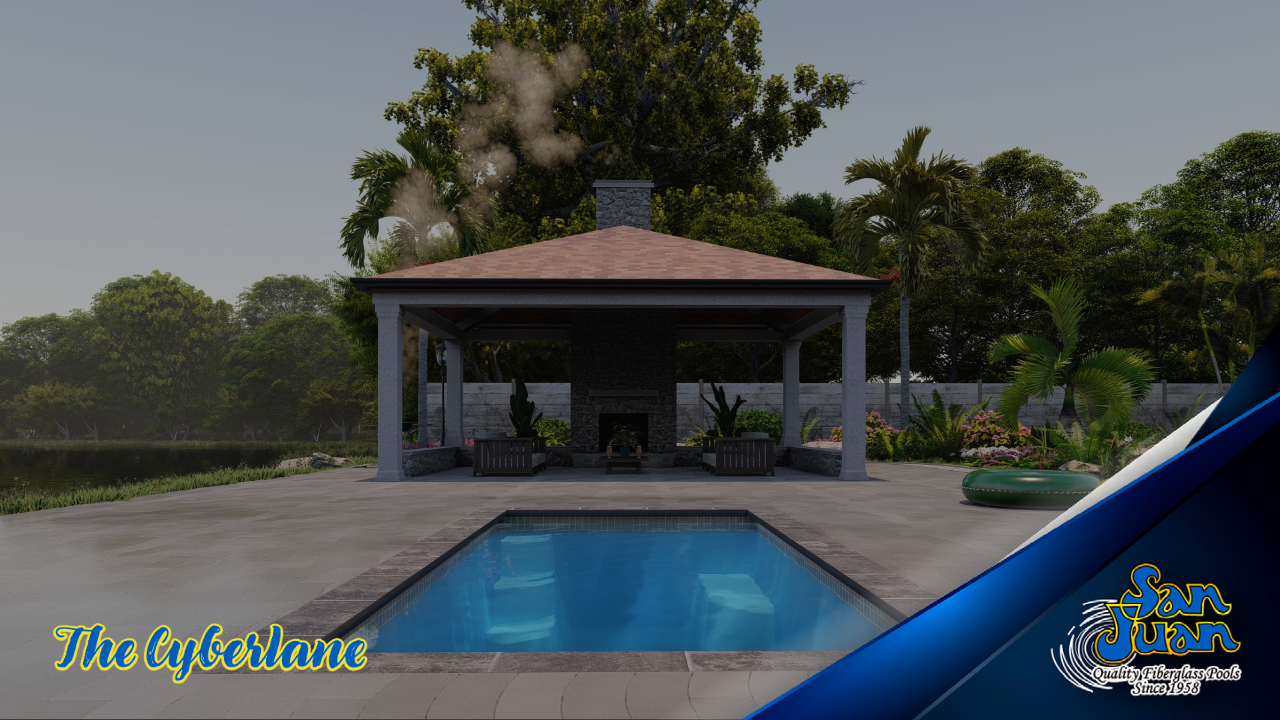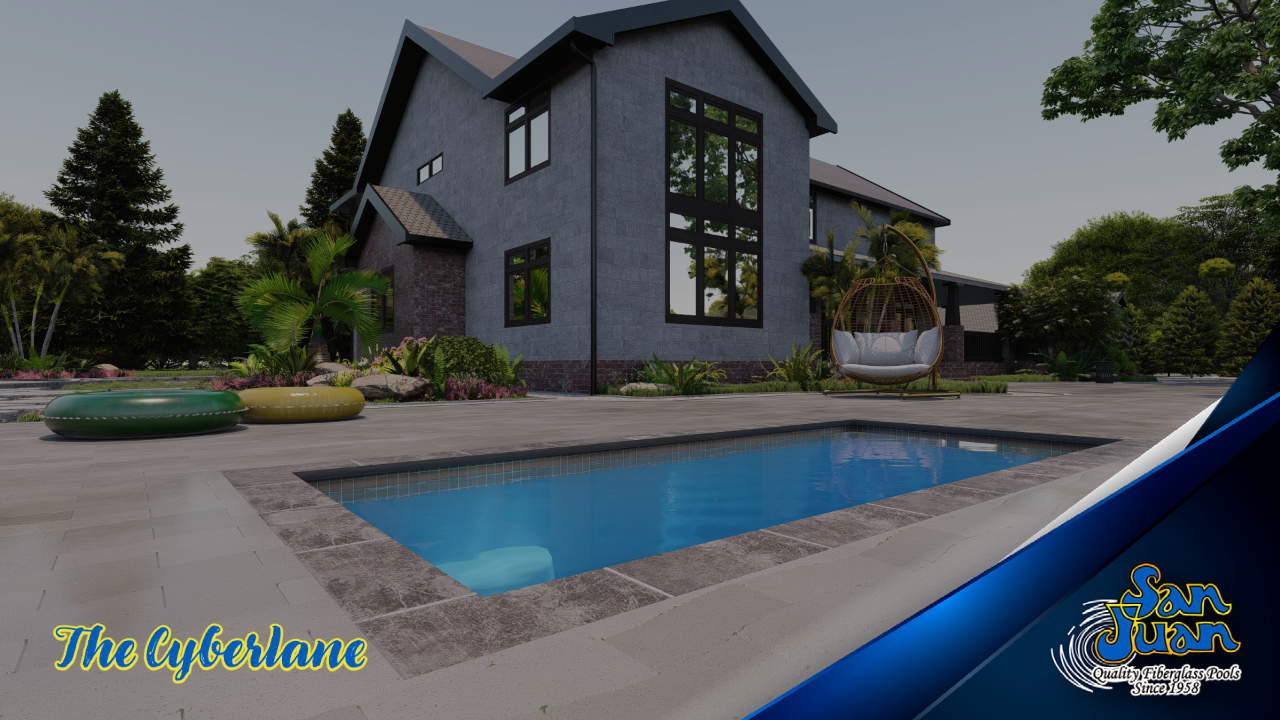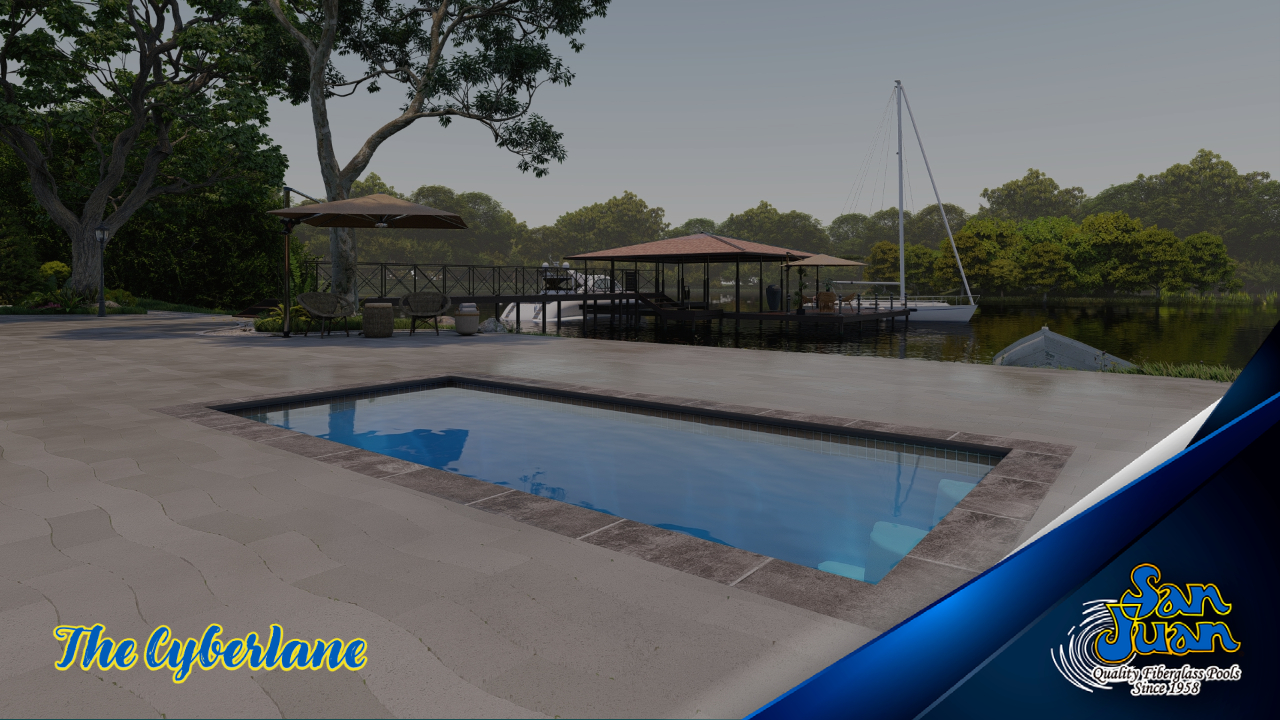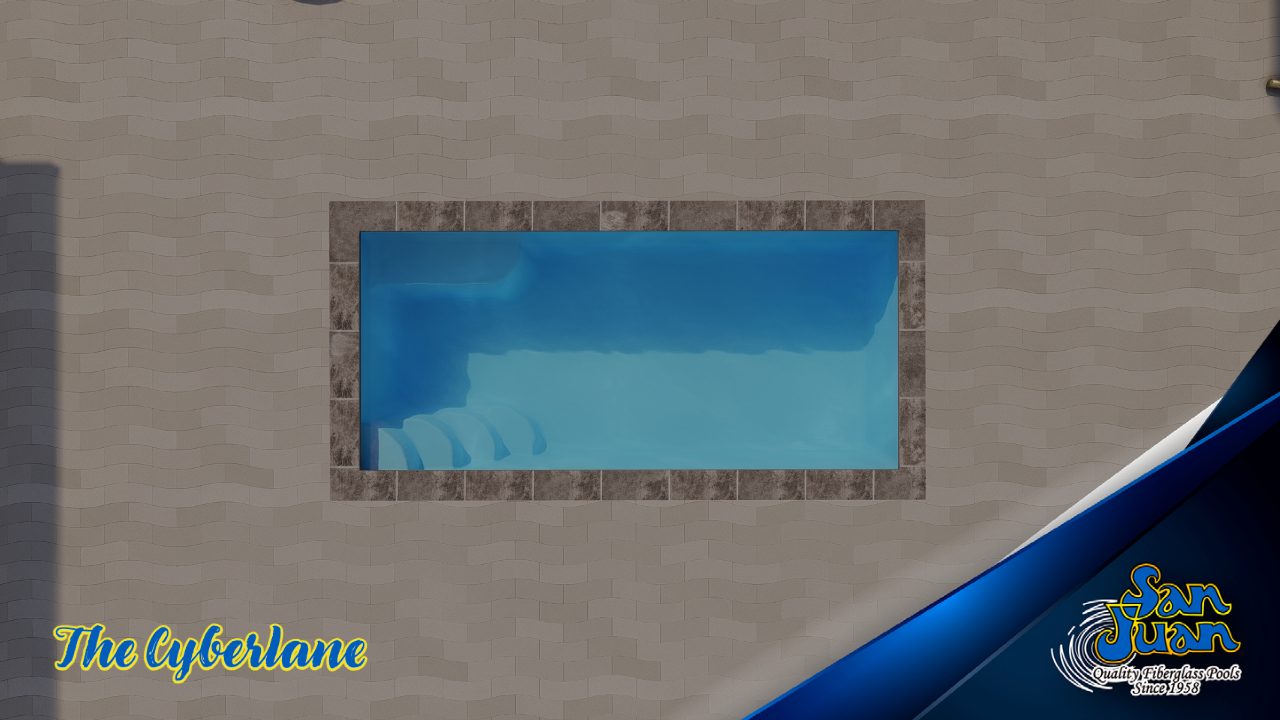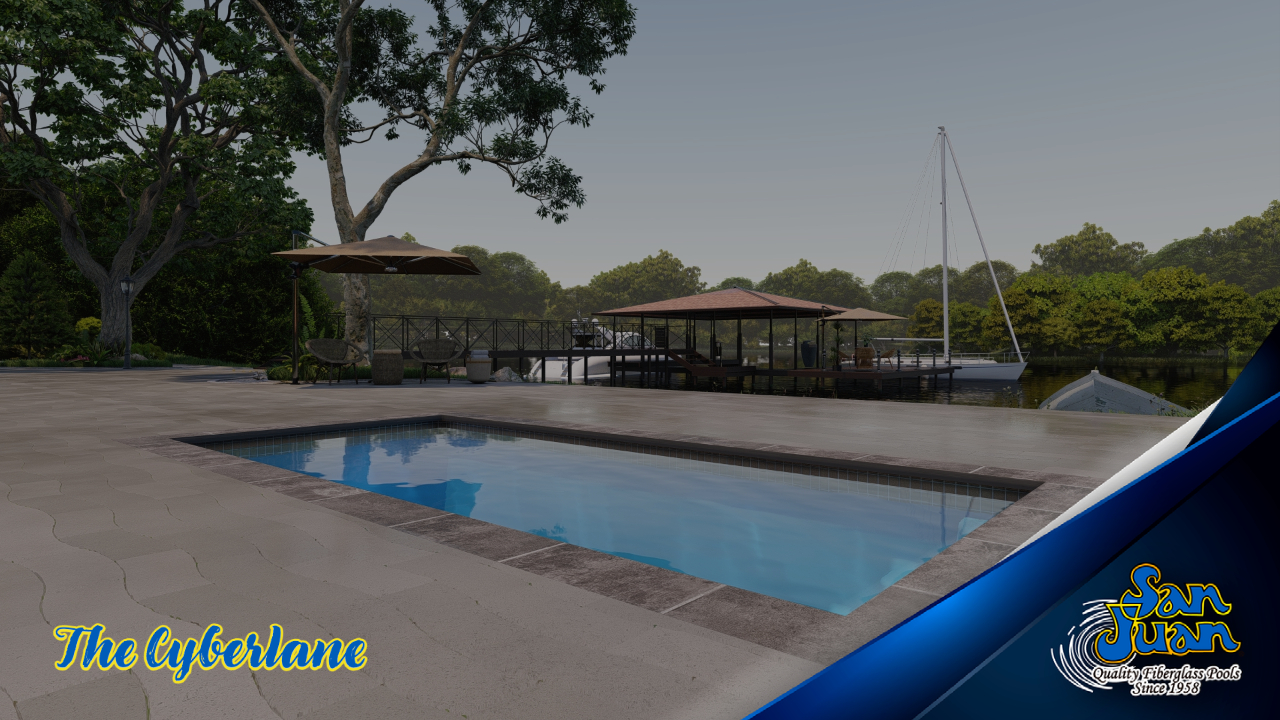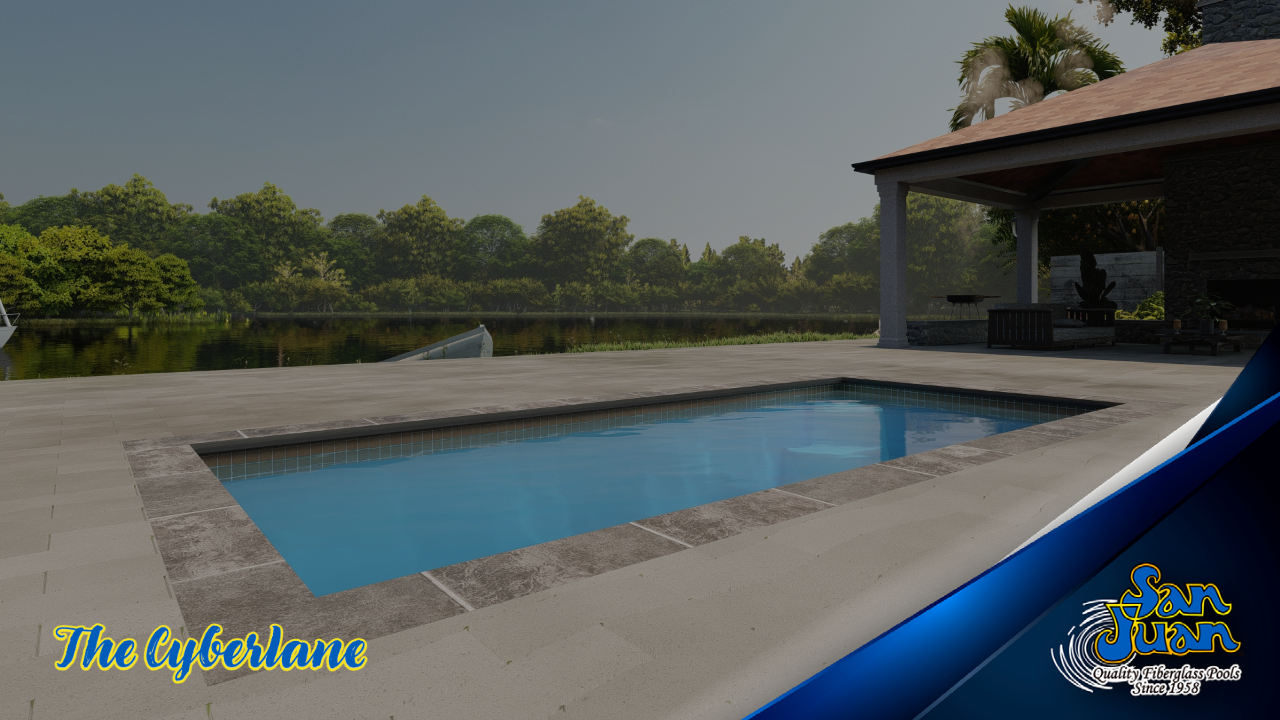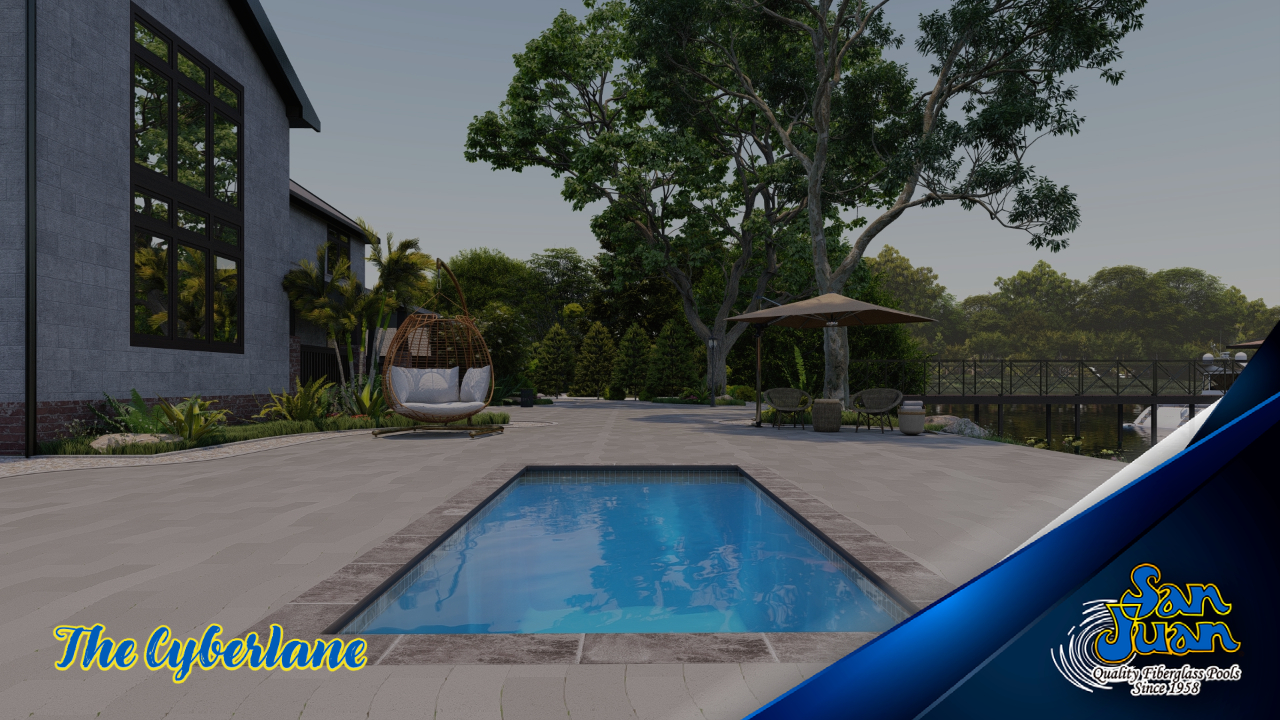 The Cyberlane - Modern Pool Shape with Flat Bottom
The Cyberlane - Modern Pool Shape with Flat Bottom
The Cyberlane - Modern Pool Shape with Flat Bottom
The Cyberlane - Modern Pool Shape with Flat Bottom
The Cyberlane - Modern Pool Shape with Flat Bottom
The Cyberlane - Modern Pool Shape with Flat Bottom
The Cyberlane - Modern Pool Shape with Flat Bottom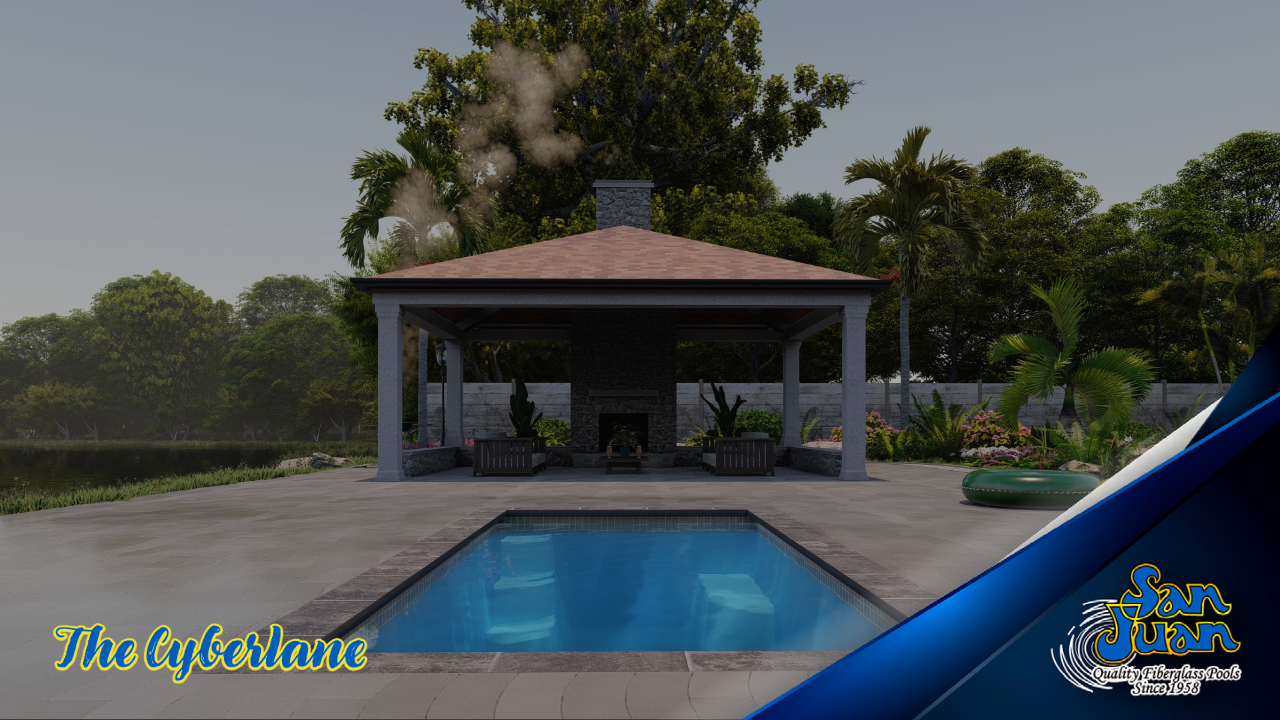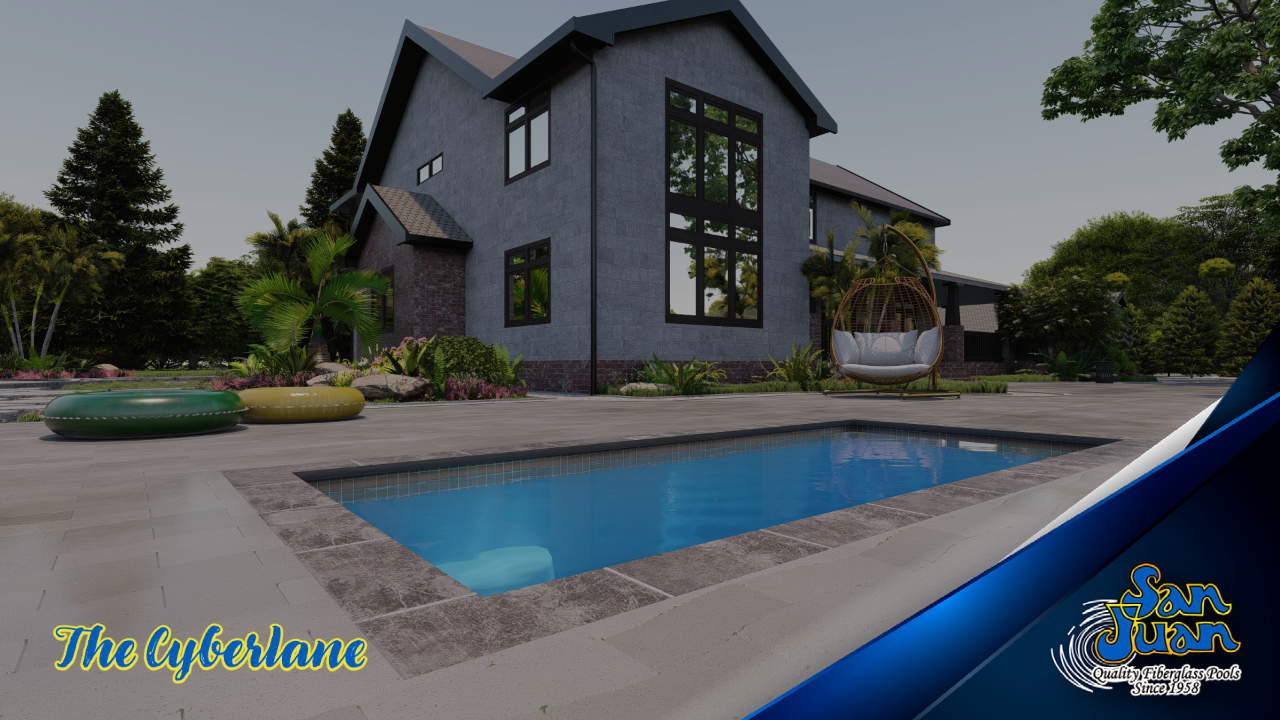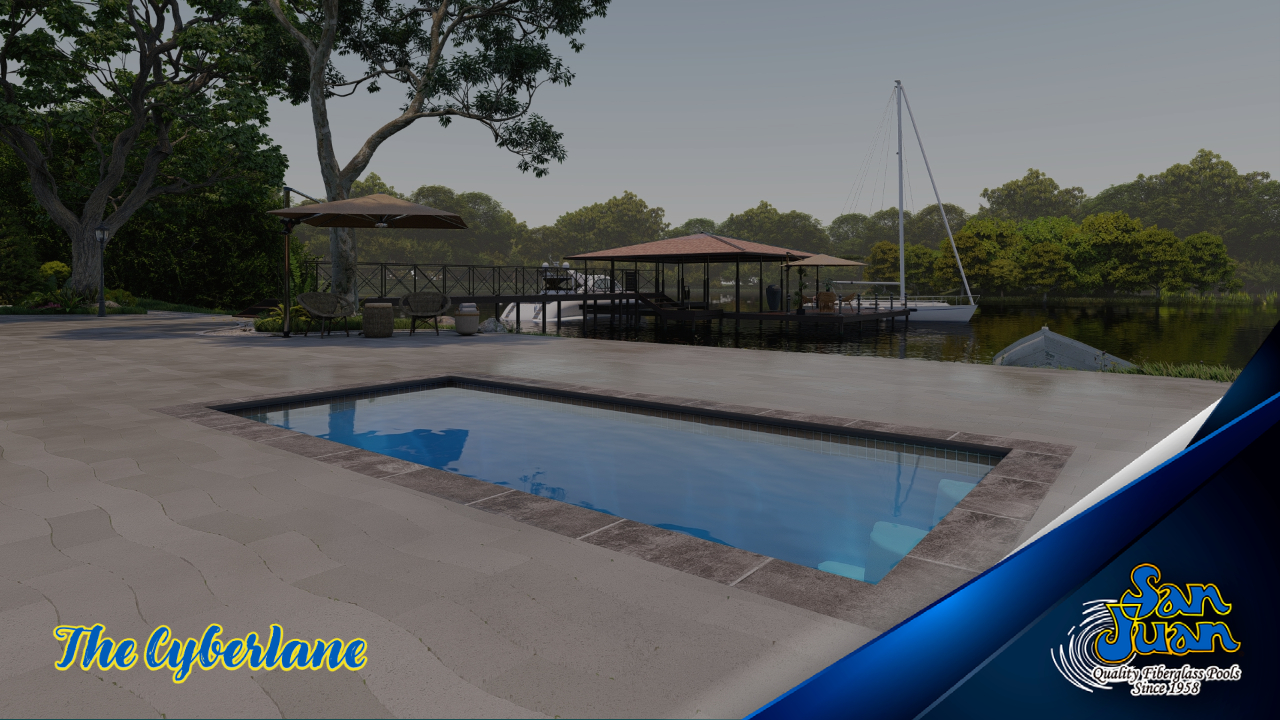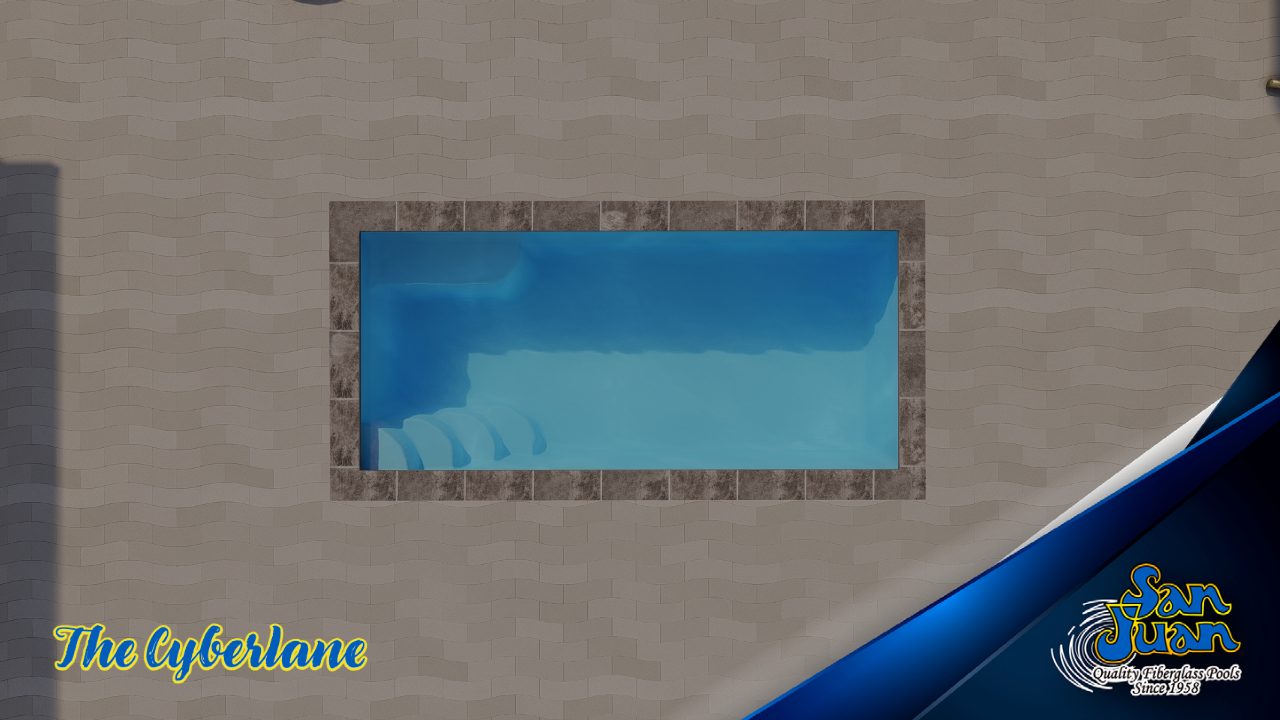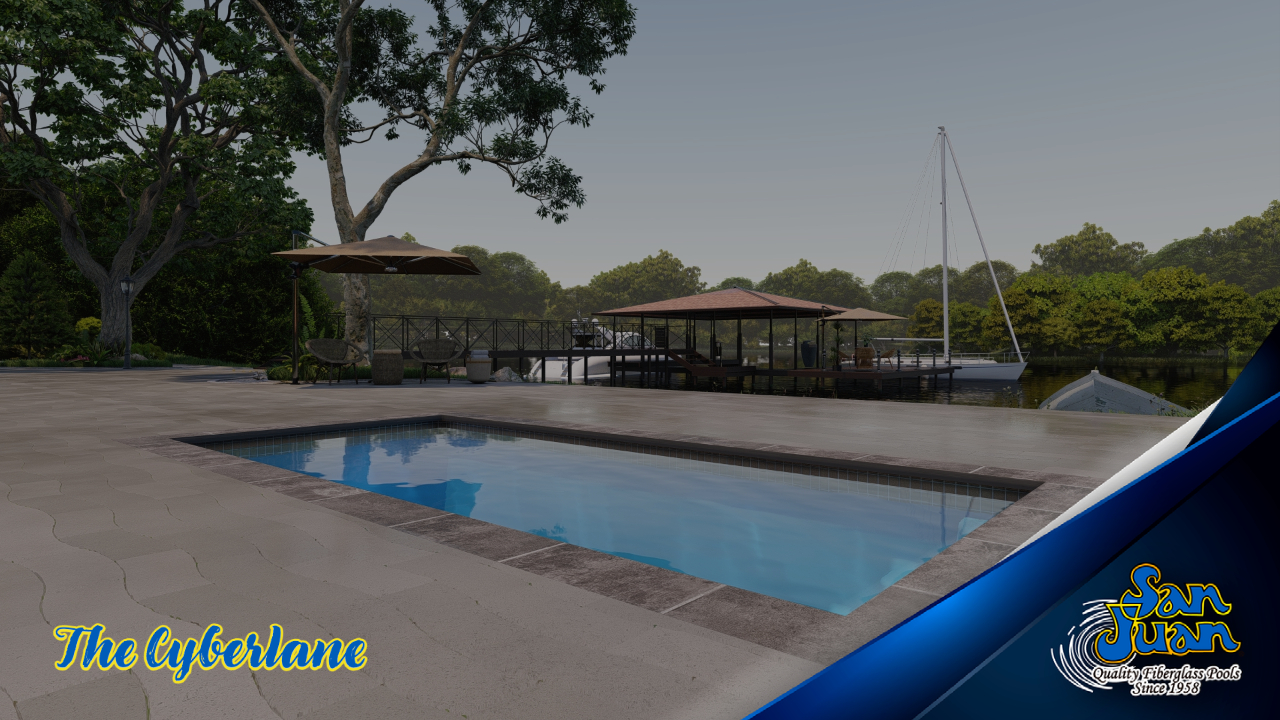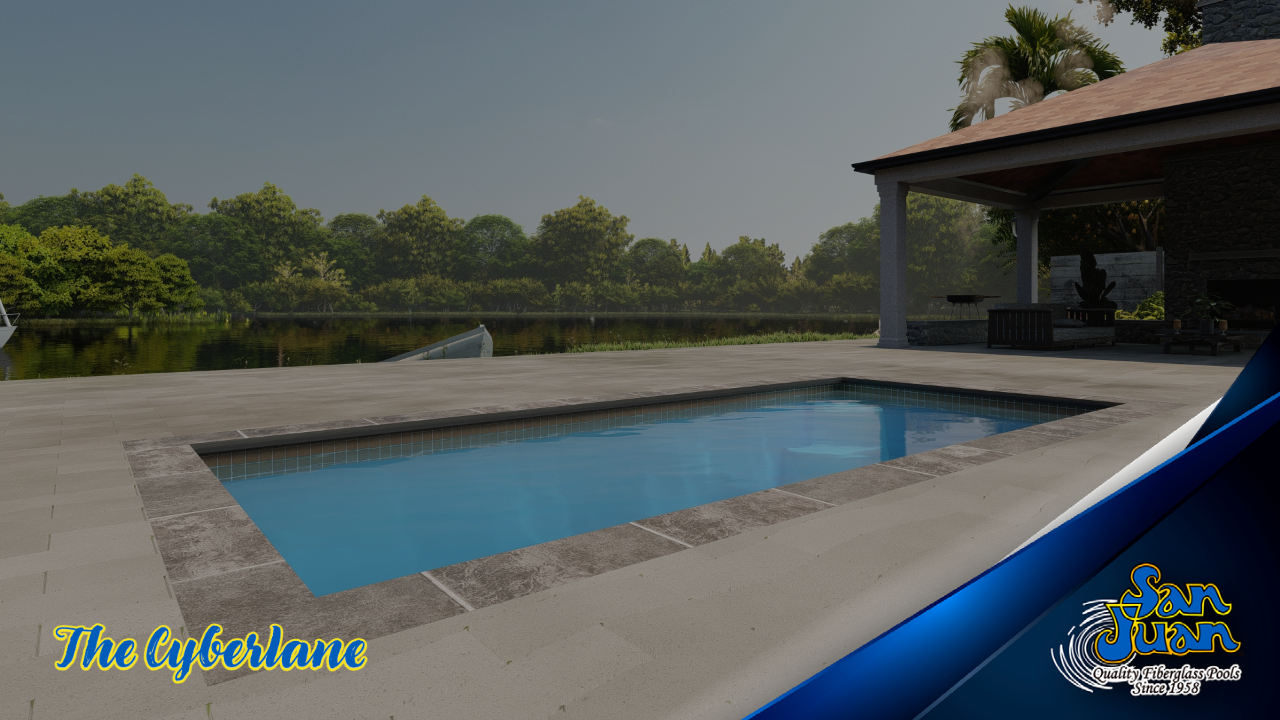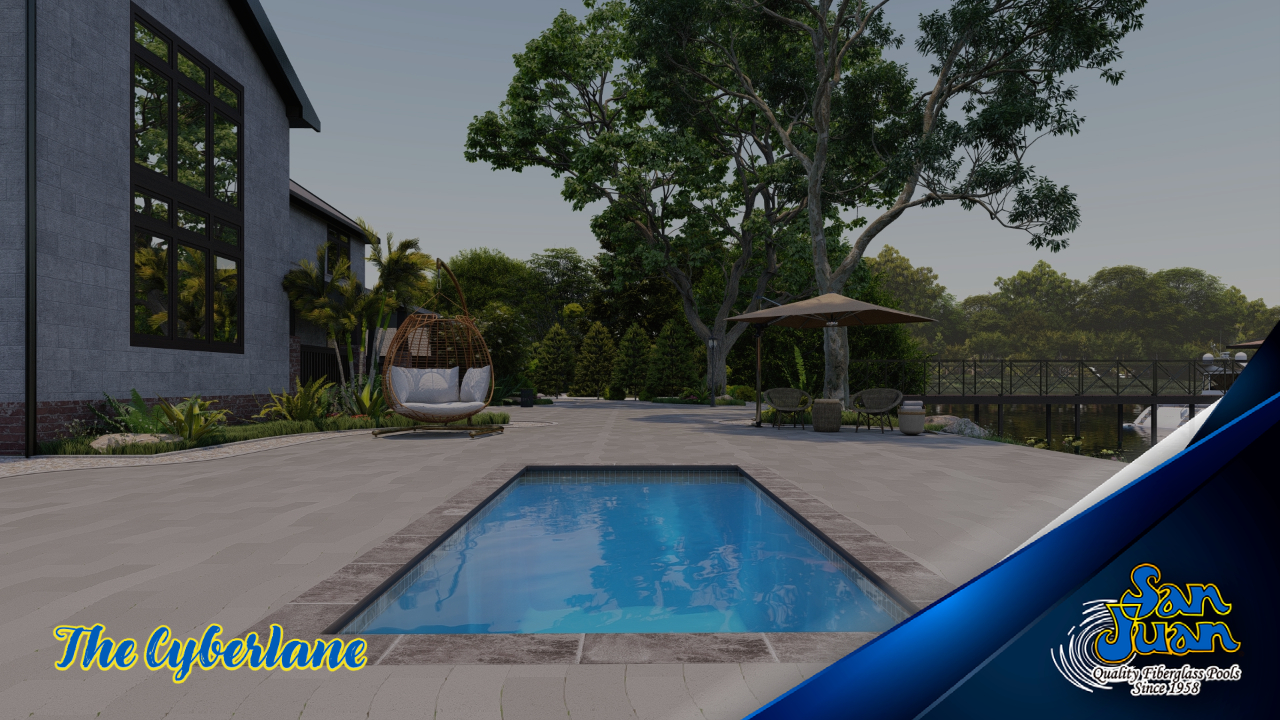 The Pool Specs
Width: 8′ 6″ O.D.

(7′ 6″ I.D.)

Length: 17′ O.D.

(16′ I.D.)

Depth: 4′ 9″
Surface Area: 121 SQFT
Volume: 3,400 Gallons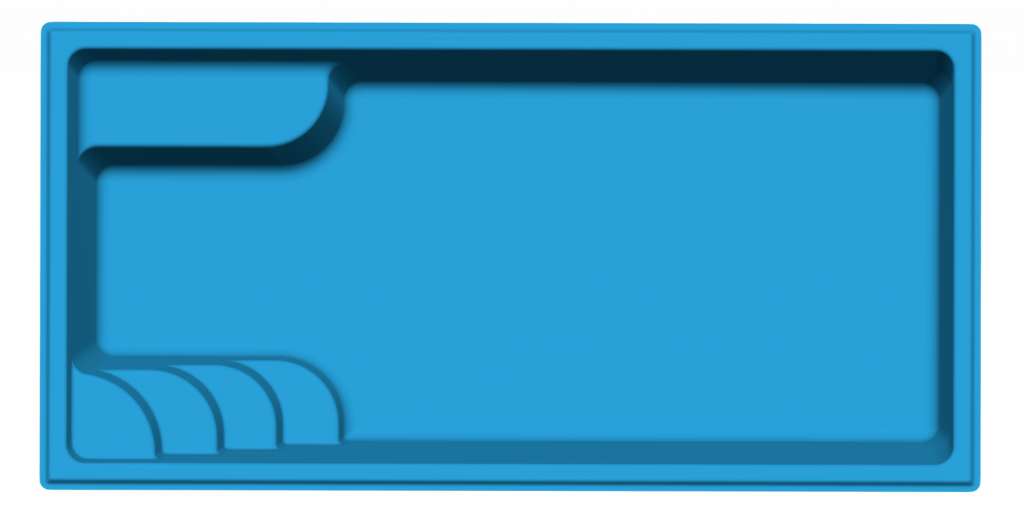 The Cyberlane (No Spa) – A Rectangle Shape with Attached Spa (Optional)
Alas, at San Juan Pools, we are all about providing our clients with options. We want you to be able to select the fiberglass pool that is perfect for your outdoor living space. It's all about enhancing your swimming experiences in spaces you can call home.
Therefore, we introduce the Cyberlane fiberglass pool. Believe it or not, we give you the option of purchasing this pool (as is) or with an attached fiberglass spa. By adding an attached spa, you're creating a beautiful addition to this modern rectangle pool shape. Now your guest and swimmers will have a great way to swim, exercise, play, and truly unwind in your gorgeous heated spa!
The Cyberlane (No Spa) is a petite fiberglass swimming pool with a modern rectangular design. This fiberglass pool ships with an optional attached spa. We provide you with options so you can maximize your outdoor living space with areas you want to use!
Multiple Purposes: Swimming & Relaxing
What's our inspiration for the Cyberlane design? We wanted to create an all-in-one space for both swimming & overall relaxing. Our focus: small backyards with limited square footage. Nowadays, there are many homes being built and renovated that have limited backyard space. Therefore, we've introduced our lineup of small fiberglass pools to reach this growing audience!
Just how much exercise and games can you achieve in the Cyberlane? Well, it's fair to say this pool cannot handle a large number of swimmers. However, it's possible for two swimmers to lap swim or multiple users to play some basic pool games. Lap swimming, volleyball, ring diving, torpedo throwing, basketball – all of these activities can be supported with our beautiful Cyberlane!
Modern Pool Shape with Flat Bottom
Last but not least, rectangle designs are now the in-thing. Modern designs are very popular and the Cyberlane fits this mold. In addition, we threw in a flat bottom layout which is perfect for swim lessons and water aerobics.
The Features of The Cyberlane (No Spa)
However you decide to utilize the Cyberlane, this modern pool is centered around usability and options. San Juan Pools gives the buyer, you, the option of purchasing the Cyberlane (as is) or adding in a rectangular attached spa.
In addition, the Cyberlane is the perfect fiberglass pool for multiple uses: swimming or relaxing. It's certainly a nice perk to have a compact swimming pool that fits into nearly any backyard. Couple its petite shape with a rectangular layout (perfect for lap swimming, games or water aerobics) and flat bottom design. The Cyberlane was developed to give our clients a great design to complement their outdoor living space.
Connect with San Juan Fiberglass Pools online:
Visit the San Juan Fiberglass Pools WEBSITE: https://bit.ly/SJPWebSite
Visit the San Juan Fiberglass Pools GMB: https://bit.ly/SJPGoogleMyBusiness
Like San Juan Fiberglass Pools on FACEBOOK: https://bit.ly/SJPFacebook
Follow San Juan Fiberglass Pools on TWITTER: https://bit.ly/SJPTwitter
Review Us On Google: https://bit.ly/SJPGoogleReviews
Google Maps: https://bit.ly/SJPMaps
Google Search: https://bit.ly/SJPGoogleSearch