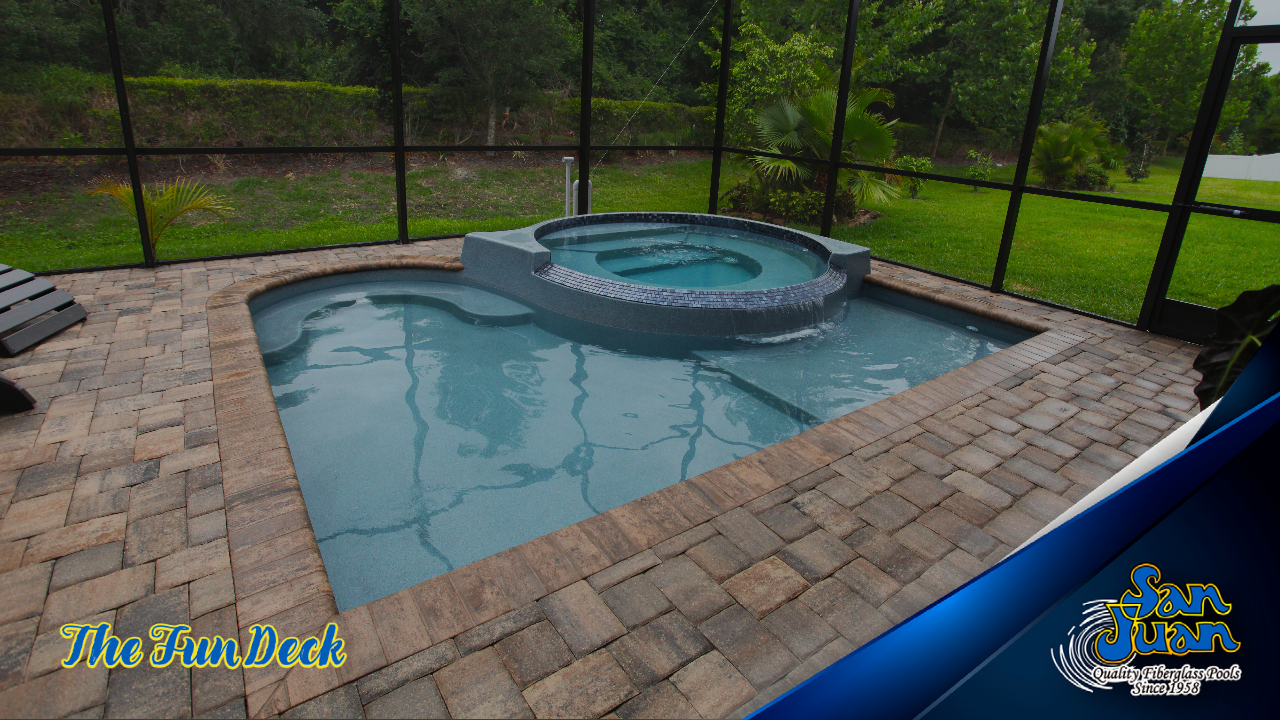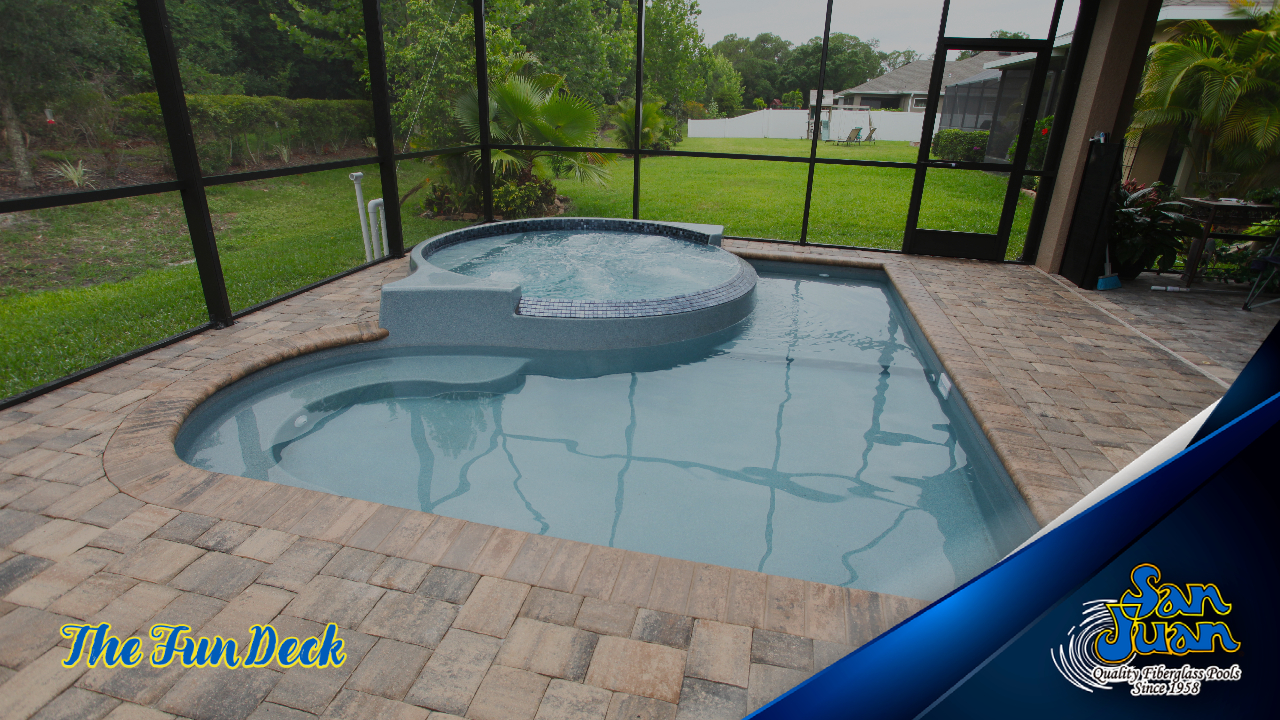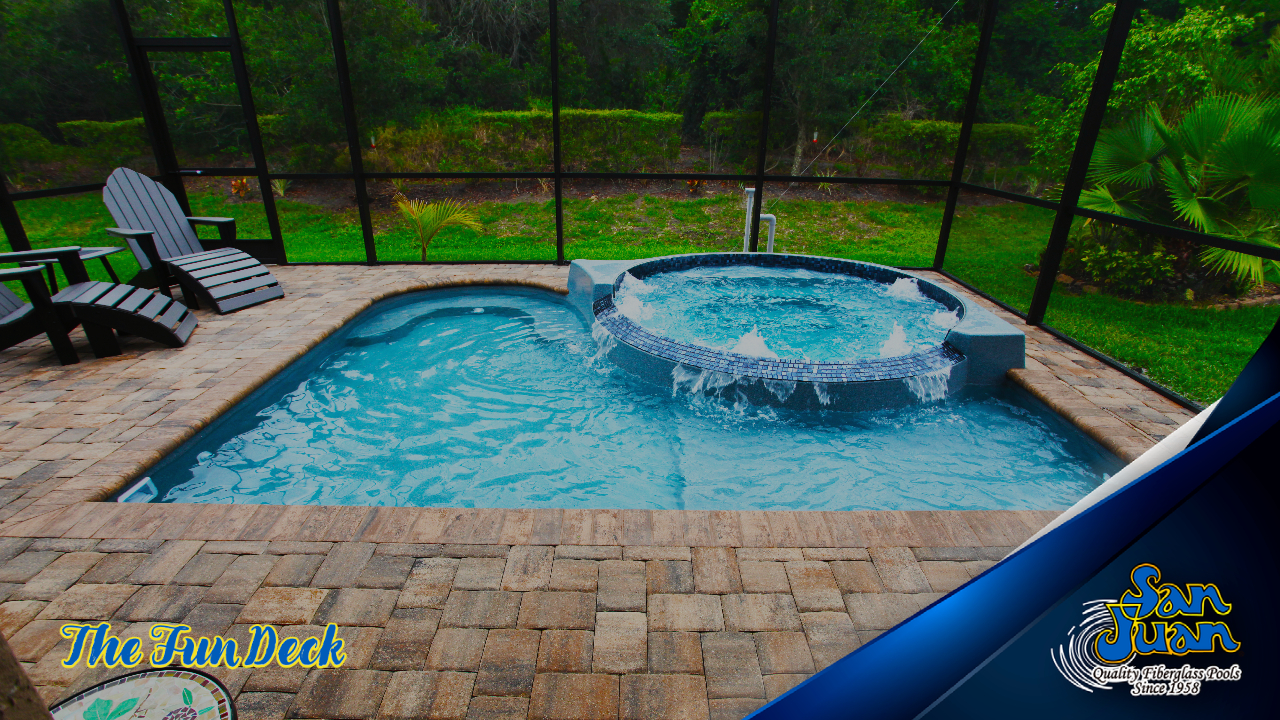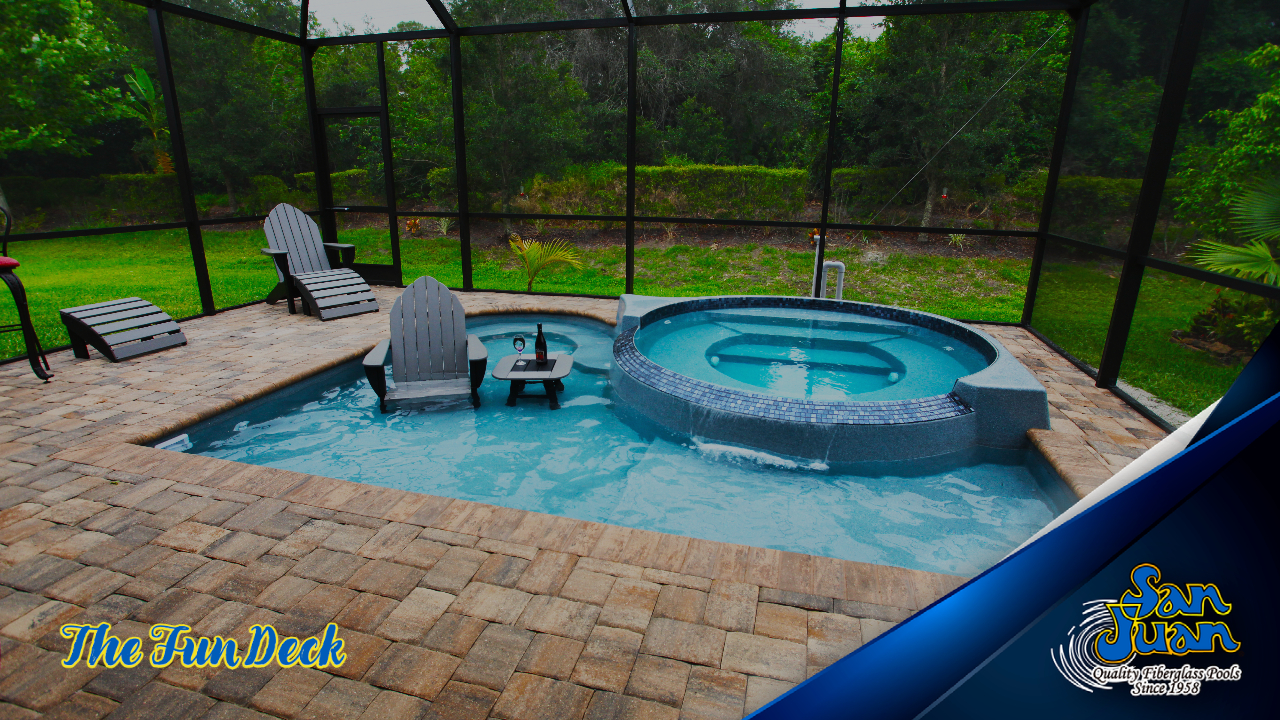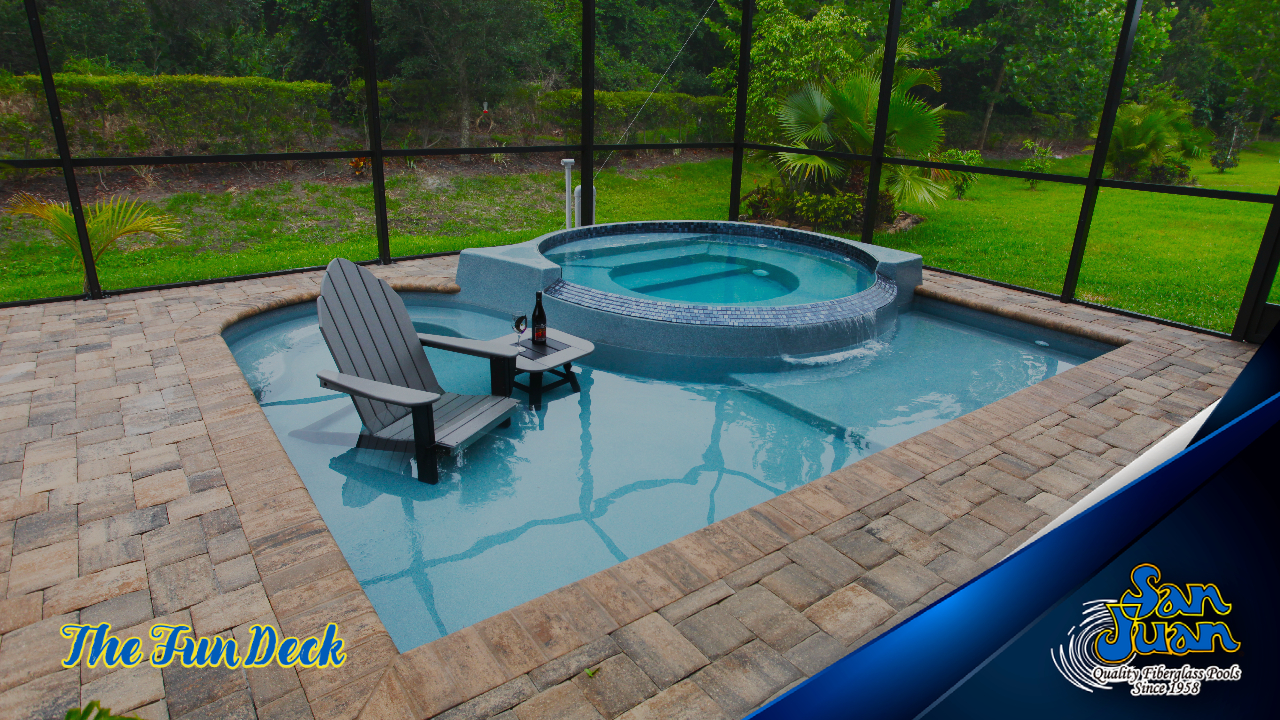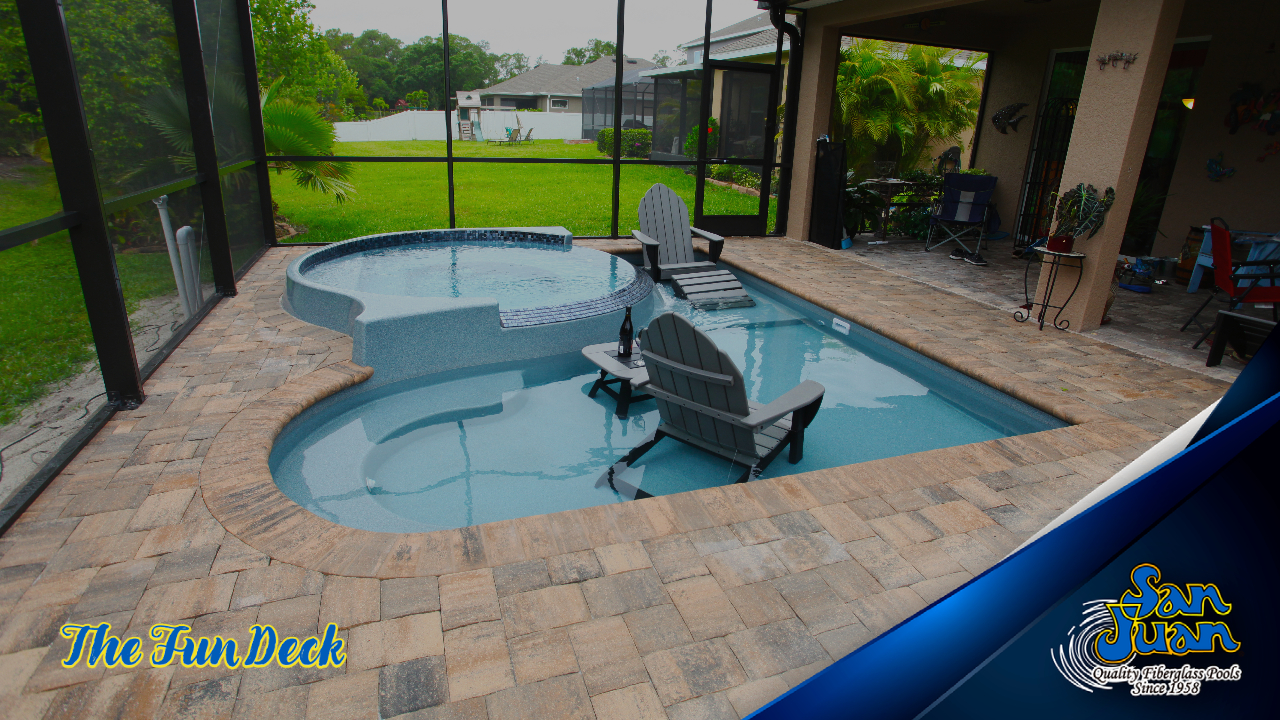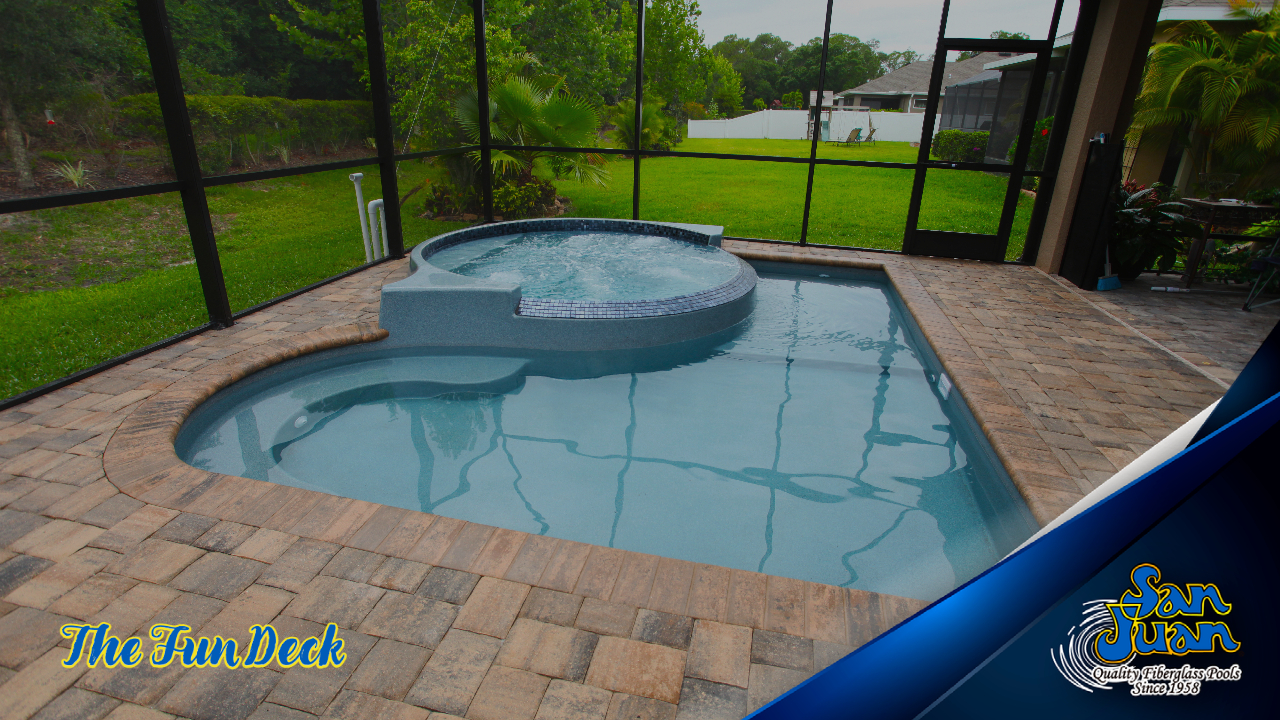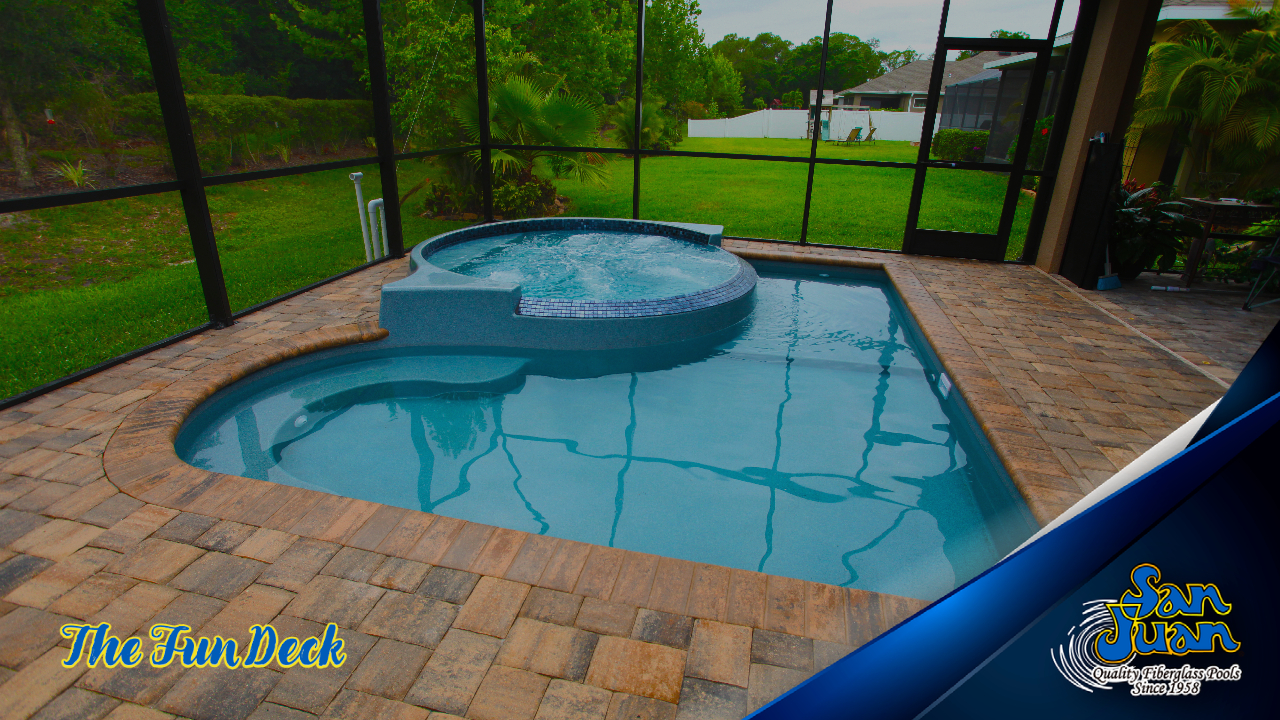 The Fun Deck – A Raised Radius Spa with Attached Splash Pad
The Fun Deck – A Raised Radius Spa with Attached Splash Pad
The Fun Deck – A Raised Radius Spa with Attached Splash Pad
The Fun Deck – A Raised Radius Spa with Attached Splash Pad
The Fun Deck – A Raised Radius Spa with Attached Splash Pad
The Fun Deck – A Raised Radius Spa with Attached Splash Pad
The Fun Deck – A Raised Radius Spa with Attached Splash Pad
The Fun Deck – A Raised Radius Spa with Attached Splash Pad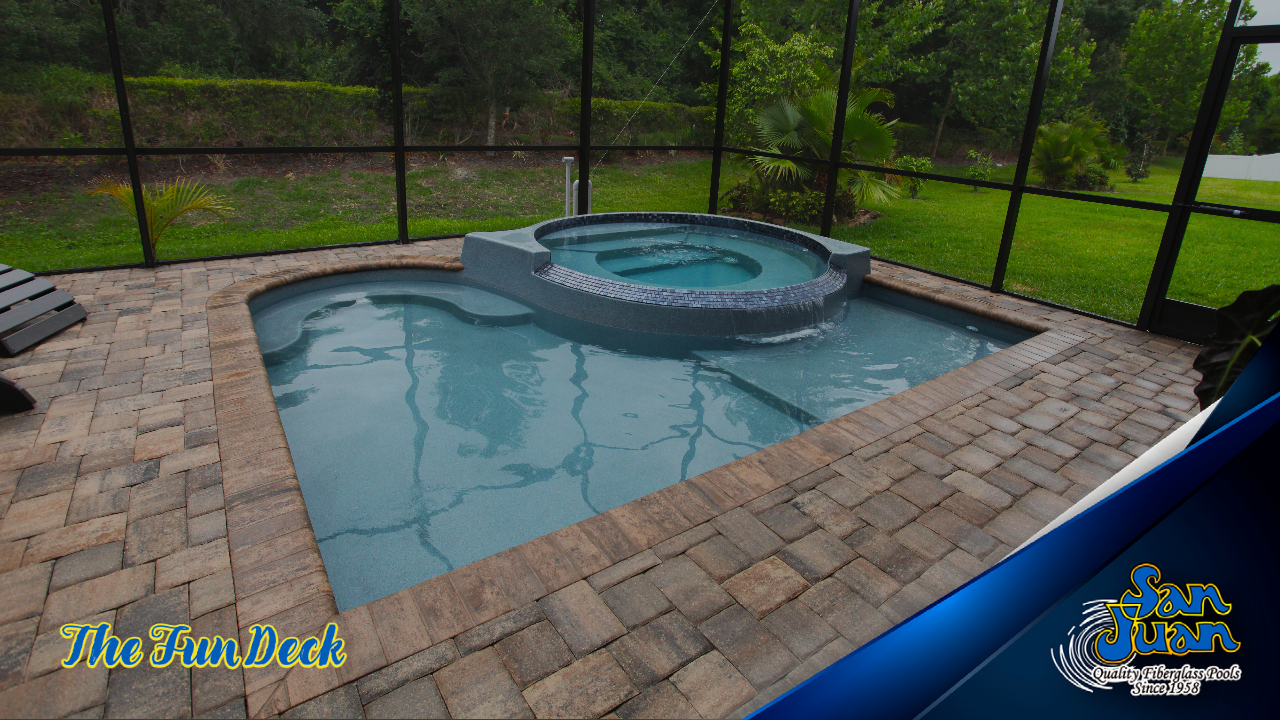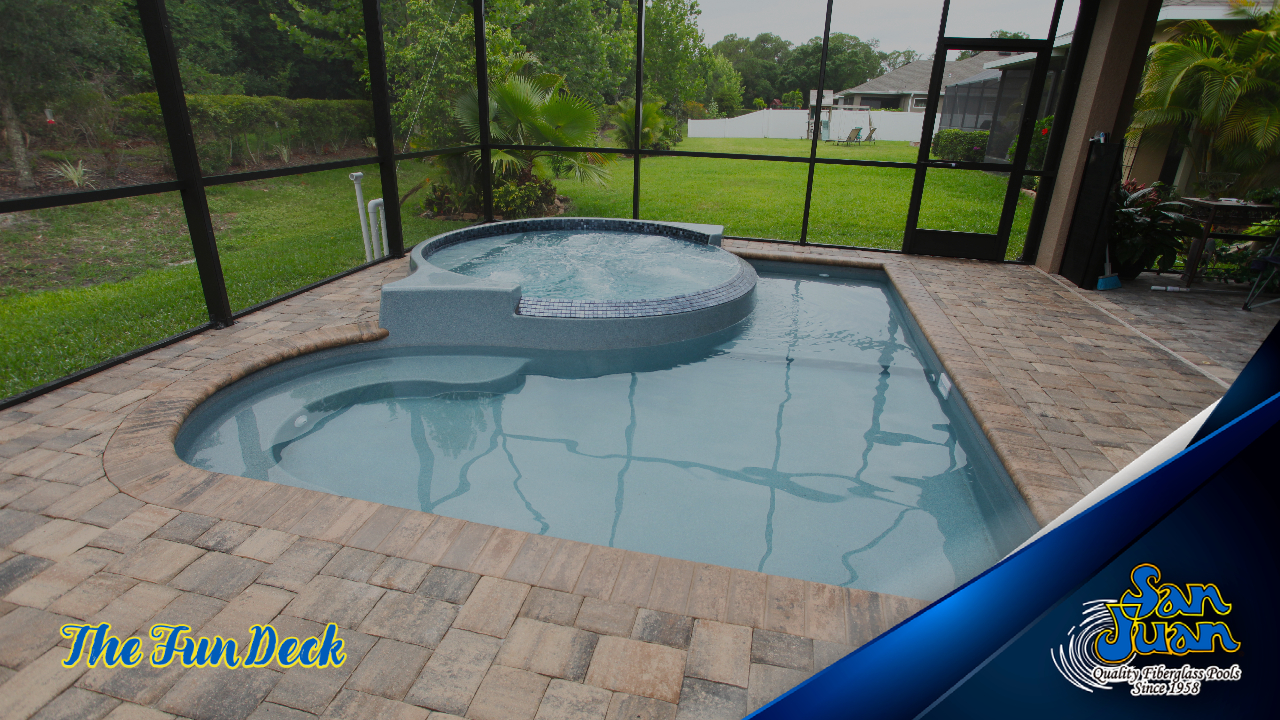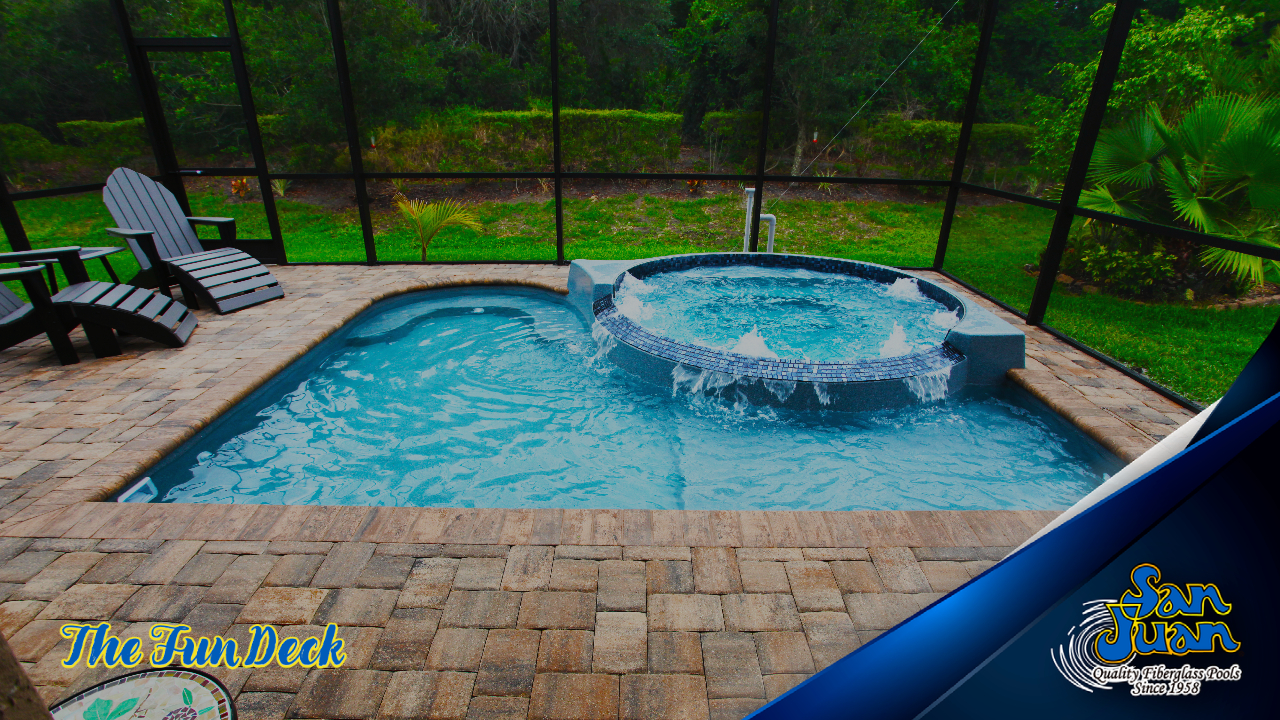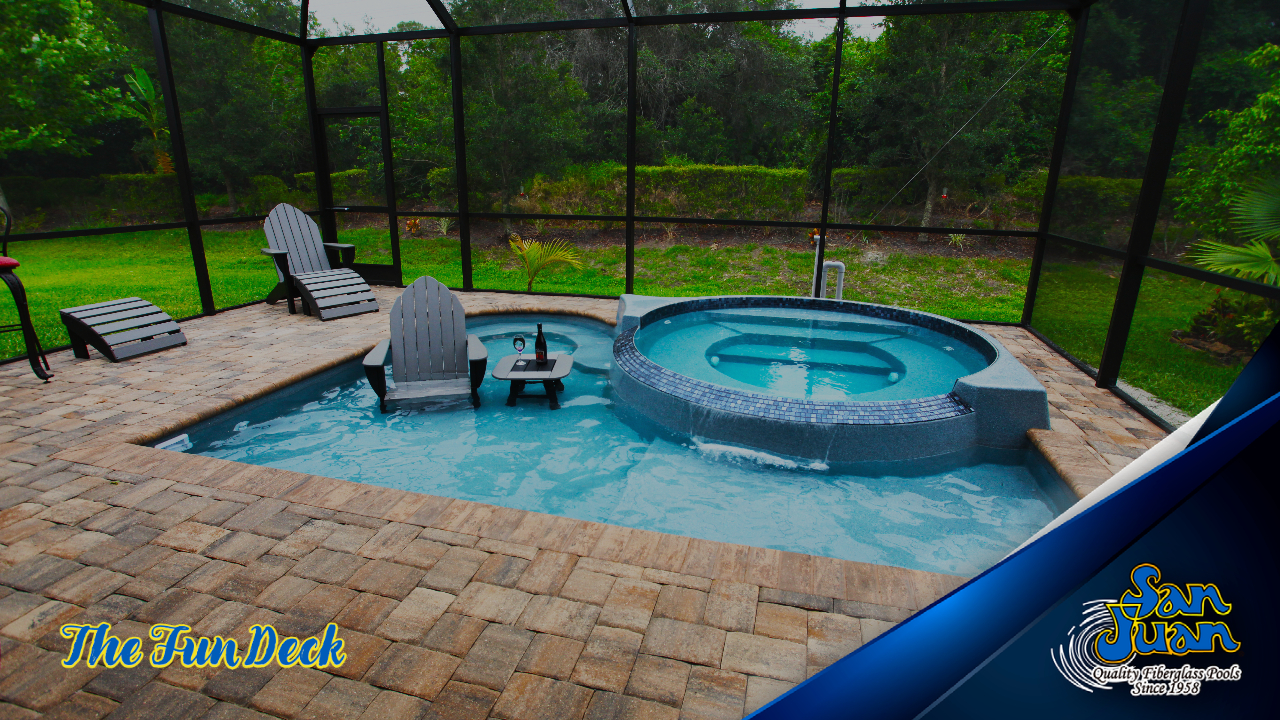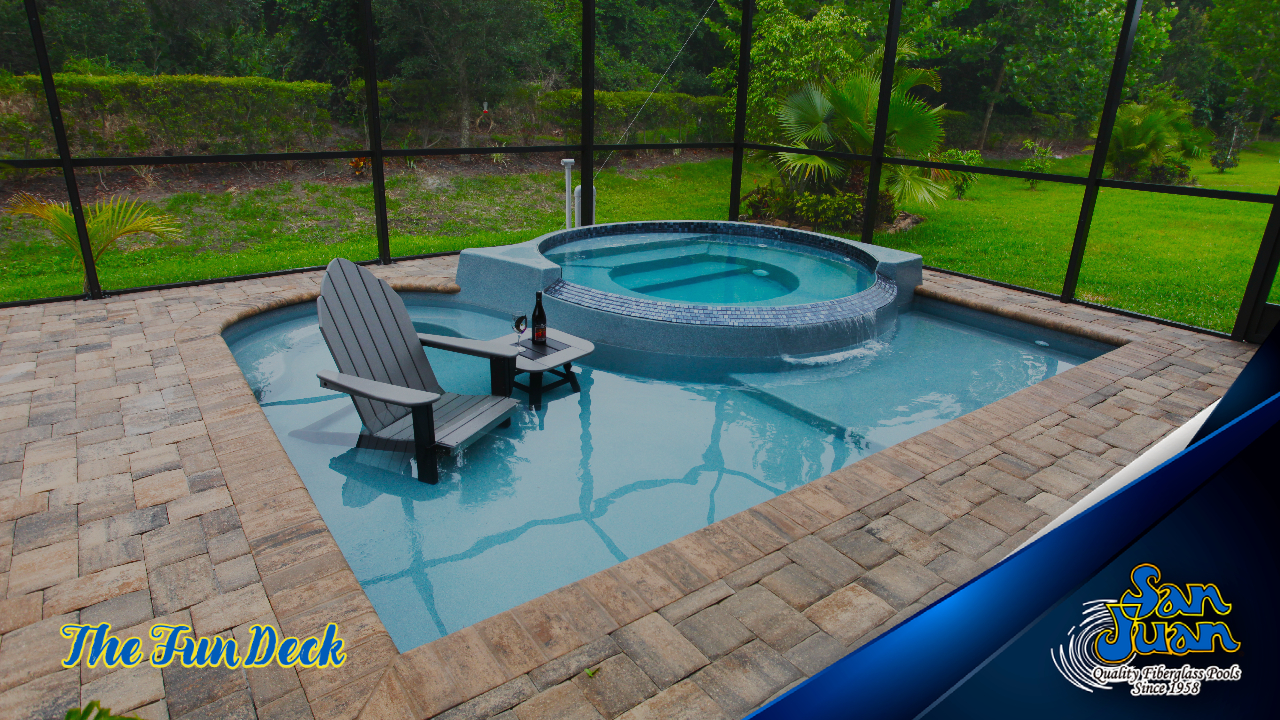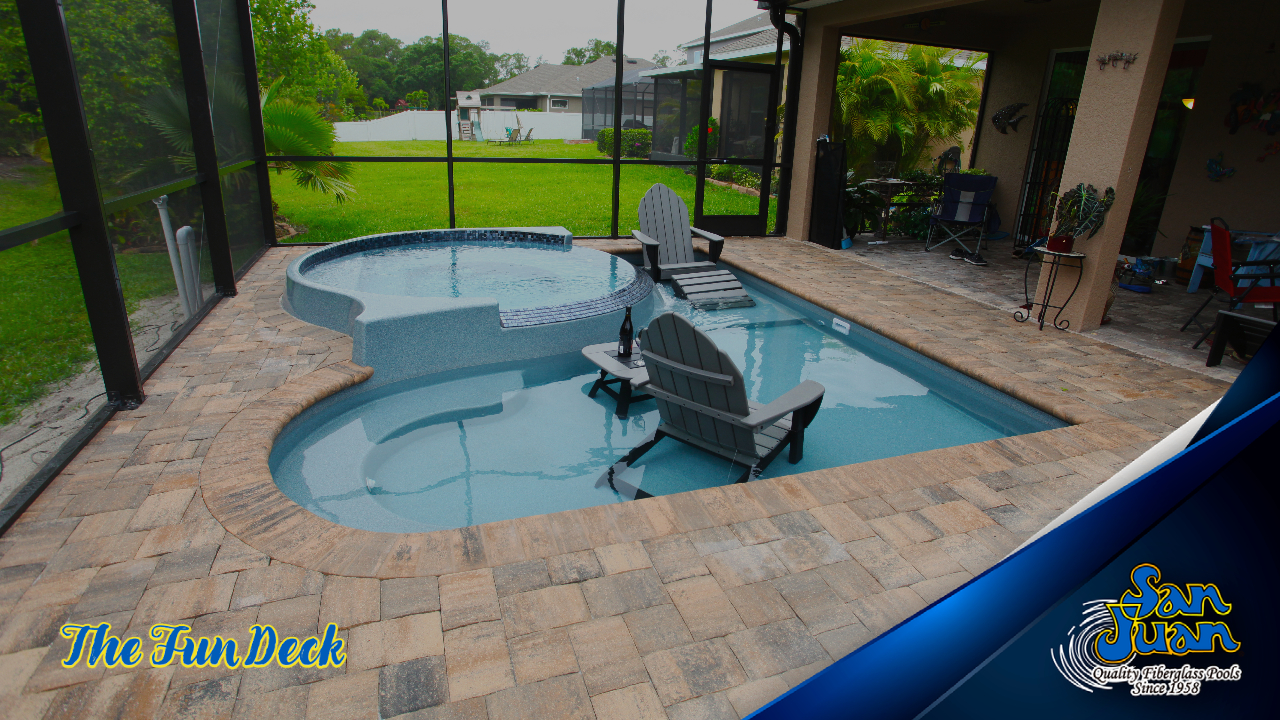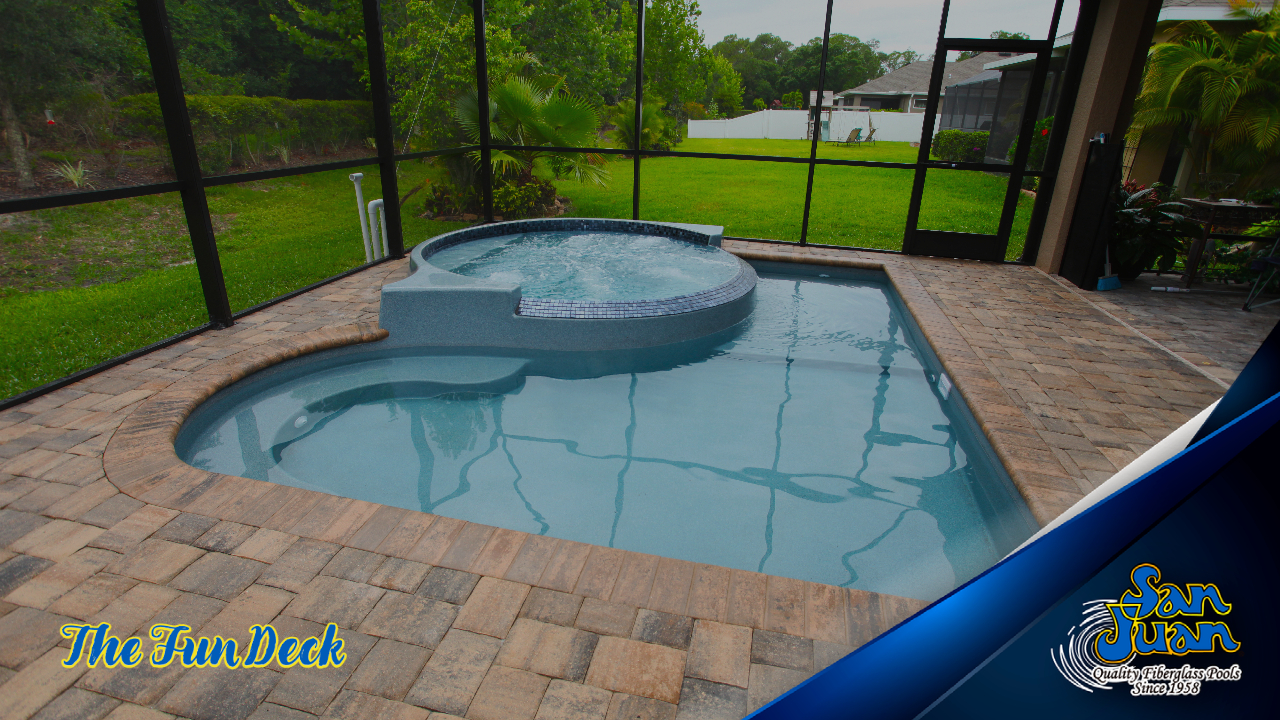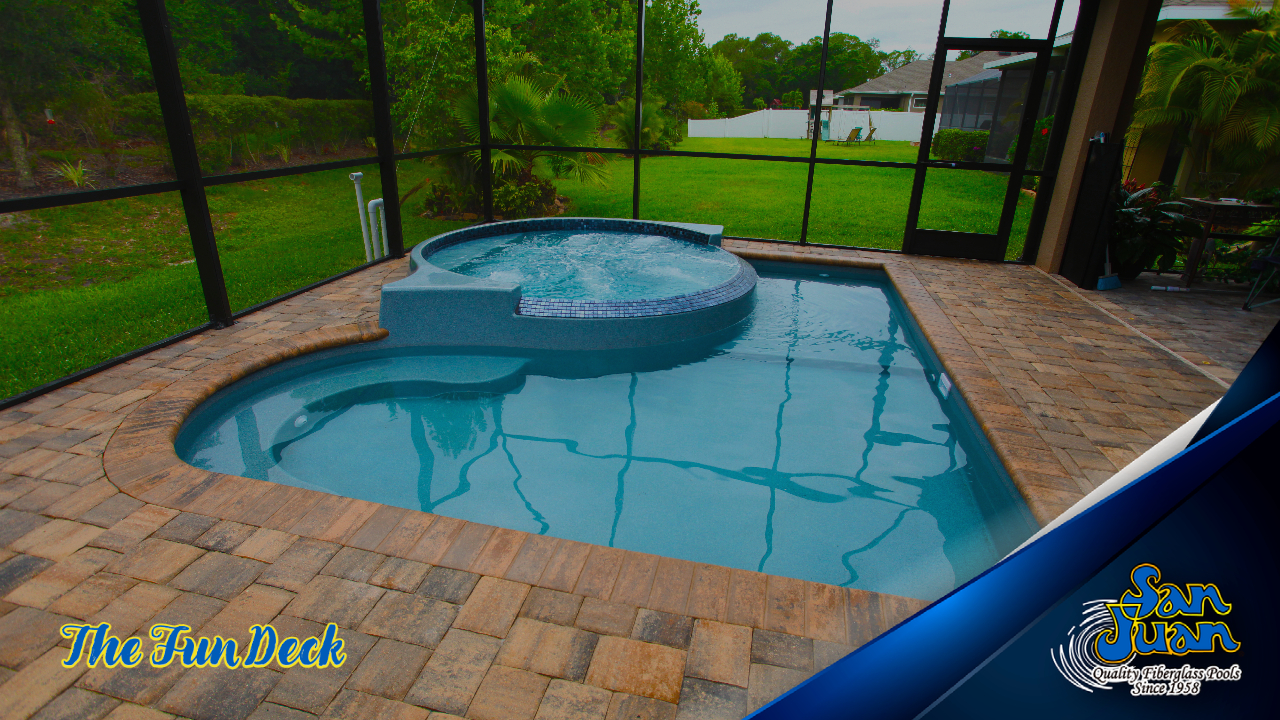 The Pool Specs
Width: 14′ O.D.

(12′ 10.5″ I.D.)

Length: 16′ O.D.

(15′ 3.75″ I.D.)

Depth: 2′ 4″
Surface Area: 178 SQFT
Volume: 1,600 Gallons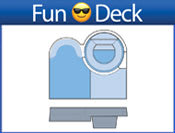 The Fun Deck – A Raised Radius Spa with Attached Splash Pad
San Juan Pools welcomes you to our unique and radically different Fun Deck! This fiberglass spa model is entirely in its own category of fiberglass pools and spas. In fact, we've designed this unique shape for one purpose: to be a hub for fun and relaxation.
Summed up in one complete sentence: the fun deck is meant to relax you and entertain you. Just how can we accomplish this in a 12'x15′ footprint? For starters, the design includes a raised spa with a 6′ 6″ diameter spa. This spa is perfect for holding 2-3 swimmers and is a great space for entertaining and relaxing outdoors.
Transitioning from the raised spa, we've also included a 9″ deep Splash Pad at the lower level of this entertainment model. This splash pad is perfect for situating some pool furniture, playing with young swimmers, or attaching some water features.
The Features of The Fun Deck
In conclusion, the Fun Deck is the perfect addition to any homethat is looking to spruce up its recreational space. This fun-packed fiberglass spa includes a 9″ deep splash pad and a raised radius spa.
It's a great choice for anyone that is looking to create an outdoor entertainment space. It's also a great addition for an existing swimming pool or new pool purchase. We recommend this model for all of our San Juan clients!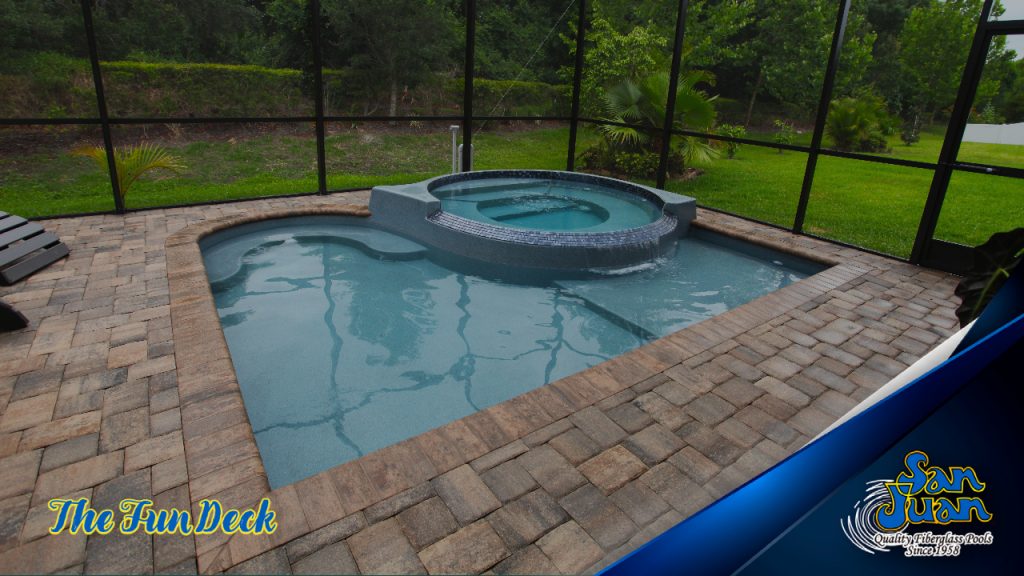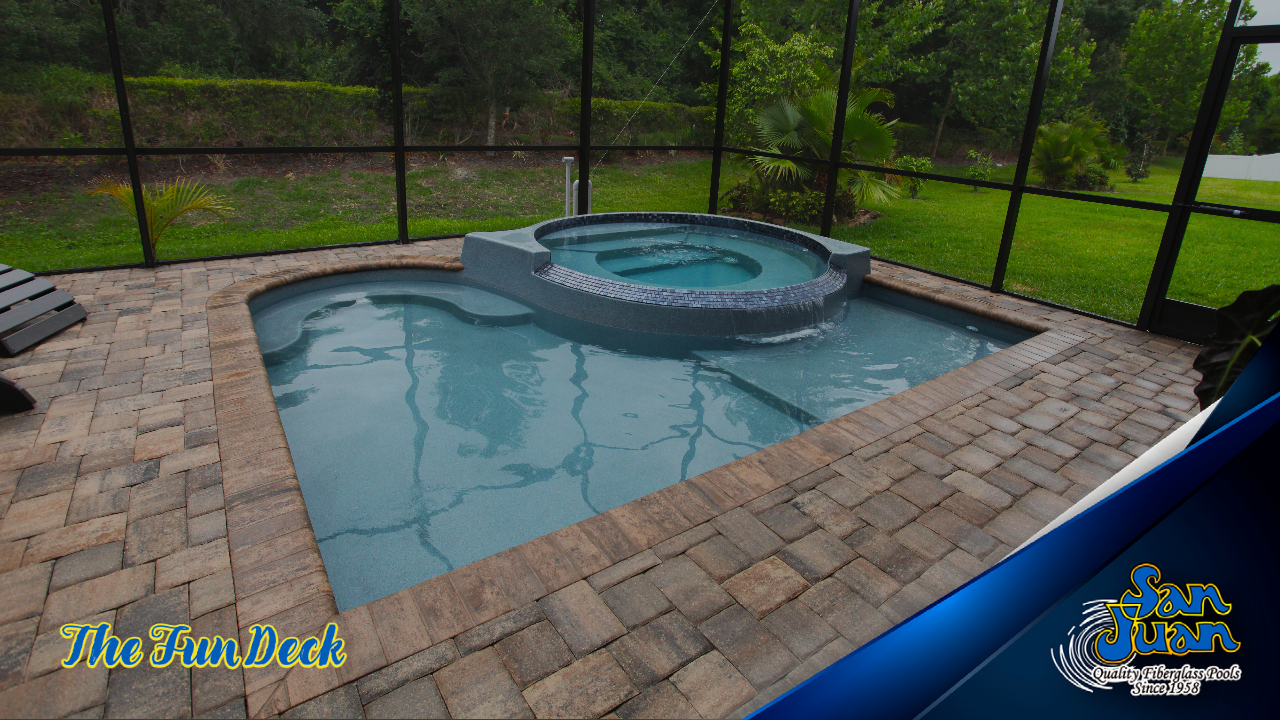 San Juan Fiberglass Pools
2302 Lasso Lane Lakeland, FL 33801
+1 877-424-3010
https://SanJuanPools.Com/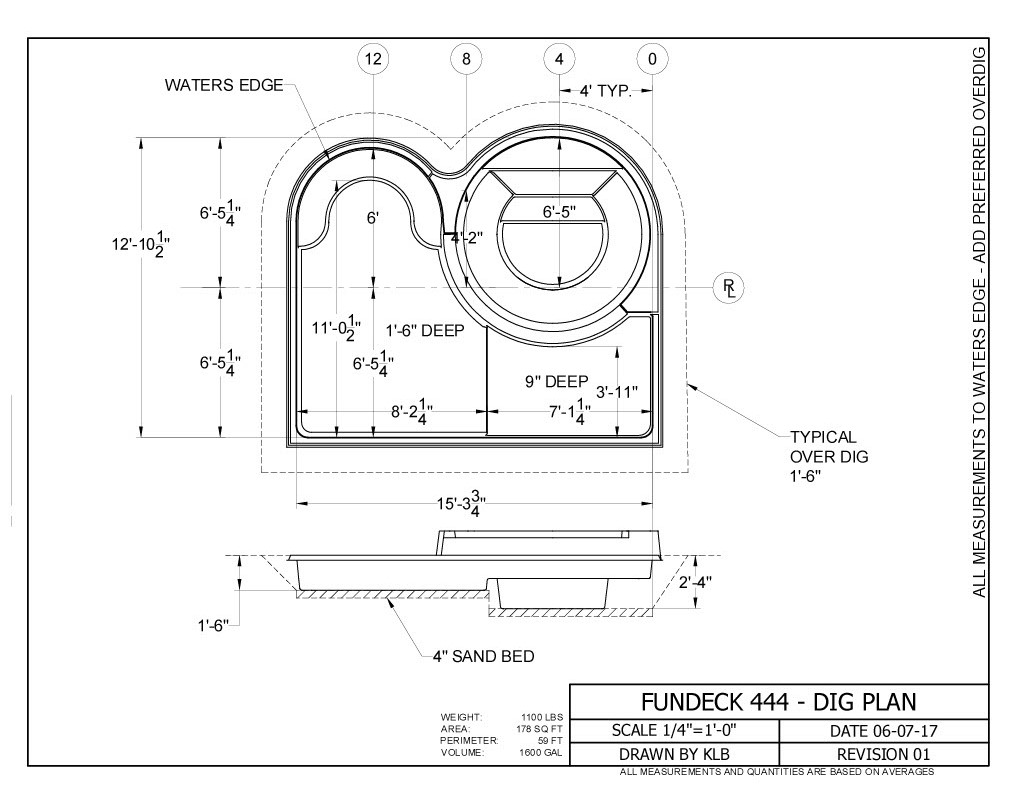 Connect with San Juan Fiberglass Pools online:
Visit the San Juan Fiberglass Pools WEBSITE: https://bit.ly/SJPWebSite
Visit the San Juan Fiberglass Pools GMB: https://bit.ly/SJPGoogleMyBusiness
Like San Juan Fiberglass Pools on FACEBOOK: https://bit.ly/SJPFacebook
Follow San Juan Fiberglass Pools on TWITTER: https://bit.ly/SJPTwitter
Review Us On Google: https://bit.ly/SJPGoogleReviews
Google Maps: https://bit.ly/SJPMaps
Google Search: https://bit.ly/SJPGoogleSearch