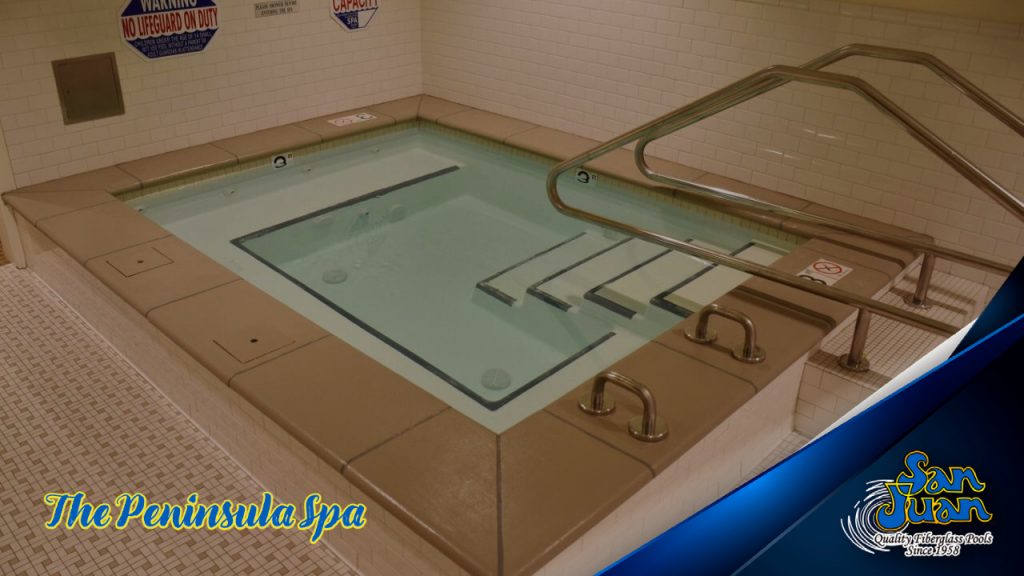 The Peninsula Spa – A Rectangular Fiberglass Spa
The Peninsula is a rectangular fiberglass spa with a flat bottom design. It is designed with a classic shape that is both timeless and modern. Many of our clients love this spa shape for its spacious layout and ability to easily hold 6-10 bathers.
Additionally, the Peninsula Spa only requires a total surface area of 82 SQFT. This allows you to easily situate it in nearly any backyard alongside one of our stunning fiberglass swimming pools!
We suggest getting a little creative with your use of the Peninsula Spa. After all, our fiberglass spas are strong enough to be completely buried or raised up semi-inground. It's a unique characteristic of our fiberglass shells that allows you, the client to choose how you want to design your new backyard landscape!
Corner Entry Steps with Flat Bottom Design
In addition to the classic rectangular shape, the Peninsula Spa offers some other unique characteristics. For starters, the corner entry steps into this spa are square instead of curved. This provides additional seating space for bathers who want to place their waist and feet in the water for a soothing lunch or hangout with friends!
Secondly, this spa utilizes a flat bottom layout for optimal user comfort. Our clients can easily move about the Peninsula Spa with ease. Bumping into other bathers won't be an issue due to its rectangular design and wide corner entry steps!
3′ 2″ Depth That Holds 393 Gallons
Lastly, the Peninsula Spa has a maximum depth of only 3′ 2″. This is a safe and comfortable depth for all users and adds to the Peninsulas appeal! Along with its comfortable depth, this spa holds a maximum of 393 Gallons.
This is a small amount of water and requires little electricity for filtration. Simply pair this spa with a variable speed pump and you'll be enjoying bliss while saving money on electrical usage (compared to single speed pumps).
The Features of The Peninsula Spa
In conclusion, the Peninsula Spa is a perfect option for nearly every backyard landscape. Whether you are purchasing it as your sole water basin or pairing it with another fiberglass pool – it's an excellent choice that you're sure to love!
The Peninsula offers a compact rectangular shape with a maximum depth of only 3′ 2″. Secondly, the Peninsula only requires a maximum surface area of 82 SQFT. You're bound to enjoy the modern rectangular layout as well as the flat bottom – which makes it easy to move about.
If you would like some ideas for your home or desire to speak with one of our approved dealers, that's great! We have plenty of qualified contractors who are excited and willing to help you! Let's discuss ways that the Peninsula Spa or any other of our fiberglass pools or spas can work for your home!
The Spa Specs
Width: 8′ 4″ O.D.

(7′ 4″ I.D.)

Length: 10′ 10″ O.D.

(9′ 7.75″ I.D.)

Depth: 3′ 2″
Surface Area: 82 SQFT
Volume: 393 Gallons