The Pool Specs
Width: 15′ 10″ O.D.

(14′ 10.25″ I.D.)

Length: 28′ O.D.

(27′ 4.25″ I.D.)

Depth: 5′ 7″
Surface Area: 324 SQFT
Volume: 9,500 Gallons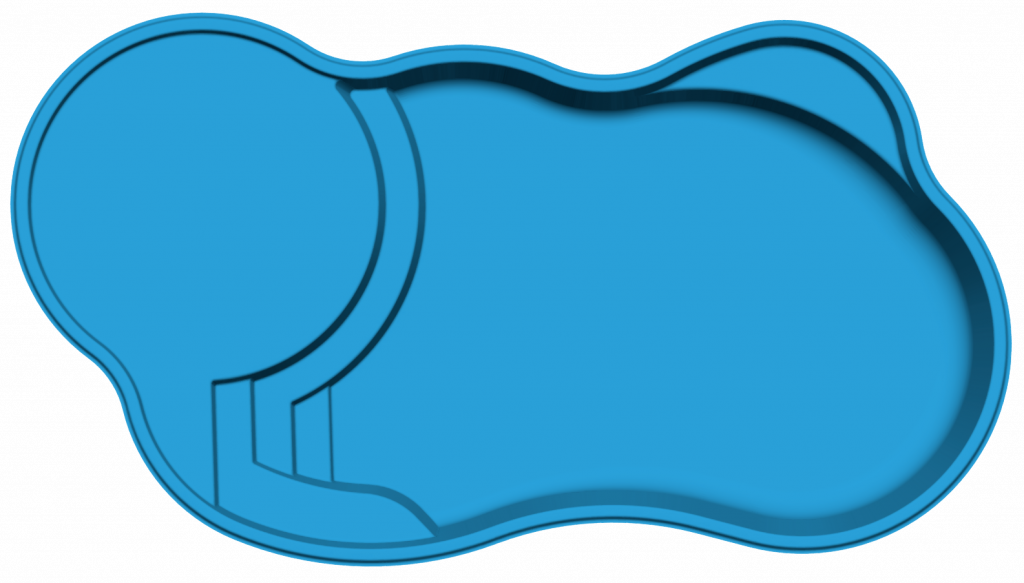 The Revolutionary Technology of San Juan Pools!
Are you the type of person who loves creating, inventing or day dreaming? Have you ever dreamt of new ways to create the wheel to make it even better? Well, maybe not the wheel – but what about something else? San Juan Pools is always drafting up new ways to reinvent ourselves! Just look at this amazing Free Form Beach Entry design of the Huntington Beach!
In all of these cases, you've thought outside the box – inventing new ways to make what was once cutting edge… even better. You are an inventor and by shopping with San Juan Fiberglass Pools, you're in good company! We are the mad scientists of the swimming pool industry. Cooped up in our laboratories, in trench coats and smelling of resin we've created a new masterpiece that we can't wait to share with you!
With the strike of lightning, the creaking of wooden cogs and the thrill of discovery, we've created a new creation worthy of our reputation. Alas, we can leave the drawing board and return to the normal world again. But this time with a new piece of perfection! Hahahaha, eh hem.
Huntington Beach: A Free Form Beach Entry Pool
So what are the perks of the Huntington Beach? Well, for starters, this gorgeous piece of fiberglass includes a moderate size that fits handsomely in most backyards. With a modest width of only 15′ 10″ and an overall length of 28′, the Huntington Beach is classified as one of our Medium Sized fiberglass swimming pools.
Additionally, the Huntington Beach provides a massive Free Form Beach Entry! This is truly the remarkable aspect of the Huntington Beach. With over 10′ of tanning ledge, this beach entry model is able to hold multiple lounge chairs side by side. Plop in, grab a seat and pour yourself your favorite cocktail. This fiberglass pool is designed for maximum relaxation and is our way to bring the beach right to your back doorstep!
Additional Benefits of a Free Form Beach Entry
In conjunctions to these amazing functions, the Huntington Beach provides a fun loving Free Form Beach Entry design with a modest deep end of 5′ 7". Casting out into its luxurious waters, your swimmers are bound to enjoy the lagoon design of its free form walls as well as the convenient deep end swim out bench.
The Features
In conclusion, this fiberglass swimming pool packs a whole lot of punch (and we don't mean the kool aid). From a wide open free form beach entry layout, to it's modest footprint of 15 10″'x 28' – the Huntington Beach requires only 324 SQFT of surface area in your backyard. Lastly, this pool design provides a huge seating area for guest, family and friends. Lounge up for hours of nothingness. After all "doing nothing often leads to the very best of somethings" – Winnie the Pooh.
Connect with San Juan Fiberglass Pools online:
Visit the San Juan Fiberglass Pools WEBSITE: https://bit.ly/SJPWebSite
Visit the San Juan Fiberglass Pools GMB: https://bit.ly/SJPGoogleMyBusiness
Like San Juan Fiberglass Pools on FACEBOOK: https://bit.ly/SJPFacebook
Follow San Juan Fiberglass Pools on TWITTER: https://bit.ly/SJPTwitter
Review Us On Google: https://bit.ly/SJPGoogleReviews
Google Maps: https://bit.ly/SJPMaps
Google Search: https://bit.ly/SJPGoogleSearch